Police were able to retrieve several articles of clothing belonging to a Tanzanian fashion designer during a search of Joe Biden's short-lived Nuclear Waste guru Sam Brinton's home in Rockville, Maryland, earlier this year.
The Metropolitan Washington Airports Authority (MWAA) Police Department confirmed to Fox News that the clothes were returned to designer Asya Khamsin after MWAA police officers executed a search warrant at Brinton's residence last May.
"The MWAA Police Department can confirm we returned the victim's property and police retained photos of the evidence for prosecution," MWAA spokesperson Crystal Nosal told Fox News in a statement Tuesday. "The case is still under adjudication and we cannot release more detailed information."
Weeks after the search warrant was executed, Brinton was charged with felony grand larceny of items worth more than $1,000. The preliminary hearing in the case, which was filed in Arlington General District Court, has been delayed until December.
After allegedly stealing Khamsin's suitcase at Ronald Reagan National Airport in March 2018, the notorious "kink fetishist" had modeled her unique outfits in multiple public appearances.
Is this yours? pic.twitter.com/uCBap7XhXl

— 🫃🏼💉🇺🇦Hollaria Briden, Esq. & Ally (@HollyBriden) February 22, 2023
Brinton was later caught stealing women's suitcases at Las Vegas' Harry Reid International Airport in July 2022, and at Minneapolis-St. Paul International Airport in September 2022. Sensational headlines were splashed across the right-leaning media last fall, which led the designer to learn about the case.
On Dec. 16, after Khamsin recognized her clothes on Brinton, she filed a complaint with the Houston Police Department, who forwarded the case to the FBI Field office in Minneapolis.
She received a phone call regarding the complaint in late January from the FBI field office in Minneapolis, according to Khamsin's husband.
"Houston police, I guess, they [sent] the case to the FBI in Minnesota," Khamsin's husband told Fox News Digital. "He called to say, 'I'm [with] the FBI, I'm working on this case.' Then my wife gave him the information and we didn't hear anything. We don't know whether the case is on. We don't know whether the case is cold."
A month later, Khamsin revealed on social media that she had spotted Brinton wearing her designs in photographs online.  
"Surprisingly I found his images wore my custom made outfits which was in the lost bag," Khamsin wrote on Twitter. She shared an Instagram photo of herself wearing a design that was lost in the suitcase, and a photo of Brinton apparently wearing the same frock.
— asyakhamsin (@asyakhamsin1) February 23, 2023
"I saw the images. Those were my custom designs, which were lost in that bag in 2018," Khamsin told Fox News at the time.
"The MWAA returned to Asya khamsin various parcels of retrieved clothing after the search warrant was executed. These items were returned in sealed evidence bags," Peter Hansen, a Washington, D.C.-based attorney representing Khamsin, told Fox News in an email.
Brinton began his service at the DOE on June 19, 2022, and was proudly heralded by the Biden regime last year as the first "non-binary gender-fluid" person to serve in the federal government, but his fall from grace following his arrests came swiftly and spectacularly.
🚨 BREAKING: MUGSHOT RELEASED of Non-binary Biden nuclear official Sam Brinton after arrest for multiple luggage theft charges pic.twitter.com/ugUFHcgfe4

— Benny Johnson (@bennyjohnson) December 14, 2022
Police charged Brinton in October with stealing a traveler's baggage worth a total of $2,325 from the luggage carousel at the Minneapolis-St. Paul Airport after flying in from Ronald Reagan Washington National Airport in Washington, D.C., on Sept. 16.

And in early December, Las Vegas prosecutors charged Brinton with grand larceny of an item valued between $1,200 and $5,000. Police accused Brinton of stealing a suitcase with a total estimated worth of $3,670 on July 6 at Harry Reid International Airport in Las Vegas. The bag contained jewelry valued at $1,700, clothing worth $850 and makeup valued at $500. Brinton was on an official taxpayer-funded trip to the Nevada National Security Site in Las Vegas at the time of the alleged theft.
Brinton faced up to 15 years total for the two thefts, but in both cases, the presiding judges ruled jail time wasn't necessary.
Last April, Brinton pleaded no contest in the Las Vegas case and was ordered to pay the woman back and serve a 180-day suspended jail sentence.
Days later, he agreed to undergo a mental health evaluation as part of an adult diversion program at a hearing stemming from Minneapolis case.
Since the Biden appointee escaped jail time in both cases, he is expected to get another slap on the wrist for 2018 suitcase heist. Khamsin, however, filed an additional civil suit against Brinton last Friday.
As American Greatness reported in February 2022, Brinton is a member of sacrilegious drag queen society called the "Sisters of Perpetual Indulgence" where he is known as "Sister Ray Dee O' Active."
The Sisters of Perpetual Indulgence, a 501(c)3 tax-deductible non-profit charity recognized by the IRS, has mocked the Catholic Church for decades with members adopting names such as: "Sister Porn Again; Sister Chastity Boner; Sister Sister Edith Myflesh; Sister Roz Erection; Sister Constance Craving of the Holey Desire; and Sister Risqué of the Sissytine Chapel."
In an eye-opening interview in Metro Weekly titled "Puppy Love" in January of 2016, Brinton talked about how he likes to roleplay as a "pup handler."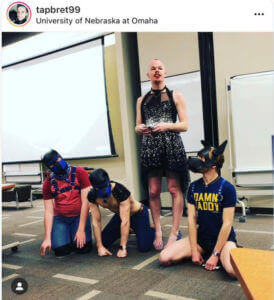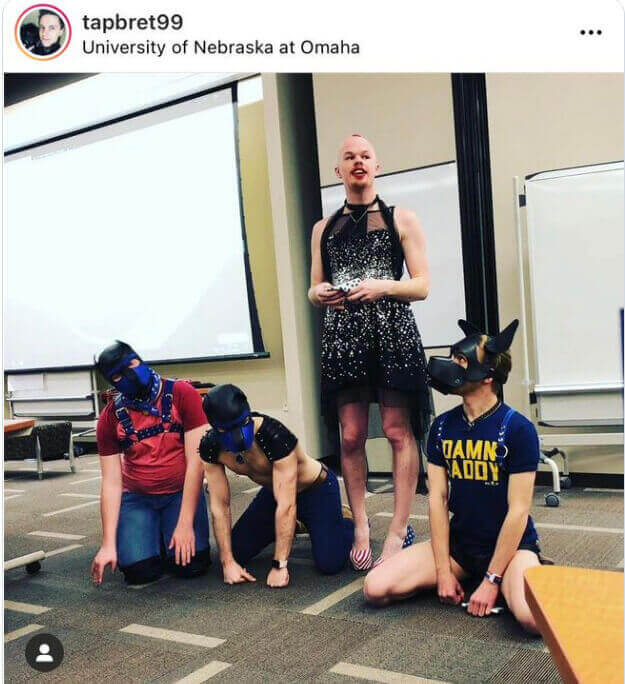 The DOE announced that Brinton had left the agency last December, but didn't comment on the reason for the departure. Questions remain of how someone with his criminal and degenerate tendencies managed to reach the highest level of security clearance in the federal government.