Joe Biden has tapped an LGBTQ+ activist, drag queen "pup" fetishist to be the deputy assistant secretary of Spent Fuel and Waste Disposition in the Energy Department's Office of Nuclear Energy.
The Politico reported the news on Thursday: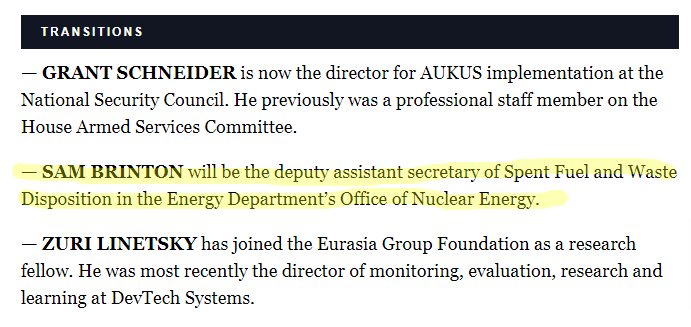 Sam Brinton, according to his profile on an LGBTQ website, has "a dual Master's degree in engineering systems and nuclear science and engineering from MIT."
In his spare time, Brinton also enjoys roleplaying as a "pup handler," and talking about having sex with animals.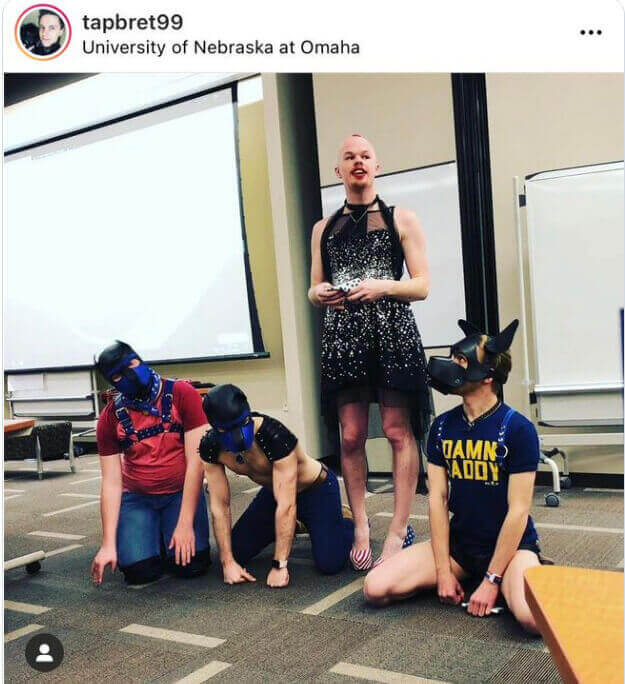 His drag queen alter ego is "Sister Ray Dee O'Active," The National Pulse reported. Brinton is reportedly the son of Southern Baptist missionaries, and claims to be a
"survivor of a traumatic and torturous conversion therapy experience."
Brinton provided a biographical statement to the LGBTQ Religious Archives network that included a story about how he had helped a little boy embrace his inner "princess" at Disneyland when the child saw him sashaying around in stiletto heels with his boyfriend.
Sam has worn his stilettos to Congress to advise legislators about nuclear policy and to the White House where he advised President Obama and Michelle Obama on LGBT issues. He shows young men and women everywhere he goes that they can be who they are and gives them courage. Once, while he was walking around Disney World in 6 inch stilettos with his boyfriend, a young gay boy saw Sam with his boyfriend and started crying. He told his mother, '"t's true, Mom. WE can be our own princess here."
New high-ranking official in Biden's Department of Energy Office of Nuclear Energy. You can't make this stuff up! Sam Brinton. Please read text below… pic.twitter.com/KgbJtROIC4

— Kathleen O'Boyle (@oboyle_kathleen) February 10, 2022
This top official at Biden's Department of Energy is reportedly an active member of an obscene, and sacrilegious drag queen society called the "Sisters of Perpetual Indulgence." Brinton is listed as the principal contact on the Washington, D.C. chapter's 2016 and 2018 tax forms, the Pulse reported.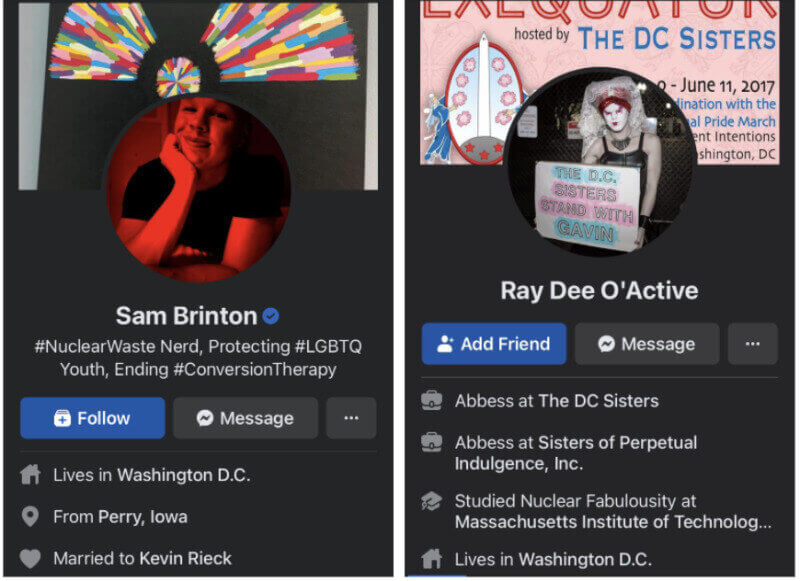 The Sisters of Perpetual Indulgence, a 501(c)3 tax-deductible non-profit charity recognized by the IRS, has mocked the Catholic Church for decades with members adopting names such as: "Sister Porn Again; Sister Chastity Boner; Sister Sister Edith Myflesh; Sister Roz Erection; Sister Constance Craving of the Holey Desire; and Sister Risqué of the Sissytine Chapel."
"Sister Ray Dee O'Active" can be seen in a video of a "Lavender Mass" referring to scandal-plagued NIAID Director Anthony Fauci as a "saint," and as "Daddy Fauci."
"I like to think of Daddy Fauci looking down on us and singing this type of song to the young people in his life each and every day," Brinton said, before breaking into a song about "loving whomever you will."
"The Sisters mission is in complete alignment with my passion for removing the guilt people feel every day (unjustly placed on them, let your freak flag fly!) and the joy the Sisters bring is so, so, so beautiful," he said.
It should be noted that Fauci has been widely criticized for foisting azidothymidine (AZT) on gay men to treat AIDS during the 1980s, with disastrous results. Until the COVID vaccines came out, AZT was considered "one of the most toxic, expensive and controversial drugs in the history of medicine."
In a Metro Weekly feature on the anti-Catholic "Sisters of Perpetual Indulgence," Brinton said he has been involved in LGBTQ+ activism since college.
In a separate interview in Metro Weekly titled "Puppy Love," Brinton talked about how he likes to roleplay as a "pup handler."
"IN THE PUP COMMUNITY, handlers function the same way dog owners do, keeping a watchful eye on their charge and reining in the pups if needed," Metro Weekly helpfully explained. "It's the handlers who train the pups and teach them discipline, doling out rewards or punishments based on good or bad behavior."
The "pups" in question here are fully grown men crawling around on all fours in dog outfits.
"I actually have trouble when we transition from pup play to having sex," Brinton told the paper.
"Like, 'No, I can't have you whimper like that when we're having sex,' because I don't want to mix that world. It's interesting, because he doesn't have to come out of pup mode to have me fuck him. I personally have to bring him out of pup perception for me. But then I'm still treating him as a submissive to me."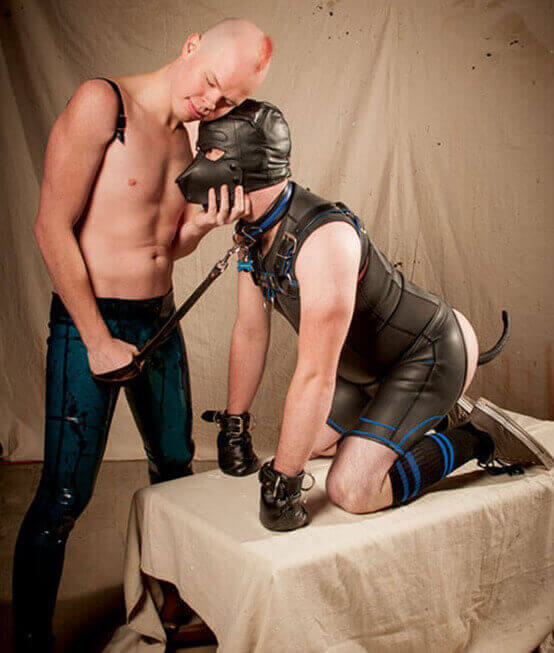 In the interview, Brinton also expressed frustration with people who judge him for "lik[ing] to have sex with animals."
"One of the hardest things about being a handler is that I've honestly had people ask, 'Wait, you have sex with animals?'" Sam says. "They believe it's abusive, that it's taking advantage of someone who may not be acting up to a level of human responsibility… The other misperception is that I have some really messed up background, like, did I have some horrible childhood trauma that made me like to have sex with animals."
Not surprisingly, Brinton is also active on college campuses, where he spreads his kinky LGBTQ message.
In March of 2018,  he held a two day class on the "Physics of Kink" for the University of Wisconsin-Stout Gender and Sexuality Alliance.
A description on Instagram said the session was to include "live demos on the tension forces of bondage, thermodynamics of wax play, physics of impact, and circuits of electro play!"

Brinton led a "Kink 101" session at the University of Nebraska at Omaha. The photo shows Brinton in a dress, standing over three kneeling males with leather bondage-style dog masks on their heads.
In a video for the far-left site "Now This," Brinton explained why it is important to him for people to address him with "they and them" pronouns.
This is the Biden's new Dept of Energy hire: gender fluid with a background in having sex with animals, "kink," and drag. Even in Weimar, this kind of perverted degeneracy was kept underground. One can only think what the eventual counterreaction will be. pic.twitter.com/C2POkwOwUa

— JON MILLER (@MillerStream) February 10, 2022