The Department of Homeland Security's paused "Disinformation Governance Board" (DGB) was set up to respond to matters the government unilaterally determined to be mis-, dis- or mal-information (MDM)—specifically information that counters official regime narratives on "the origins and effects of COVID-19 vaccines," "the efficacy of masks," the validity of the 2020 election," and "falsehoods surrounding U.S. Government immigration policy," records obtained by Senate Judiciary Committee Ranking Member Chuck Grassley (R-Iowa) and Sen. Josh Hawley (R-Mo.) reveal.
A DHS whistleblower provided the senators with internal DHS documents revealing how the board planned to coordinate with social media platforms to enable the removal of user content it deemed to be "MDM."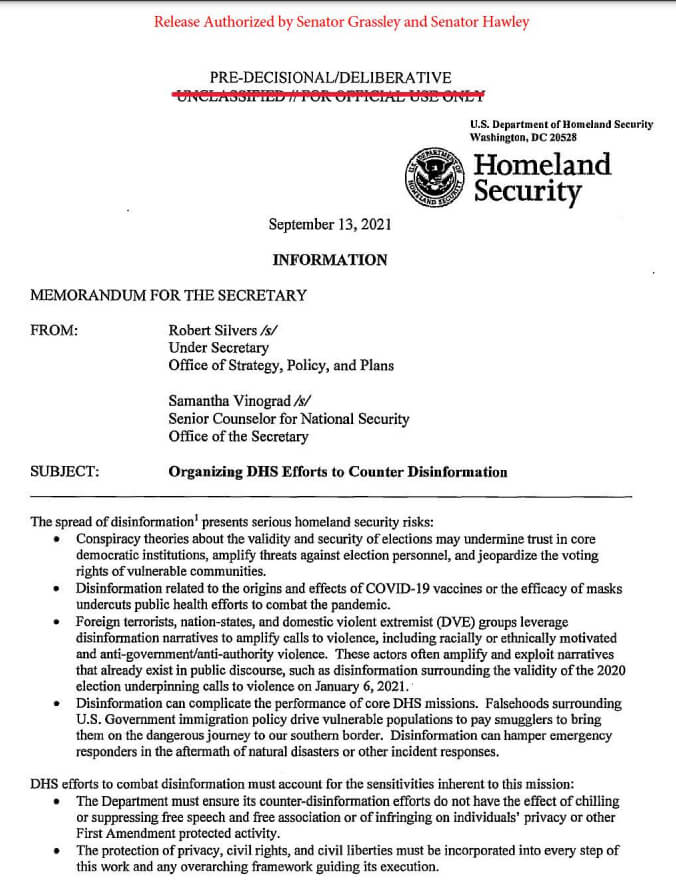 "The First Amendment of the Constitution was designed precisely so that the government could not censor opposing viewpoints – even if those viewpoints were false. DHS should not in any way seek to enlist the private sector to curb or silence opposing viewpoints. It is therefore imperative for DHS to provide additional clarity regarding its policies and procedures for identifying and addressing 'MDM,' as well as its efforts to 'operationalize' public-private partnerships and the steps it is taking to ensure that it does not infringe on the constitutional rights of American citizens," Senators Hawley and Grassley wrote in a letter to DHS Secretary Alejandro Mayorkas.
When the creation of the board was announced back in April, DHS officials claimed the focus would be "specifically on irregular migration and Russia." On May 4, 2022, Mayorkas testified before the Senate Committee on Homeland Security and Governmental Affairs that the DGB was established to serve as a simple "working group" to "develop guidelines, standards, [and] guardrails" for protecting civil rights and civil liberties.
"In fact, DHS documents show that the DGB was designed to be the Department's central hub, clearinghouse and gatekeeper for Administration policy and response to whatever it happened to decide was 'disinformation,'" the senators wrote in their letter to the DHS chief.
According to the internal documents, the DGB planned to crack down on what it deemed to be disinformation in areas where there were alleged "clear, objective facts."
But as Hawley and Grassley noted, "it remains unclear how DHS defines 'clear, objective facts.'"
Documents show that DHS was not just focused on foreign disinformation but also issues at the heart of longstanding political debate such as theories about the validity of elections, the origins and effects of COVID-19 vaccines, and the efficacy of wearing masks.

Despite her long and well-documented history of embracing and spreading disinformation aimed at undermining Republican political figures, including President Trump, Nina Jankowicz was tapped to be the DGB's executive director – a move that whistleblowers allege could have been because of her connections to Twitter executives. Documents confirm that Jankowicz knew Twitter's head of policy and head of site integrity.
"Given the significant coordinating role the Department envisioned for the DGB, the consequences of installing Nina Jankowicz, a known trafficker of foreign disinformation and liberal conspiracy theories, as the DGB's first Executive Director, would have been a disaster," the senators wrote.
The Department of Homeland Security  "paused" the board and Jankowicz resigned last month amid a major pushback from conservatives who compared the board to an Orwellian "Ministry of Truth."
In their letter, the senators asked a number of questions regarding the DGB and requested records related to communications regarding the department's efforts to enlist the cooperation of social media platforms to advance its policy goals.  They also asked Mayorkas to explain his lack of candor regarding the DGB's actual purpose.
1. Has DHS at any point in time asked or suggested to Twitter, Facebook, TikTok, or any other social media executives that they should censor, flag, add context to, or
remove any social media posts that it believes to be disinformation?

2. Has DHS at any point in time asked or suggested to Twitter, Facebook, TikTok, or any other social media executives that they suspend or ban the account(s) of individuals believed to be promoting information it believes to be disinformation?

3. Please provide all documents, including all written and electronic communications, memoranda, and organizational documents, related to the DGB from the point that DHS first considered establishing a DGB until the present.

4. Please provide all documents, including all written and electronic communications and memoranda, related to Nina Jankowicz's selection as Executive Director of the
DGB.

5. Please explain why, in your public statements and testimony before Congress, you have not fully explained the key role that the DGB was designed to play in coordinating among DHS components and engaging the assistance of the private sector.

6. Please explain how DHS defines "MDM" and how DHS decides whether a given news story or other piece of information fits its definition of "MDM." Please identify
who exactly is ultimately responsible for making this determination.

7. Please explain the criteria DHS uses when deciding whether to spend taxpayer resources addressing a particular news item or narrative that it has classified as
"MDM."

8. Please describe all safeguards that DHS has put in place to ensure that its efforts to counter the spread of disinformation do not infringe on Americans' constitutional
right to free speech.

9. Did DHS Under Secretary for the Office of Strategy, Policy, and Plans Robert Silvers meet with Twitter executives on April 28, 2022? If so, please provide a summary of topics discussed during the meeting.

10. Please define what DHS means by the phrase, "operationalizing public-private partnerships."
The senators asked Mayorkas to respond to their questions "no later than June 21, 2022."
"This was going to be a state propaganda machine," Hawley told Fox News' Tucker Carlson Wednesday night.