So there we were, two guys in their 70s blasting paper targets at the Lewis Wetzel gun range in Triadelphia, West Virginia.  
U.S. Representative David McKinley had agreed to my request for an on-the-record interview at a gun range to see if he is, in fact, a straight shooter and to refute his opponent Alex Mooney's latest smear that came in the form of a "door knocker"—one of those political leaflets left hanging on a doorknob if a potential voter is not home. 
The two incumbent conservative Republican congressmen are locked in a do-or-die primary fight because population loss has reduced West Virginia from three to only two congressional districts. Thus, the new 1st Congressional District has pitted them against each other in a primary, a rare occurrence. 
Mooney was the subject of two ethics investigations within the space of just one year for all manner of apparent less-than-honest and insidious shenanigans, including allegations he used a local Catholic Church gift shop to launder money, changing his official calendar dates and times to mislead investigators, and using campaign money to "fulfill" his Chick-fil-A "habit."  
"The expanding investigation into Alex Mooney raises a number of concerns for the voters," said McKinley campaign manager Kevin Stephens. "Destroying evidence, using taxpayer-funded staff as personal chauffeurs, and misusing taxpayer dollars for personal and campaign expenses are serious violations."  
So imagine my lack of surprise when an Alex "Alejandro El Gordo" Mooney door knocker found its way to me. It seems that, like Mooney himself, it is stuffed full of chicken, er . . . sandwiches.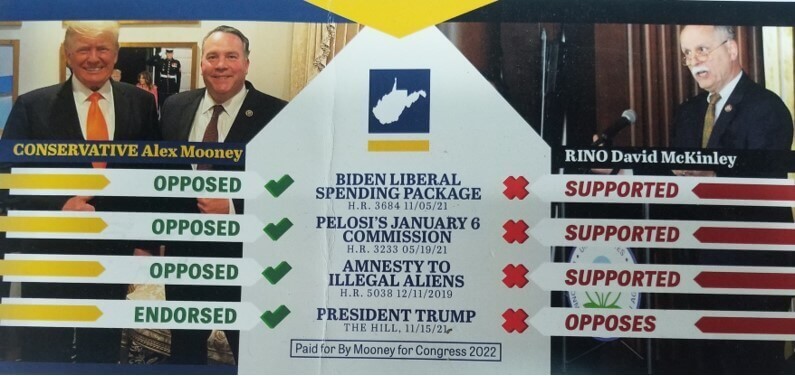 The distortions are so fetid and so, well, Mooneyesque, that I felt a strong need for a little Second Amendment "aromatherapy," indulging in the intoxicating scent of burnt cordite on a cool Saturday afternoon. 
And so, my sojourn to the range. Although McKinley brought his own weapons (after all, he did get an "A" from the National Rifle Association), he wanted to try my tricked-out Glock-26. 
I handed him my "safed" pistol and a couple of magazines. With no effort, he loaded, racked, and took aim. 
Bang! Bang! (And they were good hits.)
Between shots, and with our ear protection on, I shouted: "Alex Mooney says you are a Republican in name only. Are you a RINO?" 
"No!" he replied emphatically.  
Bang-Bang! Bang! (I noted the tight group.) 
When we both ran out of 9mm ammunition, we sat down and discussed Mooney's door knocker accusations.  
As might be expected from a Maryland carpetbagger and "political prostitute," they are distortions of the worst kind. 
On the January 6th Commission: "I voted for the bicameral, bipartisan bill, which did not pass. [House Speaker Nancy] Pelosi's January 6 witch hunt in which she dismissed Jim Jordan is the bill I voted against." 
On immigration and amnesty: "The 'amnesty' is a distortion. It's true that I voted for HR 5038, which was Donald Trump's original plan. The Farm Workforce Modernization Act gives legal temporary work status to farmworkers with renewable certificates specific to agriculture. It does not give them amnesty or citizenship. Some conservatives see that as amnesty. I didn't. And neither did Donald Trump."  
On Biden's "Build Back Better" proposal: "I voted against the Biden social spending bill, also known as Build Back Better, which stalled out in the Senate. I voted for the hard infrastructure bill that included roads, bridges, broadband, water and the like."
The specific bill McKinley voted for was HR 3684, the "Infrastructure Investment and Jobs Act," which Mooney claims is the "Biden Spending Plan," making it sound like HR 5376, the "Build Back Better" social spending bill that McKinley voted against.  
Nevertheless, the infrastructure vote cost McKinley a Trump endorsement, but McKinley got a vigorous endorsement from West Virginia Governor Jim Justice, who then went out of his way to slam Mooney: 
Congressman McKinley has never been elected to serve in another state's Legislature (Congressman Mooney has), been the chairman of another state's Republican Party (Congressman Mooney has), or been under an active federal investigation (Congressman Mooney has). In fact, his opponent [Mooney] has only met with me one time since I became governor, but I see and talk to David all the time. I have serious concerns about his opponent's ability to represent West Virginians well, after spending the majority of his time and life representing Maryland.
Ouch!
Back at the gun range, McKinley explained why he voted for HR 3684. "West Virginia ranks 50th in the states' quality of infrastructure. Dead last," he said. "The infrastructure bill wasn't the trillion-plus dollar monster it was perceived to be because new money was $550 billion. The rest had been previously authorized. West Virginia quite obviously needed the infrastructure money which I have been pursuing for 12 years and so I voted for the hard infrastructure bill."
McKinley, working with West Virginia's U.S. senators, Democrat Joe Manchin and Republican Shelley Moore Capito, also managed to snag some $6 billion for West Virginia, the seventh-highest per capita amount in the country, much greater than normal per capita funding the state would normally receive. 
"I don't know how they teach math in Maryland," McKinley told me, "but Alex Mooney can't add."
Given Mooney's obvious problems with Chick-fil-A spending and calorie counting, I'd say the man has a point.
(Mooney Chief of Staff Michael Hough has declared American Greatness and this writer persona non grata, and thus the congressman is permanently unavailable for comment.)