When we last checked in with U.S. Representative Alex Mooney (R-W.Va.), evidence of his misuse of campaign funds had been referred to the House Ethics Committee by the Office of Congressional Ethics. 
As American Greatness has reported, Mooney's congressional campaign used campaign money to pay for the congressman's personal expenses, including $3,475 in meals from Chick-fil-A and other fast-food restaurants, two vacation trips to resorts in West Virginia, and $17,250 in gift card purchases from a Catholic Church gift shop. He has repaid more than $12,000 of a disputed $40,115 as a result of the OCE investigation. 
The House Ethics Committee probe, which was supposed to be completed in October, is now expected to be done later this spring. 
Personally, I can't wait.    
Mooney is also locked in a tough primary battle with fellow West Virginia congressman, David McKinley. This despite having a cash advantage over McKinley, who has represented the state's 1st Congressional District since 2011. Mooney has represented the 2nd Congressional District since 2015, which he won after he moved from Maryland.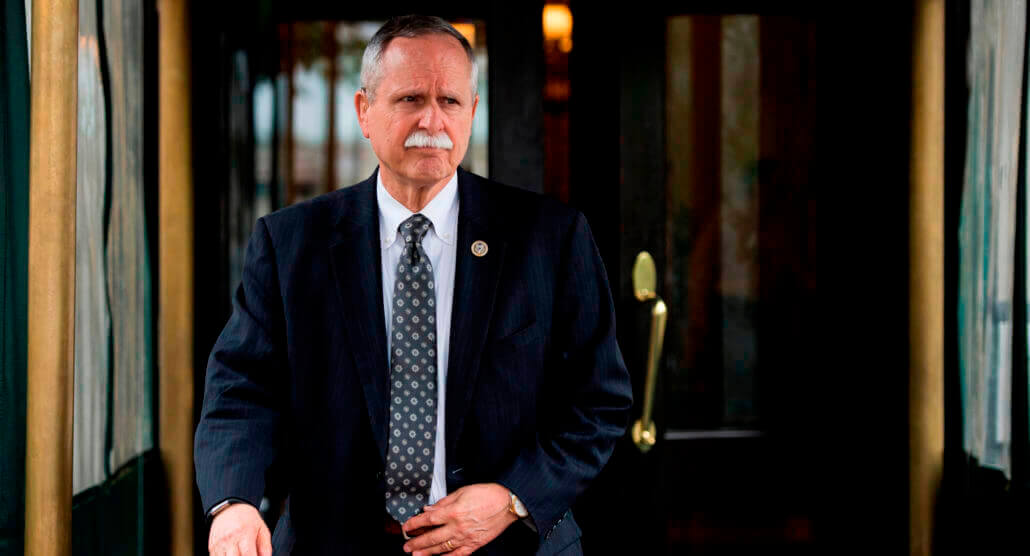 The trouble is, West Virginia lost population in the last census, which means the reddening state is losing a seat in the House of Representatives. That means two Republicans are vying for the newly redrawn district—the resulting kluge of the old 1st and 2nd districts into the new (but not much improved) 1st district was drawn up by lawmakers in Charleston, driven by a desire for "compactness."
Right. 
Elbridge Gerry and Ken Kesey tripping on high-grade acid could not have done a more "creative" job.
Nevertheless, McKinley is leveraging his resources to land haymakers against his carpet-bagger opponent, whom one Forbes writer aptly described in 2014 as a "political prostitute." That charge has been refreshed thanks to McKinley's media ads and websites. 
The attacks seem to be working, judging from an extremely unscientific poll I conducted last week at a Dunkin' Donuts in Ranson: Among the handful of gathered retirees, there was much hard chortling about candidate Mooney, and one bona fide case of coffee-through-the-nostrils, when one of them suggested a pithier appellation for Mooney-the-Maryland-Carpetbagging-Political-Prostitute might be "the Baltimore Whore." 
As I have been declared persona non grata by Mooney and Chief of Staff Mike "Shoebill" Hough, and thus am unable to obtain comment from the congressman's office or his campaign, I turned to the McKinley camp. I received an email response from McKinley campaign manager Kevin Stephens. 
"West Virginians deserve to know the truth about Alex Mooney," Stephens said. "He is an opportunistic career politician who only moved to West Virginia to run for office and has a long track record of unethical behavior." Fact check: True. Mooney moved from less than 30 miles from deep-blue Frederick, Maryland to bright-red Charles Town, West Virginia in 2013 in order to run for Congress. 
"Whether it's violating federal law by spending nearly $50,000 of his donors' money on personal meals and travel, or consistently voting against West Virginia, it's clear Alex Mooney is out for himself, not for West Virginia."
McKinley, by contrast, is a seventh-generation West Virginian. Although he voted for the infrastructure bill last year, McKinley's voting record shows strong support for Donald Trump's America First agenda and he has rarely missed a vote.      
"He has a track record of delivering conservative results for West Virginia's veterans, coal miners, law enforcement officers and more. He doesn't just talk, he actually gets things done," Stephens told me. 
Well, that's all very nice and not at all unexpected. 
I don't know McKinley, however, who also claims to be an ardent Second Amendment supporter. So I have asked for an on-the-record interview. At a gun range of his choice. Preferably in the cold and the snow, which shouldn't bother any seventh generation West Virginian. With a rifle, pistol, or shotgun (or all three) to see if he can shoot straight. Literally and figuratively.  
Watch this space.