A new election forensics report on the 2020 election in Michigan shows that voter registration in nine counties is either near or exceeds the county population, and over 66,000 recorded ballots in those counties were not associated with a registered voter. Dr. Douglas G. Frank, the expert who conducted the analysis, said he also detected the activity of a "regulating algorithm" in the vote count.
His analysis concluded that ballots in Michigan, and other swing states were "harvested at the precinct level, regulated at the county level, and determined at the state level."
The report comes from constitutional attorney Matthew DePerno, who filed a lawsuit in November of 2020 on behalf of  William Baily, an Antrim County resident.
Baily contested the results after Antrim County, a traditionally "red" county flipped overwhelmingly to "blue."
"The reported results featured a 3,260 vote margin for Joe Biden out of a total of 16,047 votes cast, The Election Wizard noted. "The wide victory didn't make sense to most political observers."
Following the oddity, the Antrim County Board of Canvassers conducted a series of recounts. Strangely enough, each recount produced different results.

The first recount on November 5, showed Donald Trump defeated Joe Biden by 2,494 votes out of a new total of 18,059 votes cast. The second recount conducted on November 21, indicated that Donald Trump defeated Joe Biden by 3,788 votes out of a new total of 16,044 votes cast.

Finally, on December 17, a hand recount (initially portrayed as an audit) was conducted that revealed that President Trump defeated Joe Biden by 3,800 votes out of a new total of 15,962 votes cast.

Thus, between November 3 and December 17, Donald Trump received an additional 5,250 votes while Joe Biden saw a 1,810 vote decrement. That's a net swing of 7,060 votes.
State officials blamed the snafu on outdated software on the voting machines, alleging that the clerk's staff in Antrim County did not update the media drives for all of the tabulators in the county.
"The issue with Antrim County's presidential results occurred after county Clerk Sheryl Guy failed to update Election Source software on all tabulators after performing an update to two of them," the Detroit News reported. "The failure caused the machines to transpose results as they were sent to the county's main software."
Guy, however, reportedly told DePerno in the days after the election that there was "no way for human error to occur with what she did with the voting machines, Dominion software or the results of the election."
According to DePerno, she changed her story due to "tremendous pressure from others in the county and at the state level as well."
After being granted discovery, DePerno in December hired a team of forensic investigators associated with Allied Security Operations Group (ASOG) to examine 22 Dominion voting machines in Antrim County. Michigan Attorney General Dana Nessel and Secretary of State Jocelyn Benson were able to temporarily block the results of the audit, but a Michigan judge ordered the release of the results on Dec. 14.
ASOG declared in its report that "Dominion Voting System is intentionally and purposefully designed" to "create systemic fraud," and that election results of Antrim County should not have been certified. The cyber security firm also said that it observed an error rate of 68.05 percent in the machines.
Next, DePerno issue subpoenas to county clerks in Antrim, Barry, Charlevoix, Grand Traverse, Kent, Livingston, Macomb, Oakland, and Wayne counties.
The attorney hired Frank, who holds a PhD. in "Surface Analytical Chemistry," to conduct a vote analysis on the nine counties. The analyst presented his results in court on Friday.
According to Frank, there were 66,194 ballots found in the voter data base that were not in the registration voter base.
Frank said he used data from three different databases—census.gov, a state registration database, and a state voter database—to make the following conclusions: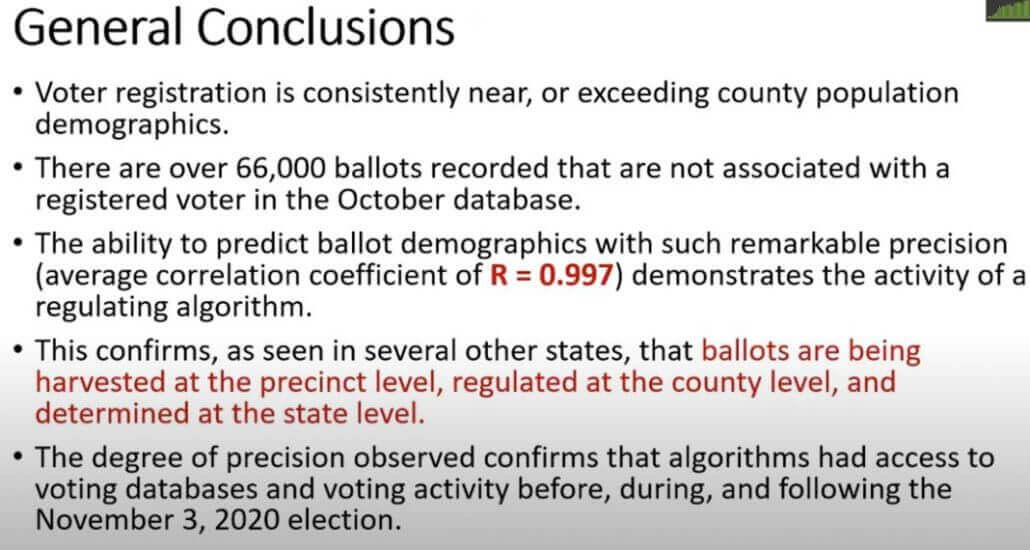 Frank said that each of the contested states have a "key" that converts voters in the registration database into ballots. He was able to use the key from to predict the results of all nine counties.
Sixth-order polynomial used in Michigan pic.twitter.com/ko2dkEj6JL

— Matthew S. DePerno, Esq. (@mdeperno) April 9, 2021
Oakland County Wayne County pic.twitter.com/uyj3OnzqqF

— Matthew S. DePerno, Esq. (@mdeperno) April 9, 2021
Livingston County Macomb County pic.twitter.com/tbUn6L2Dx6

— Matthew S. DePerno, Esq. (@mdeperno) April 9, 2021
Livingston County Macomb County pic.twitter.com/tbUn6L2Dx6

— Matthew S. DePerno, Esq. (@mdeperno) April 9, 2021
Barry County Charlevoix County pic.twitter.com/Th1fqt7ueB

— Matthew S. DePerno, Esq. (@mdeperno) April 9, 2021
Antrim County pic.twitter.com/bx5TpaGuZd

— Matthew S. DePerno, Esq. (@mdeperno) April 9, 2021
DePerno also argues in his suit that voting machines in Antrim County had a least one connection to the internet on Election Day.
Good Morning !

2020 Election Integrity: Michigan – Court Approved County Forensic Audit – Developing, More

Dominion Systems officials have never wavered in their assurances that their equipment is not connected to the internet. From link here – https://t.co/PiW0MZlfbj https://t.co/6YJmyaEAwG pic.twitter.com/NxnK9ELfRJ

— Rasmussen Reports (@Rasmussen_Poll) April 11, 2021
Dr. Frank shared his conclusions in a YouTube video.