A video clip of Robert Kennedy Jr. laying out some inconvenient but undeniable facts about Pfizer's COVID-19 vaccine clinical trials, was removed by X (formerly Twitter) over the weekend.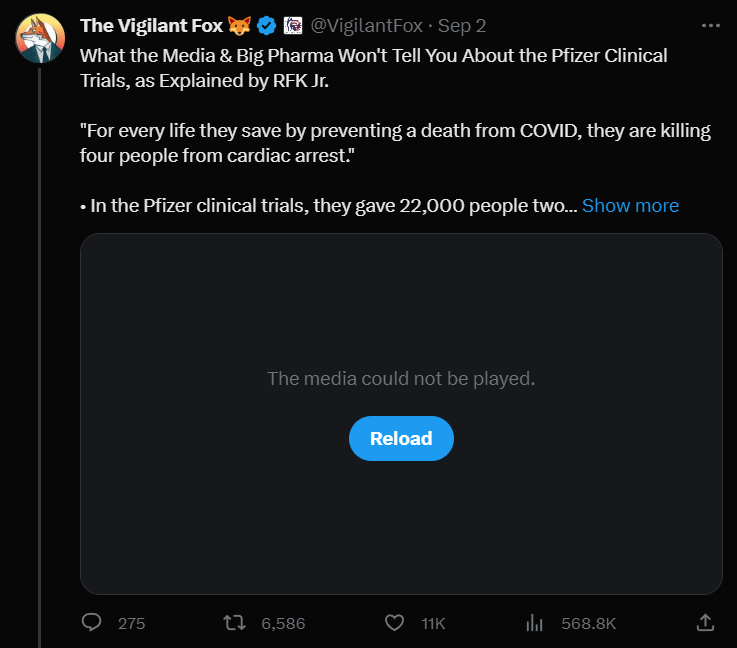 When he took over the platform, X owner Elon Musk stated that "free speech is the bedrock of a functioning democracy," but under the stewardship of Linda Yaccarino, X appears to be returning to its former habit of suppressing speech that challenges official government narratives.
Yaccarino, the former advertising chief at NBCUniversal and current chairperson of the World Economic Forum's Taskforce on Future of Work, began her role as X's CEO in May. Yaccarino also sits on the WEF's Media, Entertainment and Culture Industry Governors Steering Committee, according to Reuters.
Kennedy had pointed out, during a recent interview with podcast host Brian Rose, that more people died who received the mRNA injections than those who received the placebo, according to Pfizer's own clinical trial data, which they tried to hide for 75 years.
"As soon as they started clinical trials, they started seeing injuries, they started seeing waning efficacy—very fast," he told Rose.
During Pfizer's clinical trial of the mRNA Covid vax, 21 people died in the vaccine group versus 17 in the placebo  group, Kennedy said. Of the 44,000 test subjects, one person died of COVID in the vaccine group, and two people died of COVID in the placebo group.
"This allowed Pfizer and the FDA to tell the public that the mRNA product was "100 percent effective," RFK Jr. said.
Kennedy explained that leaders like former NIAID director Dr. Anthony Fauci , billionaire vaccine-pusher Bill Gates, and Joe Biden claimed that "it's 100 percent effective because number two is 100 percent greater than number one."
Kennedy said the claim was meant to be deceptive because they knew that when most Americans heard it was "100 percent effective," they thought that meant, "if I get the  vaccine, there's a 100 percent chance I will not get sick."
However, RFK Jr. continued, what it actually meant was that "in order to prevent one COVID death, they had to give 22,000 vaccinations." Given the mRNA shots' limited efficacy, it was critical for health authorities to make sure that they were safe, he argued.
"If you're going to give 22,000 vaccinations to prevent one COVID death, you'd better make sure that that vaccine is not killing anybody from other causes," Kennedy said. Because according to Pfizer's own numbers, the people who received Pfizer's COVID vaccine had a 23.5 percent greater likelihood of dying of all causes after six months than the placebo group.
A major cause of death in the vaccine group was cardiac arrest," Kennedy also pointed out.
"There were five cardiac arrest deaths in the vaccine group and only one in the placebo group. What that means is that if you take that vaccine, you're [five times] more likely to die from a fatal cardiac arrest over the next six months than if you don't. What it also means is that for every life they save by preventing a death from COVID, they are killing four people from cardiac arrest," he said.
The clip, which was posted by "pro-freedom citizen journalist" Vigilant Fox on Saturday, was removed by X that same day.
At the time the video was taken down, it had garnered over 500,000 views, according to the Vigilant Fox.
"The post and the text stayed up, but the video was taken down. Had the video not been taken down, the post could have seen a million views or more," the Vigilant Fox wrote on Substack. Users also reported they were blocked from sharing the post.
Edward Dowd, a data analyst who has been closely tracking all-cause mortality since the COVID vaccine rollout, noted in a recent interview that the clinical trials' all-cause death data matches the real-world data he's seen.
"The all-cause mortality of the vaccine group was 23 percent higher than the all-cause mortality of the placebo group," Dowd told conservative podcast host Larry Elder. "And what do we have today currently running in the US for excess mortality?—23 percent, according to our numbers. I just find that curious."
Dowd is the author of "Cause Unknown": The Epidemic of Sudden Deaths in 2021 & 2022.
Last week, Joe Biden told reporters that he was working on getting funding for a new COVID vaccine, and hinted that new COVID vaccine mandates could be in store for Americans "no matter whether they got it before or not."
"I signed off this morning on a proposal we have to present to the Congress—a request for additional funding for new vaccine that is necessary that works," Biden said. "And tentatively, not decided finally yet, it is recommended, it would likely be recommended, everybody get it. No matter whether they got it before or not."
NEW – Biden Says New COVID Shots 'That Work' May Be on the Way for All Americans

"I signed off this morning on a proposal we have to present to the Congress – a request for additional funding for new vaccine that is necessary that works…Tentatively it is recommended, it would… pic.twitter.com/uYBdOQOK4o

— Chief Nerd (@TheChiefNerd) August 26, 2023