Twitter is poised to accept Elon Musk's $43 billion buyout offer, according to multiple reports, and a deal could be finalized as early as today if everything goes smoothly.
The social media company is in "the final stretch of negotiations" with Musk over his unsolicited bid to buy the company, the New York Times reported.
The two sides were talking about details including a timeline to close any potential deal and any fees that would be paid if an agreement were signed and then fell apart, they said.

The discussions followed a Twitter board meeting on Sunday morning to discuss Mr. Musk's offer, the people said. Obtaining commitments for the financing was a turning point for how the board viewed Mr. Musk's bid of $54.20 a share, enabling the company's 11 board members to seriously consider his offer, the people said.

Twitter's stock rose 4 percent on Monday, to about $51.23 a share.

An agreement is not yet final and may still fall apart, but what had initially seemed to be a highly improbable deal appeared to be nearing an endgame. The situation involving Twitter and Mr. Musk remains fluid and fast-moving, the people with knowledge of the situation said.
Musk's interest in Twitter has upset many of its woke employees and users because he has publicly stated that he believes there is a "societal imperative" for it to be used as a platform for free speech.
In a letter accompanying his takeover bid, Musk said Twitter needs to be "transformed as a private company" in order to return to its roots as "a platform for free speech."
"I invested in Twitter as I believe in its potential to be the platform for free speech around the globe, and I believe free speech is a societal imperative for a functioning democracy," he wrote.
The billionaire has also spoken out against what he calls the "woke mind virus," which he says has made Netflix unwatchable.
Last December, Musk told the conservative satire site The Babylon Bee during an interview that the "woke mind virus" is "a world without humor" and "arguably one of the greatest threats to modern civilization." He said the Onion used to be "extremely funny" until it was taken over by the woke mind virus, and "that just makes everything less funny."
Changes Musk has suggested he would make to the platform include tweaking content moderation, opening up Twitter's shadow-banning algorithms, combatting cryptocurrency scams, and offering an edit button.
On Friday, Musk, the richest man in the world, took aim at billionaire philanthropist Bill Gates, comparing an unflattering photo of him to a pregnant male emoji in a tweet that got 1.1 million "likes."
in case u need to lose a boner fast pic.twitter.com/fcHiaXKCJi

— Elon Musk (@elonmusk) April 23, 2022
Musk explained in a subsequent tweet that Gates had taken a short position in Tesla's stock, while "claiming to support climate change action."
Twitter later felt the need to highlight a "factcheck" another viral Tweet about Gates' appearance.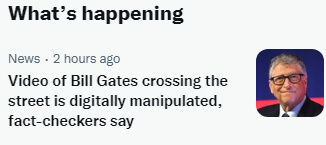 In a tweet that signaled how negotiations were going, Musk wrote late Monday morning that he hopes even his "worst critics remain on Twitter because that is what free speech means."
I hope that even my worst critics remain on Twitter, because that is what free speech means

— Elon Musk (@elonmusk) April 25, 2022
Update:
BREAKING: Twitter and Elon Musk reach deal on buyout, to be announced shortly – WSJ

— Breaking911 (@Breaking911) April 25, 2022
Update:
Twitter announced that it entered into a definitive agreement to be acquired by Elon Musk for $54.20 per share in cash in a transaction valued at approximately $44 billion.
When the transaction is completed, Twitter will be a privately held company.
In a statement Monday afternoon, Musk reiterated his immediate goals for the company.
"Free speech is the bedrock of a functioning democracy, and Twitter is the digital town square where matters vital to the future of humanity are debated," said Mr. Musk. "I also want to make Twitter better than ever by enhancing the product with new features, making the algorithms open source to increase trust, defeating the spam bots, and authenticating all humans. Twitter has tremendous potential – I look forward to working with the company and the community of users to unlock it."
Former President Trump meanwhile told Fox News Monday that he will not return to Twitter, even if Musk purchases reinstates his account, saying he will instead use his own TRUTH Social as an exclusive platform for his voice.
Trump was permanently suspended from Twitter, Facebook, Instagram, and Snapchat following the Jan. 6, 2021 Capitol riot. Twitter deemed a number of his tweets connected to the violent protests as inflammatory and warned of "the risk of further incitement of violence."

When asked whether a Musk-owned Twitter could be competition to TRUTH, Trump said that he feels it would be a positive development in the social media space.
Trump and Musk reportedly spoke by phone earlier Monday.
Donald Trump Talked To Elon Musk This Morning.

— B (@ActuaIIyBarron) April 25, 2022
A source familiar told Fox News that Trump and Musk have a very good relationship and are friendly. The source cited Trump coming to Musk's defense in 2018 after the Tesla CEO was charged with securities fraud over misleading tweets about a potential transaction to take Tesla private.