On November 23, 2022 self-proclaimed "free speech absolutist" Elon Musk tweeted out a Twitter poll asking if he should provide a general amnesty to accounts banned under the previous corporate regime. The poll came back overwhelmingly in the affirmative with 73% of respondents answering "yes." 
Musk appeared to concur responding "Vox populi, vox dei": the voice of the people is the will of God. Musk followed through on his word—in part. For one, he brought back President Donald Trump and many other important right-wing accounts that had been unjustly banned. However, Musk did not provide a simple blanket amnesty. He preserved the permanent suspension of Alex Jones, for instance, and… me.  
I'm honored to be in such illustrious company but I confess: I am mystified. Unlike Jones, I don't have an audience of tens of millions. I didn't help swing a major American election. I am, by contrast, a humble American citizen and veteran outraged by the ideological perversion of our military and the culture at large.  
Twitter was, for the short few months I was allowed to use it, the chief vehicle for getting my message into the public consciousness and sharing my long form work. In the summer of 2021 I "went viral" when an Army General personally attacked me on Twitter for criticizing the military's COVID policies. That resulted in an appearance on Fox News and a significant growth in my audience. From August to December of 2021, I gained on average 3,000 followers a month. By December I had 14,000 followers and was averaging 8 million hits a month. My message of accountability from America's top military brass for their inability to win wars but incessant devotion to wokeness had found a ready audience.  
I make no apology for what I said and how I said it: I write with a sharp pen and rightfully so. The failures of our military class wasted American blood and treasure. It is good and just to speak truth to power and forcefully.  
But in December of 2021, I was permanently banned for the alleged sin of "platform manipulation and spam" after a tweet thread I wrote on tribalism within the Democratic Party went viral. The suspension, however, wasn't tied to that series of tweets or to any tweet in particular. No specific reason for the ban was ever given. 
It was not my first suspension. I once made a post arguing that pedophiles should get the death penalty. That resulted in a week-long suspension.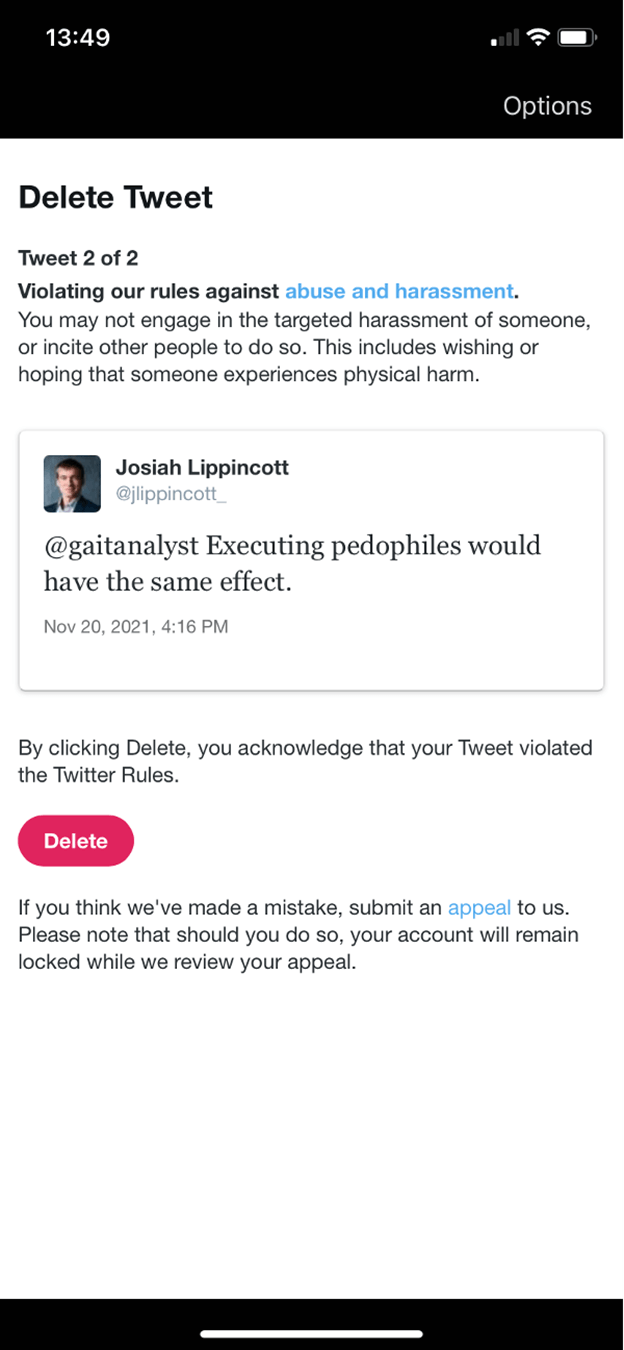 I also said that Kyle Rittenhouse did nothing wrong—while his trial was taking place. Another week long suspension. After my account was restored—and the not-guilty verdict had been rendered—I posted the same tweet again. A jury said that Kyle did nothing wrong so it should be allowed to say as much on social media, no? 
Wrong.  
Twitter permanently suspended me for my tweet AFTER the trial stating the outcome. I fired back in a piece for the Federalist. I pointed out that the Twitter moderation team had effectively libeled Rittenhouse. Within 48 hours of the piece being published, my account was restored. It was a remarkable turn around but it didn't last.  
Just weeks later I was permanently suspended a second time for "platform manipulation." That suspension was never tied to any actual misconduct. I received a mere boiler plate email indicating that my account had been used in a "manner intended to artificially amplify or suppress information or engage in behavior that manipulates or disrupts people's experience on Twitter."  
I don't know what that means. Which is the point. The Twitter Files exposé revealed that top level Twitter executives, specifically Vijaya Gadde and Yoel Roth, maintained a top level task force named, Site Integrity Policy, Policy Escalation Support (SIP-PES), to handle the most sensitive suspensions.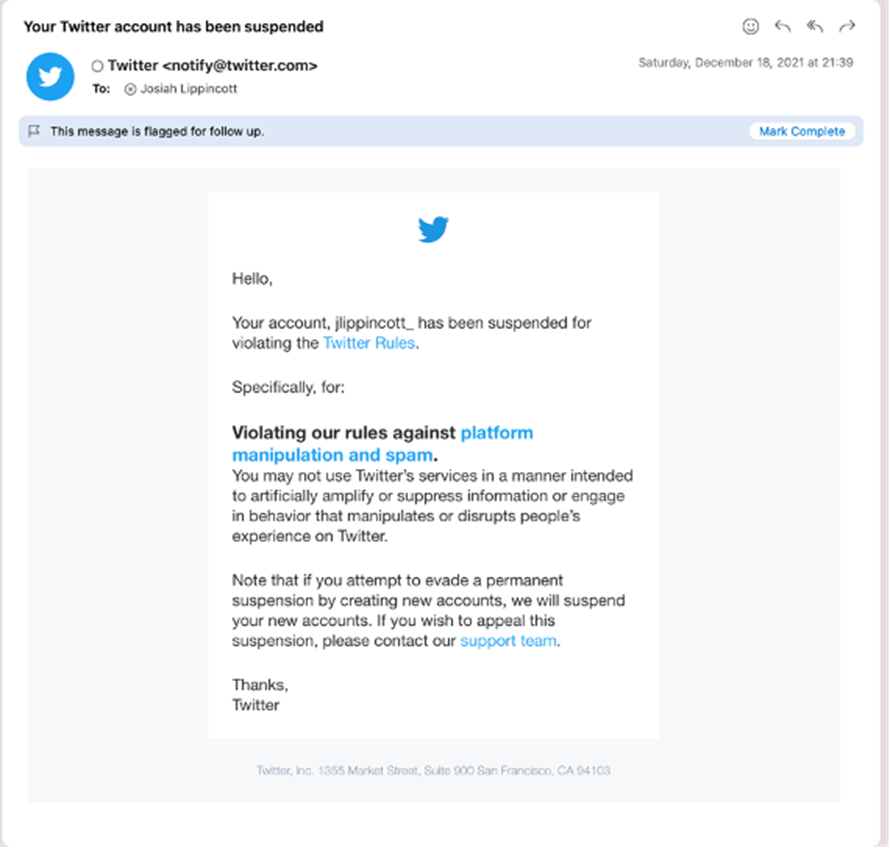 That likely included my account. 
Conservative accounts, including Charlie Kirk, Libs of tik-Tok, and Dan Bongino—among other conservatives—were targeted for shadow banning by SIP-PES. The Twitter files also revealed that executives at Twitter had an ongoing and close relationship with federal intelligence and police agencies, politicians, and thinktanks. These entities frequently made requests for Twitter to ban users for alleged foreign "misinformation" and subverting the democratic process.  
The Pentagon is also a key player in the disinformation game. The Intercept reports that the Army's Protective Service Battalion sought to purchase digital programs that would allow them to further their mission of protecting senior military leaders from "assassination, kidnapping, injury or embarrassment" by trawling through social media. Again, the Protective Service Battalion wasn't just looking for direct bodily threats against senior military leaders but embarrassing online content.  
I, for one, am guilty of exposing our beloved military leaders and their puffed up chests full of medals to embarrassment. For one, I once pointed out in a piece that General Mark Milley is an obese traitor. 
Considering the totality of evidence that we know about the federal government's involvement in pushing for bans of users on Twitter, my criticisms of the American military, my own repeated unjust suspensions for political commentary, and the nebulous nature of my own suspension it is clear to me that my suspension was motivated by elements within the American military industrial complex.  
There are two additional pieces of circumstantial evidence. The first is that a number of my suspensions were the result of explicit "mass report campaigns" by uniformed military personnel. Dozens of former and current military personnel openly coordinated efforts to mass flag my tweets in order to get me suspended.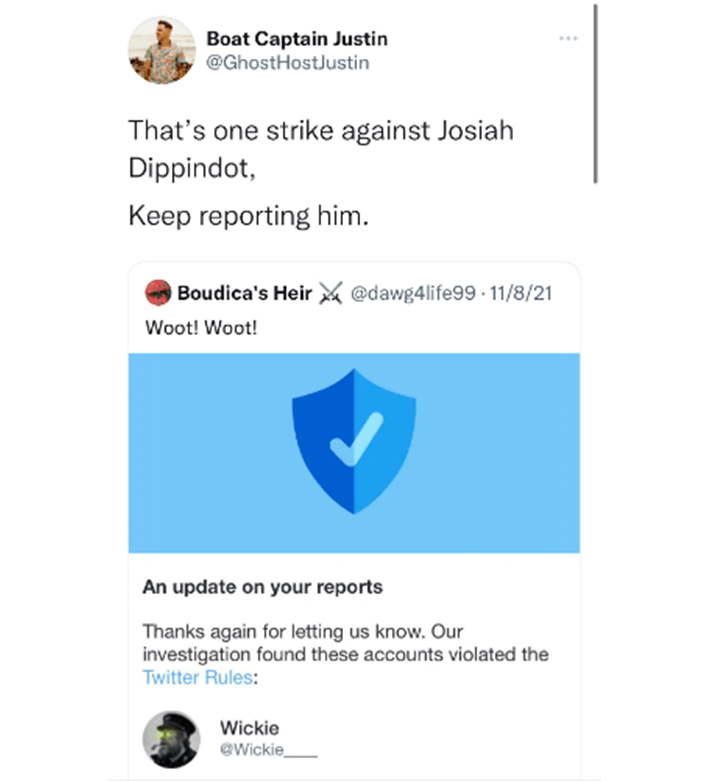 The user above "GhostHostJustin" is Army Major Justin Rose, who had a particular axe to grind against my ongoing criticism of senior military leaders. Rose went so far to gain unauthorized access to my personnel file and then release it on Twitter in an effort to discredit my criticisms of senior leaders.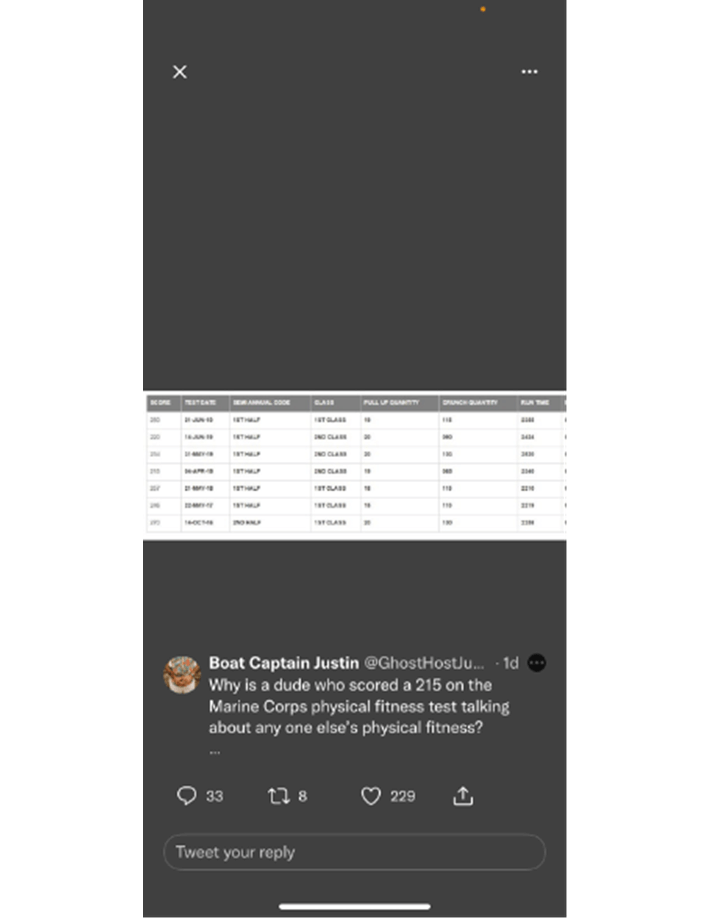 This tweet served as grounds for an Army Inspector General investigation into this unauthorized release of internal personnel information. That investigation began in the fall of 2021 and was only completed this last month. I do not yet know the results of the IG's work and won't until I am able to successfully FOIA the document itself.  
What I do know is that uniformed military personnel worked in concert to get me banned from the nation's largest social media platform and that they claimed to be doing so explicitly on behalf of senior military leaders. Here is Major Rose saying that he has General Patrick Donahoe's back (Donahoe was the General who tried to cancel me in the summer of 2021).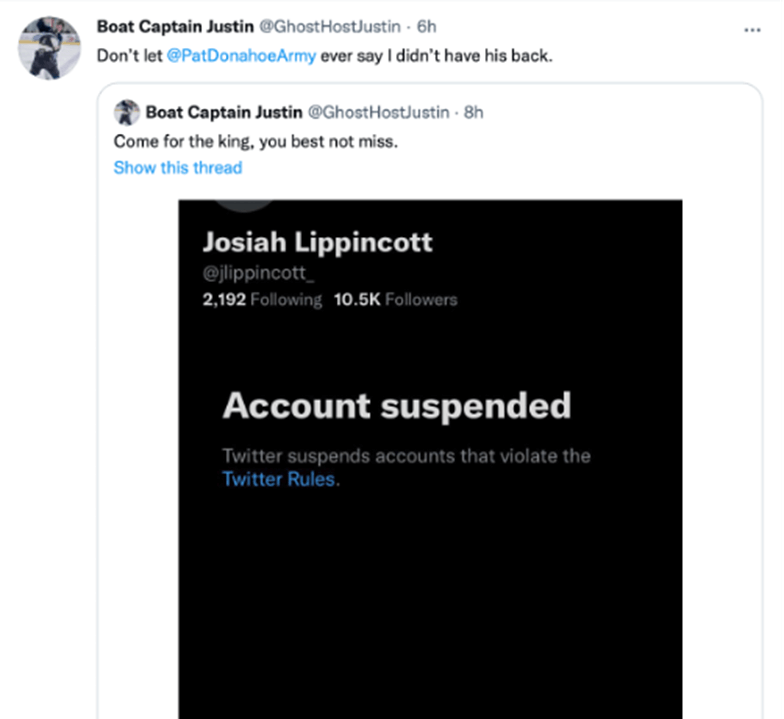 Though permanently suspended, my work had an impact. An investigation into General Donahoe over his comments on social media ended up holding up his retirement for several months. I was even denounced in the Washington Post as a "random . . . troll," "MAGA extremist," and part of the "far-right forces trying to subvert American democracy" for my role in allowing Donahoe to expose his liberal bona fides to the world.  
I cannot help but notice that military policy toward Generals tweeting has changed since my suspension. Senior leaders are no longer allowed to tweet from their personal accounts while in uniform. It's a small victory but a victory nonetheless. MilTwitter as it is called is a toxic cesspit. But it is useful to see just how stupid, ideological, and vicious our "leaders" and "public servants" have become. Twitter is wonderful at giving powerful people to reveal to the world just how unimpressive they really are.  
In light of my ongoing battle with the Pentagon, the embarrassment I caused, and the organized campaign to get me banned, it seems obvious why I haven't been allowed back on Twitter: even Elon Musk is forced to bow before the American government.  
Under his ownership, my appeals to have my account reinstated were rejected finally and permenantly.  
In May, Twitter Safety reached out for "more information" from me as to why I should be allowed back onto the platform under "Twitter's new criteria."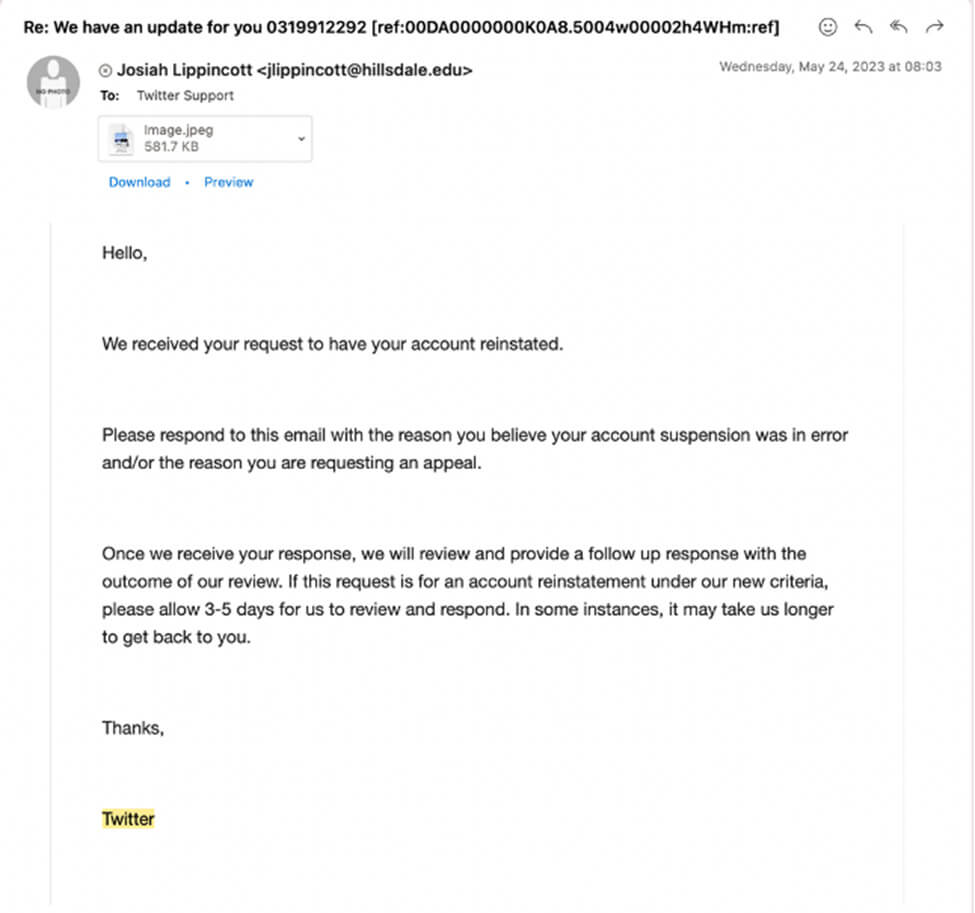 A few days later, I received the verdict: after an additional review, my suspension was once again affirmed. Even under Elon Musk, my message is, apparently, too offensive to the powers that be for me to be allowed to speak freely online.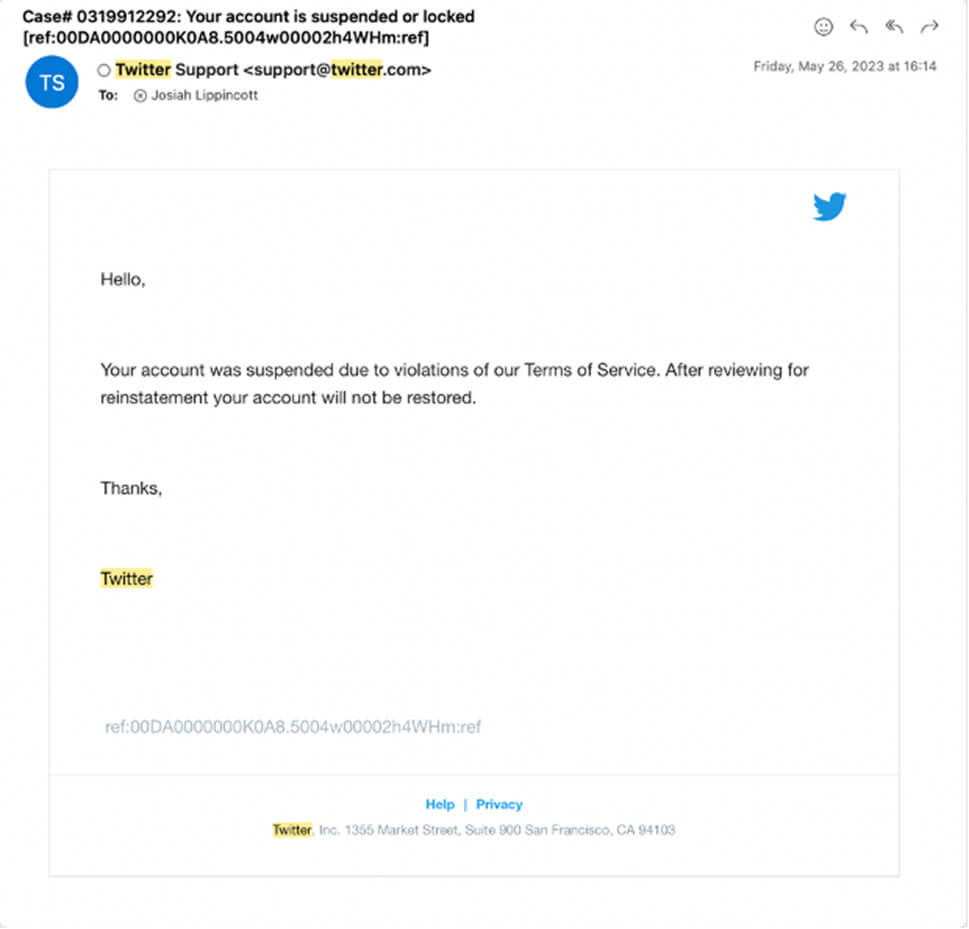 Unless Elon Musk himself says otherwise, I maintain that this suspension was the result of pressure or orders from the Pentagon or its agents. That I am not allowed to speak freely in the nation's largest public square is a condemnation of Twitter and the alleged principles of free speech that we Americans have prided ourselves in holding.  
It disgusts me that even under Musk, Twitter won't be honest about why I was suspended. I would like to know the charges made against me. What laws have I broken? How did I break them? I want to know. Does Twitter think I am a racist, a white supremacist, or a Nazi because I criticized Joe Biden? If so, they should say as much. If Twitter is going to do the dirty work of dictators they should at least be honest about it. 
My experience with Twitter has made painfully clear to me why my forefathers fought so hard to preserve their fundamental freedoms. Twitter abridged my right to free speech with a mere snap of the fingers. There was no trial, no jury, and no public appeal process. I have no way to confront my accusers or to defend myself. There is no "law" I can consult, only the Will of the ruler.  
The idea that what Twitter has done to me is fine because they are a "private company" is absurd. Twitter is so large and so powerful that it has banned heads of state. Twitter is, in key respects, more powerful than the American government. It is not in any meaningful aspect a private institution. By so thoroughly dominating the common square, Twitter has become a public entity.
It should be treated as such. My ongoing suspension shows that the ownership of a large part of the public square by an individual monopoly cannot continue. Either Elon Musk doesn't have full control over Twitter or he has to bow to illegitimate behind the scenes pressure from the state.  
Twitter's moderation practices need to be brought under the auspices of American courts. The only entity in American life that should be able to strip me of my right of free speech is a jury of my peers. If Twitter wants to ban me, Alex Jones, and others who have dissident political opinions then it should do so by accusing me of a crime.  
Instead of de facto crimethink laws we should put them on the books. I want to see the tyranny I live under. This passive aggressive totalitarianism is repulsive. I can't respect it. My message to the liberal DC uniparty is this: man up.  
Of course, in reality, it would be better if we could have real free speech in this country. Americans should be able to criticize their leaders, question "the science," and point out the corruption and graft that oozes throughout our entire political order. 
Elon Musk should unban my Twitter account, or, if he cannot do that out of fear of retribution from the American military industrial complex and Biden administration then he should pass that information (with receipts) to those who are able to say so.  
That's the kind of America I want to live in. And I'm going to fight for it, even if I am no longer allowed to do so in the nation's largest public square.