The background screening form Hunter Biden filled out in 2018 that claimed he was paying $49,910 a month in rent to Joe Biden was part of an apartment application he fraudulently filled out for his ne'er-do-well cousin, text messages and emails from Hunter Biden's laptop reveal. The younger Biden listed Joe Biden's Delaware mansion as his residence, although the rent he listed on the form exactly matched the security deposit he paid for an office at the House of Sweden in Washington D.C. the year before.
The convoluted story gets even worse, according to the Washington Free Beacon's review of communications from the "Laptop from Hell" in which the cousins refer to their family as "sick."
The younger Biden was apparently trying to secure a lease at a luxury apartment complex in Los Angeles for his cousin Caroline Biden while she was on probation for using a stolen credit card to rack up over $100,000 in make-up and other goods at a Greenwich Village pharmacy.
In 2017, Biden was arrested for using the unidentified victim's Chase card for a year-long shopping spree at the posh pharmacy. The victim had given her permission to make a single purchase totaling $672 in 2015, according to prosecutors.
Caroline Biden, the daughter of Joe Biden's brother Jim and his wife, Sara, had her felony conviction tossed out in June of 2018, and "was allow​ed to re-plead to the lesser charge of petit larceny as part of a sweetheart deal she took in 2017," the New York Post reported.
She was sentenced to two years of probation and wanted to serve that time in Los Angeles to be closer to Hunter, according to the Beacon.
She texted Hunter Biden on July 26, 2018, from a New York City probation office, telling him she urgently needed a California address so her lawyer could transfer her probation there.
Keeping Caroline Biden out of prison was a Biden family affair and Hunter Biden was at the center of the effort. He moved to the West Coast at least in part to escape family drama, he explained in a July 17 message, saying his sister-in-law and former lover Hallie Biden had asked him to leave the state of Delaware.
Text messages from his laptop and passages from his 2021 autobiography suggest that Hunter spent much of his time in California "cooking up batches of crack cocaine and negotiating rates with prostitutes," as the Beacon noted. Nonetheless,  according to a text from Caroline to Hunter, Joe Biden thought Hunter was a "good influence" on her.
"Your dad thinks you're a good influence which you are," she wrote in a text message to Hunter Biden on July 20, 2018, even though Caroline repeatedly referred to Hunter as her "partner in crime" in text messages, and referred to their family as "sick."
Five members of the Biden clan "have been to rehab for drug or alcohol abuse," according to the Daily Mail.
The president's brother Frank, children Hunter and Ashley, his niece Caroline and his late son's widow who also became Hunter's lover, Hallie, have all suffered from addiction issues and had spells in treatment centers – some at the orders of a judge.
Caroline said Hunter was the only family member she felt she could talk to, because "the majority of my family thinks I'm nuts and untalktoable." She also said "our family's sick," that she had "no relationship with my nuclear family," and complained that she had to "do everything on my fucking own," including finding a place to live in California.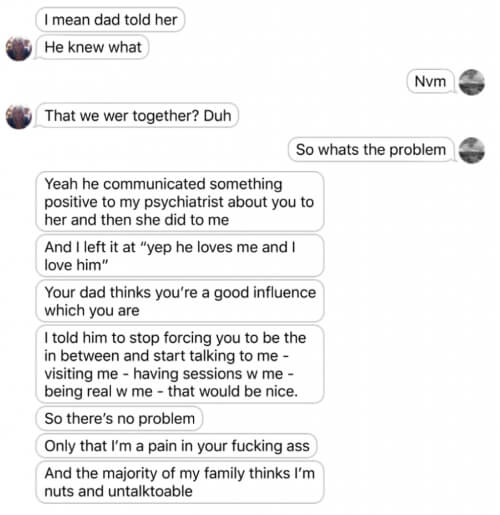 Caroline's father, Jim Biden, had reached out to Hunter for help with the situation. "I need help with Caroline, she is off the rails," Jim Biden wrote to Hunter Biden in a July 13 message.
The idea to have Caroline Biden move to California appears to have been hatched in a follow-up conversation between Jim and Hunter Biden, but it was on Hunter Biden to deliver. Hunter Biden told Jim Biden as early as July 16 that he was looking for rentals in Laguna for his daughter. But by the time of Caroline Biden's probation meeting when she messaged Hunter Biden about the address, he had still failed to secure a place.

"Hunter, parole officer needs Caroline's address in CA in order to transfer to CA," Sara Biden wrote to him on July 27. "Caroline also just said she needs to accept job by end of day today and tell them when she can start."

Shortly after hearing from Sara Biden, Hunter Biden directed his assistant, Katie Dodge, to fill out a rental application on his behalf for an apartment at a luxury complex, the Villa Carlotta, a self-described "residential hideaway for free spirits drawn to the iconoclastic energy of bohemian Los Angeles." He told Dodge she had 45 minutes to complete the task. Although the apartment was for his cousin, Hunter Biden told the property manager that he wanted to move into the unit that evening. I "only ha e [sic] a few bags," he said in an email.

That form, now the subject of intrigue, was riddled with erroneous declarations, including Hunter Biden's claim to have paid $49,910 in monthly rent.
Jim Biden also asked Hunter to convince Caroline to accept a job in California, another term of her parole.  But the 31-year-old "had only had cushy jobs secured by her family and had no intention of lowering her standards," according to the Beacon.
Masimo Corporation, a California company owned by one of Joe Biden's largest donors, had offered her an $85,000 base salary, a guaranteed 10 percent bonus, and stock options, but Caroline was not impressed.
"That's below minimum wage in California after taxes," she told her father in an email. "I cannot take this job. I have never made this little money in my life." Caroline added that she couldn't take a job for "less than $180,000."
According to the text messages, Caroline said she "bombed" an interview for the job, but told Hunter that she was offered an internship anyway because Joe Biden had asked for a favor. "I didn't get the job," she told her cousin. "I was given an intern job at 31 years old because of your dad asking him to give me something even though I bombed it."
In the end, the property manager did not approve Biden's application for the apartment, so Caroline's dreams of moving to California were dashed.
In July 28, 2018,  Caroline told Hunter that Joe Biden was "done" with her, and her father Jim Biden was losing his patience too. "Your dad told me he was done with me yesterday," she said, adding that her father wasn't going to let her go to California to see Hunter Biden without a place to stay. "Dad said he won't let me come back until I have a place to stay and a car," she wrote. "He's not 'paying for me to be out there for 6 weeks doing nothing.'"
Hunter replied that everything would be fine. "Dont stress about the job shithead," he said in a series of late night texts. "You are crazy im crazy and two crazies make…double the cray I guess. It'll be fun we may just blow up a house and rob banks together."
Jim Biden continued to badger Hunter for help with his daughter for the next week, according to the texts, but Hunter "blew him off," the Beacon reported.  "Did I do something to offend you?" Jim Biden wrote in a text message to Hunter on Aug. 8.
Caroline, like Hunter, has reportedly struggled with addiction for years, and has had several run-ins with the law.
"Her rap sheet includes arrests for drug possession, credit card theft, fights with the NYPD and multiple DUIs – though she has never served time in prison," the Daily Mail reported.
She reportedly attended court-ordered rehab for "anger issues" in 2013 after she was charged with resisting arrest, obstruction of justice and harassment during a meltdown over unpaid rent.
More recently, she was arrested in August of 2019 for driving under the influence and without a license in a Philadelphia suburb. Instead of jail, she was sentenced with five-plus months of probation, with 20 days of rehab.
Earlier that year, in January of 2019, Caroline tried hooking Hunter up with one of her rich, model friends, although they both made it clear that Asian women were out of the question.
"Do you want foreign or domestic," Caroline asked, sounding almost like a pimp. "I can't give you f—king Asian sorry. I'm not doing it."
The president's son replied: "Domesticated foreigner is fine. No yellow."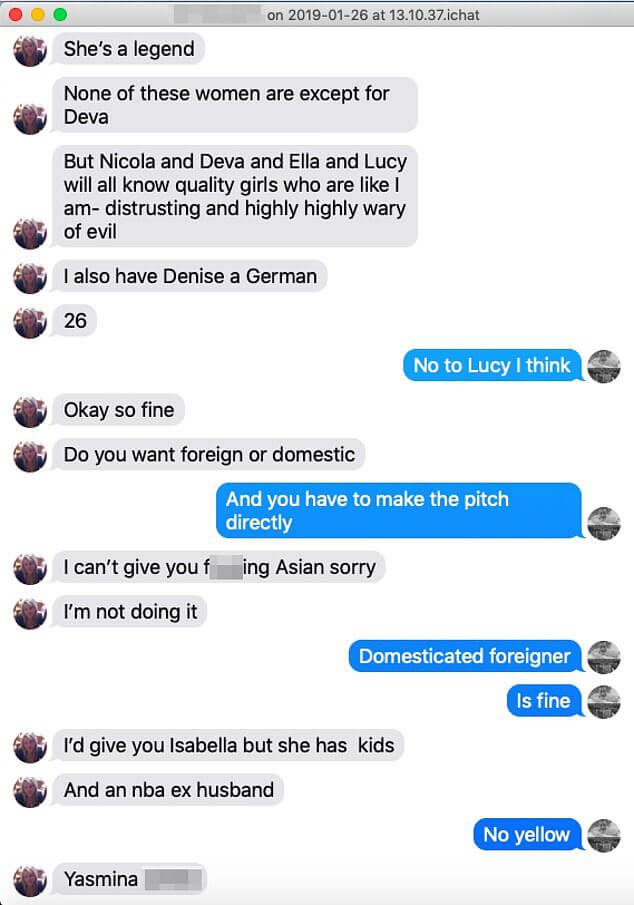 Hunter and Caroline were photographed at Surf and Sand Beach Resort in Laguna Beach in 2018.
Hunter Biden referred to Asians with the offensive term 'yellow' in a 2019 text conversation with his cousin Caroline Biden. The two cousins are pictured on vacation at Surf and Sand Beach Resort in Laguna Beach in 2018 pic.twitter.com/XNjXcd0j3F

— Ron Milner (@RonMilnerBoodle) June 16, 2021