Hunter Biden claimed in a 2018 document that he owned the Delaware mansion where Joe Biden kept classified documents in his library and alongside his Corvette in the garage. In a "background screening request," the younger Biden listed his rent as whopping $49,910 a month and his residency there from March 2017 to February 2018.
He signed the document on July 27, 2018. As Breitbart reported, Joe Biden listed only $19,800 in "rents received" on his 2017 tax return. On his 2018 tax return, he listed no rents received.
The document was recently shared on Twitter by the New York Post reporter Miranda Devine.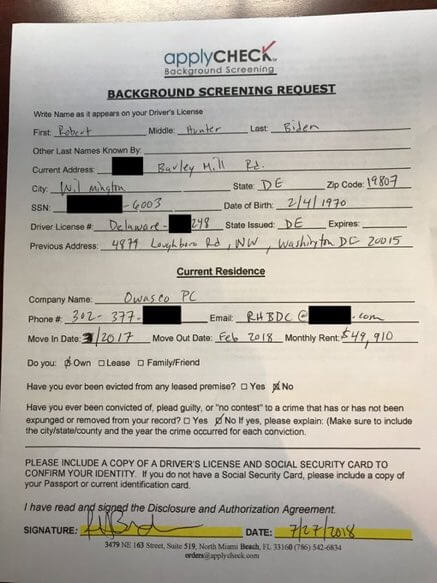 Hunter listed his law firm Owasco PC on the document as a company associated with the address in 2018.
House Republicans have been investigating Owasco PC's involvement in many of Hunter's suspicious wire transfers that have been flagged as "suspicious" by U.S. banks, according to Breitbart. House Committee on Oversight and Accountability Chairman James Comer (R-KY) has requested that Hunter's personal wealth manager turn over  any suspicious bank records connected to the Biden family business schemes.
For years, wire transfers have been the tool of choice for money launderers. To mitigate the risks to the financial institutions, suspicious wire transfers over $10,000 are flagged for review. Wire transactions involving more than $10,000 are also to be reported to the Internal Revenue Service.

Moreover, international wire payments, such as those to James and Hunter Biden, are monitored by the Office of Foreign Assets Control to ensure the money is not a part of corrupt business schemes.
Comer complained in July of 2022 that the Treasury Department was restricting access to over 150 suspicious activity reports on Hunter Biden.
Hunter also listed the home as the billing address for his personal credit card and Apple account in 2018 and 2019, respectively, Fox News Digital reported. Additionally, he reportedly declared to the Delaware DMV in July of 2018 that he resided at that address in Greenville, Delaware, an upscale suburb of Wilmington.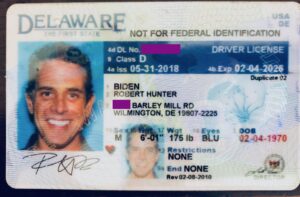 In a letter to White House Chief of Staff Ron Klain, Comer on Sunday demanded that the visitor log for Biden's Greenville residence be released, and that documents and communications regarding all properties and locations searched be provided to the Oversight Committee,  including the identities of the Biden aides conducting the searches. However, Biden has reportedly not kept visitor logs at the residence, even though he spends a significant amount of time there.
There are NO visitor logs at Joe's house. NADA

Meanwhile, Joe is building a 1/2 million $ wall around his home on the taxpayer's dime. My building codes limit a fence at 6' – how about yours? pic.twitter.com/KW9i9YKwl8

— Joni Job (@jj_talking) January 16, 2023
When Joe Biden left the Obama White House in 2017, he stored a number of classified documents at his Delaware mansion, and at his private office at Penn Biden Center in Washington D.C.
During this time period, Hunter Biden was in the grip of an expensive crack cocaine addiction, Devine noted at the Post.
At one point in August 2018, Hunter was recorded begging his sister-in-law-turned-lover, Hallie Biden, to let him use his credit card points to pay for a stay in rehab. Another former girlfriend of Hunter's, Zoe Kestan, testified to a federal grand jury in February of last year that the couple stayed for a month in 2018 at the notorious Chateau Marmont hotel in Los Angeles, where — the younger Biden wrote in his 2021 memoir — he "learned how to cook crack" before being "blacklisted" from the property over complaints tied to his drug use.

Hunter also frequented prostitutes during this time, dropping more than $30,000 on sex workers between November 2018 and March 2019 alone — making him a possible target for blackmail.
The first batch of documents were found at the Biden Center, a policy institute launched by Biden and the University of Pennsylvania in 2017. Those documents reportedly contained information pertaining to Ukraine and Iran.
Republicans on the House Oversight and Reform Committee obtained bombshell documents last September indicating that Joe Biden was deeply involved in the family business of selling American natural gas to the Chinese–while he was planning to run for President.
According to multiple whistleblowers, the Biden family made promises in 2017 to those who worked with them that they would "reap the rewards in a future Biden administration."
"Foreign donations to the University of Pennsylvania more than tripled in the two years after the think tank opened, with most of the $61 million coming from China," the Washington Free Beacon reported.
Foreign donations to the University of Pennsylvania more than tripled in the two years after the think tank opened, with most of the $61 million coming from China, the Washington Free Beacon reported in 2021. Republican lawmakers and foreign policy officials have warned about the Chinese government's influence-buying operations on college campuses, while the Department of Justice has been cracking down on Chinese espionage at American universities.

Tom Anderson, director of the Public Integrity Project at the NLPC, said UPenn has shown an "unwillingness to disclose what appears to be millions of dollars of foreign donations" raised following the creation of the Penn Biden Center, which may have been channeled into Biden's think tank.

The funding "has potentially opened the door to national security issues related to the University providing undocumented access to what was then future high-level officials within the Biden administration and State Department," Anderson told the Free Beacon.
While it appears that Hunter Biden falsely claimed ownership of the Greenville house in 2018, Donald Trump's former personal attorney, Rudy Giuliani, speculated in a recent interview that Hunter may have been telling the truth.
Giuliani pointed to a 2019 text message, in which the younger Biden indicated that his father collected half of his earnings in the family's influence peddling operation.
"I hope you all can do what I did and pay for everything for this entire family for 30 years," Hunter wrote to his daughter. "It's really hard. But don't worry, unlike Pop [Joe], I won't make you give me half your salary."
According to  Giuliani, that was Hunter's "most important text."
"No one pays attention to what I think is the most important text. Hunter tells his daughter, 'for the last 30 years, I've paid all expenses for the family, and they still don't respect me, and I give half my income to pop," he told Newsmax's Eric Bolling.
Biden purchased the four acre lakefront property in Greenville for $350,000 in 1996, according to Town and Country. In 2017, the Bidens reportedly bought their Rehoboth Beach home for $2.7 million, and rented a sprawling home in McLean, Viriginia,for $20,000 a month. In February of 2020, it was reported that they were no longer renting the McClean house.
"If you go back and you look at these homes—which the FBI never did—I wouldn't be surprised if Hunter Biden theoretically owns all of them. This is the Chinese method of corruption," Giuliani continued. "You bribe the public official, and the bagmen are his relatives. So he used his son, he used [his brother] James, he used [his brother] Frank, he used his sister-in-law."
He added: "The reason he have half of his income to Joe is because it's Joe's income! It's not his!" Giuliani laughed, pointing out that "these very very smart homicidal criminals" would not be paying the drug-addled Hunter huge sums of money unless they felt they were getting something in return from Joe Biden.
Based on receipts he saw on Hunter Biden's infamous laptop, Giuliani surmised that Hunter gave his father his 50 percent cut through buying houses, as well as painting, repair, and furniture expenses.
"That's how Joe got bribed!" he explained.