Following Buffalo Bills player Damar Hamlin's shocking on-field cardiac arrest Monday night during a game against the Cincinnati Bengals, a top cardiologist is urging public health officials to address the ongoing phenomenon of cardiac arrests and sudden deaths in otherwise healthy young people post-mRNA vaccine.
On his Substack, Courageous Discourses, Dr. Peter McCullough, a leader in the medical response to the COVID pandemic, said it's "truth time" for the family, Buffalo Bills doctors, and the University of Cincinnati Medical Center staff.
Cases of myocarditis—inflammation of the heart muscle—have spiked dramatically among previously healthy people in heavily vaccinated countries.
In a recent paper, McCullough and Italian researcher Panagis Polykretis determined that since the rollout of the vaccines, 1598 European athletes have suffered cardiac arrest, "1101 of which with deadly outcome" compared to 1101 European athletes who died of various heart conditions over a 38-year period (1966-2004).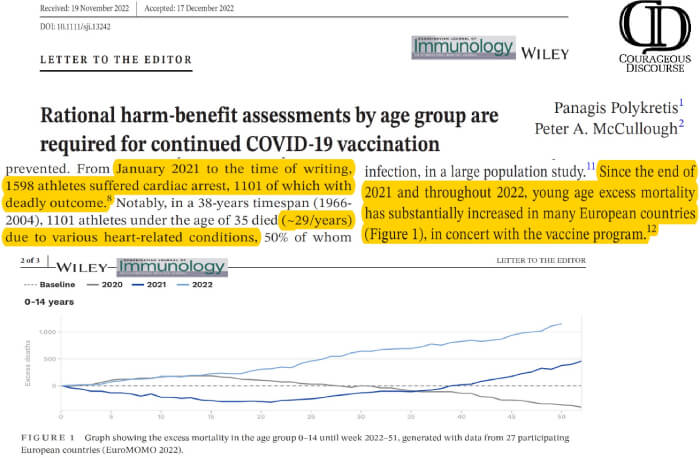 In a conversation with Fox News' Tucker Carlson Tuesday night, McCullough explained that professional athletes are carefully screened for underlying heart disease.
"The leading cause of sudden death on the playing field is hypertrophic cardiomyopathy," the cardiologist said. "The athletes are screened for this. There are rare conditions, genetic abnormalities in heart rhythm that can present, but sudden cardiac death should be a very unusual phenomenon," he noted, adding, "it's extremely unusual in the NFL, given the high level of scrutiny."
The cardiologist touched on various possible diagnoses, and concluded that in the case of Hamlin, "COVID-19 vaccine-induced subclinical myocarditis and then arrhythmic cardiac arrest" was at the top of the list.
A number of celebrity doctors and vaccine advocates immediately diagnosed Hamlin's collapse as a case of commotio cordis, a rare and often fatal heart injury caused by a sudden blunt impact to the chest. The injury happens most often in teenage boys who have been hit in the chest with a ball or hockey puck, and is unrelated to myocarditis or any other potential vaccine injury.
However, the European Heart Journal reported in 2021 on two cases that looked like commotio cordis, where "rugby players suffered severe heart rhythm disturbances following blunt chest trauma," Alex Berenson reported.
In both cases the men had histories of myocarditis which appeared to have caused or worsened the arrhythmias. In the second case, the myocarditis was undiagnosed; the player died.

The authors found that the episodes could be distinguished from classic commotio cordis (trauma to the chest wall causing a sudden heart rhythm crisis) by underlying myocardial scarring. They concluded that the aftereffects of myocarditis raise "the risk of lethal ventricular arrhythmias following blunt chest trauma."
McCullough said he was watching the game as Hamlin collapsed on the field.
"To me, it looked like he made a hard tackle—there was head and neck impact—but he got up, he clapped his hands, and then he fell over backwards. It looked like a primary cardiac arrest," he said.
The doctor commended the first responders who quickly sprung into action, likely saving Hamlin's life.
"Everything that was done on the field looked perfect," he said. "I think the duration of CPR and resuscitation is going to be in the window where he can have neurological recovery."
In his expert opinion, McCullough said the COVID-19 shot likely caused myocarditis or heart damage in Hamlin, and its initial presentation was a cardiac arrest on the field.
"The family, the Bills' doctors, and the current doctors at the University of Cincinnati Medical Center have a public health obligation to tell us if he's taken the vaccine," he told Carlson.
McCullough argued in his Substack post that that was a more than fair question given "the NFL had a COVID-19 vaccine mandate, as did the military, many corporations, universities, and schools."
"If an EUA vaccine is mandated, then those who have imposed this product on their players, employees, and students have an ethical public health obligation to tell the world what has happened as a result of the mandate and help all those impacted brace for what could happen next," the doctor wrote.
The NFL, however, is a member of the "Covid-19 Community Corps," a Health and Human Services (HHS) initiative that was launched in 2021 "to increase public confidence in and uptake of COVID-19 vaccines" and "educate the public" about other regime-approved treatments. Therefore, the league's official policy is to promote the mRNA products to the general public even as their adverse effects become more and more obvious.
Carlson noted that rather than warning the public about the risks of the shots, health officials seem to trying to normalize heart attacks and blood clots in young people.
"Is it normal for young athletes to have life-threatening blood clots?" the host asked McCullough.
"We should never have out agencies try to normalize side effects. The FDA says the vaccines cause myocarditis and heart damage and autopsies show it can be fatal," the doctor replied. "The same is true for blood clots and neurologic damage. Our agencies should be protecting the health of Americans and safety is job one. I'm disappointed that they're minimizing it."
On Substack, McCullough noted that it is likely Hamlin's NFL career has ended, and he will need to receive an implantable cardioverter-defibrillator (ICD), but expressed hope that he embarks on "a new mission in public health."
"We pray for his swift and full recovery in the hands of excellent medical staff and the support of his family and team," McCullough wrote.