The Washington Post quietly scrubbed the word "conservative" from its description of the center-left reporters behind the viral "Twitter Files" after being called out for the inaccurate wording.
Twitter CEO Elon Musk gave independent journalists Matt Taibbi and Bari Weiss access to Twitter's internal documents, allowing them to expose the company's rationale for shadow banning conservative users, censoring the Hunter Biden laptop story and deplatforming of former President Trump.
Both of Taibbi and Weiss are well-known left of center journalists, as Fox News noted.
Taibbi, a Substack writer who used to be a scribe for Rolling Stone magazine, and Weiss, the editor of The Free Press and host of the "Honestly" podcast who used to be the opinion page editor at The New York Times, are widely seen as being left of center, although they have become thorns in the sides of traditional liberal outlets since going independent.
The report, written by Cat Zakrzewski, Joseph Menn and Naomi Nix, concerned Twitter's decision to dissolve its so-called "Trust & Safety Council," and the alleged harassment faced by former head of trust and safety Yoel Roth after Musk took over the company.
The report briefly references the release of the "Twitter Files" by Taibbi and Weiss, and inaccurately describes the reporters as conservatives.
"As head of trust and safety at Twitter, Roth was involved in many of the platform's decisions about what posts to remove and what accounts to suspend. His communications with other Twitter officials have been posted in recent days as part of what Musk calls the Twitter Files, a series of tweets by conservative journalists Matt Taibbi and Bari Weiss," the Post wrote Monday evening.
This is baldly inaccurate. @mtaibbi is not a conservative journalist, as anyone familiar with his work knows. pic.twitter.com/vK4mnhf8xc

— Walter Kirn (@walterkirn) December 13, 2022
The Post was blasted on Twitter for its transparent attempt to frame the Twitter Files as a partisan right-wing operation.
"Painfully embarrassing for the Post to print this," Grayzone host Aaron Maté reacted.

"Calling those two conservative is so patently ridiculous. Wacky WaPo gaslighting like crazy," Sky News host Rita Panahi exclaimed.

"It is rather insane that news publications are ascribing political ideologies to journalists that don't remotely fit because they want to discredit the journalism being done," conservative writer A.G. Hamilton tweeted.

"They are not interested in actually telling the truth. Everything is spin," National Review contributor Pradheep J. Shanker wrote.

"'Conservative' is just a smear to the MSM. It has no other meaning except to brand someone as unworthy. To signal to its readership that such a person can be safely ignored," journalist and author Abigail Shrier tweeted.

"We must understand how leftists and wokesters use words. They don't care that calling Taibbi and Weiss conservatives is a lie. WaPo uses that word to signal to its NPC readers that Taibbi/Weiss are the evil out-group and therefore everything they say should be ignored," The Federalist co-founder Sean Davis blasted the paper.

"There's almost a medieval quality to a lot of political discourse. If you don't agree with every mainstream liberal opinion, then you're a conservative? They see the world in black and white," The Intercept investigative reporter Lee Fang said.
The word "conservative" was scrubbed from the article after Fox News reached out to the Post for comment, although no note or correction was posted to acknowledge the change.
"That is hilarious," Taibbi reacted to Fox News Digital, adding, "Anyone who steps out of line in any way is labeled conservative or pro-Trump now. It's automatic and predictable."
Wikipedia also recently described Taibbi as a "promoter of right-wing conspiracy theories" before scrubbing the inaccurate wording from his bio.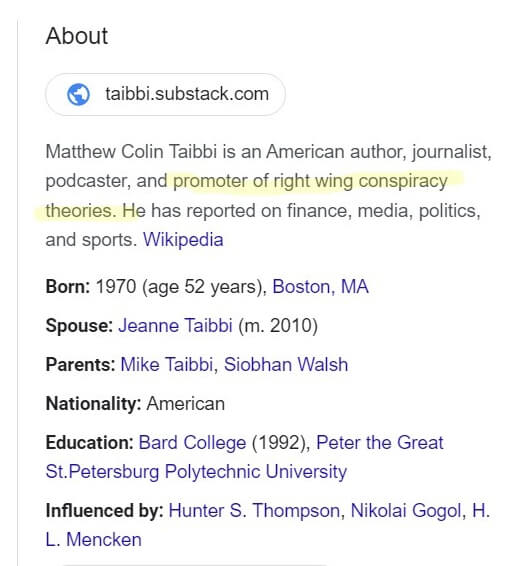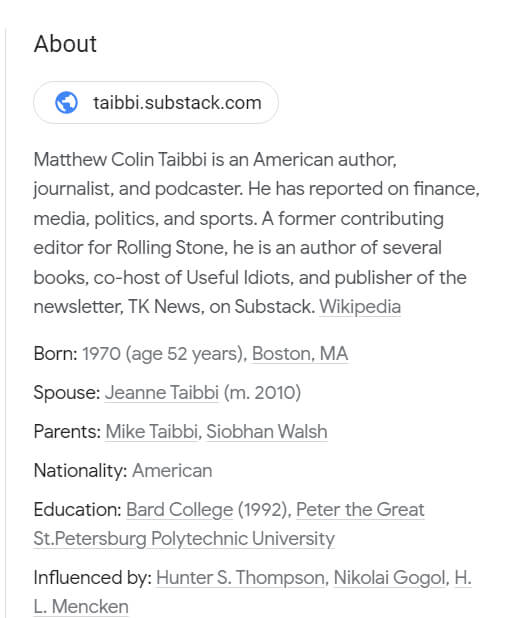 Taibbi posted the first installment of the "Twitter Files" earlier this month, focusing on internal discussions among Twitter officials as they struggled to justify blocking the Hunter Biden laptop story in October of 2020. The rationale they ultimately settled on was that the story somehow violated its "hacked materials" policies.
Unfortunately, because this batch of the Twitter Files was vetted by former Twitter deputy general counsel Jim Baker, who previously served as the FBI's general counsel and was deeply involved in the Russia hoax, some key files regarding potential FBI involvement may be missing. Musk fired Baker shortly after the files were released.
The second installment published by Bari Weiss revealed Twitter's "blacklisting" of prominent conservatives, including Fox News host Dan Bongino, Turning Point USA's Charlie Kirk, as well as Stanford University's Dr. Jay Bhattacharya, a longstanding opponent of COVID groupthink during the pandemic who expressed opposition to lockdowns.

Internal communications also reveal Twitter staffers admitting that the popular account Libs of TikTok never violated its "hateful conduct" policy despite being punished several times for allegedly doing so.

The third, fourth and fifth installments of the "Twitter Files" focused on the permanent suspension of former President Trump around the Capitol riot events in January 2021.
Over the weekend, writer Michael Shellenberger revealed that Dorsey was phoning it in as he was on vacation while his deputies were pushing to deplatform Trump with Roth in particularly spearheading efforts to censor other users pertaining to tweets about the 2020 election.
During a discussion about the Twitter Files in the latest episode of "America This Week" with cohost Walter Kirn, Taibii said he was surprised by the extent of federal involvement in the platform's censoring of speech.
Episode 16: "America This Week," with Matt Taibbi and Walter Kirn
The makeup episode, in which @WalterKirn and I
discuss the material that's come out in the "Twitter Files," laugh about the press reaction, and answer some questions we've received:https://t.co/JaHKuyfC8T

— Matt Taibbi (@mtaibbi) December 12, 2022