Multiple polls show that the massive convoy of Canadian truckers that is heading toward Ottawa, the nation's Capital, enjoys popular support among Canadians, despite the prime minister's claim that the protesters represent a "fringe minority" with "unacceptable views."
Up to 50,000 "freedom truckers" are descending on Ottawa this weekend to protest vaccine passports.
Solidarity to the 50,000 'freedom' truckers in Canada who are forming the world's longest convoy to protest against vaccine passports and restrictions.#KeepOnTruckin 🇨🇦 pic.twitter.com/zldAPudomd

— James Melville 💜 (@JamesMelville) January 26, 2022
A massive convoy of truckers who want to see an end to vaccine mandates is headed to Canada's capital city of Ottawa pic.twitter.com/vAH43OTaeq

— Wittgenstein (@backtolife_2019) January 27, 2022
#ConvoyForFreedom2022 #DonaldTrumpJr #TuckerCarlson @joerogan @IngrahamAngle @JesseBWatters @DavidJHarrisJr @dbongino @seanhannity pic.twitter.com/4WkYtj2RnT

— JABACK (@saorsa0330) January 26, 2022
After our awesome March Against The (Idiotic) Mandates, I have to give a shout out to our awesome Canadian brothers and sisters and their longest protest convoy of truckers in the world! Yeah baby. Show up, speak up, resist Tyranny. EVERYWHERE we can. https://t.co/RSdkODNy25

— Pierre Kory, MD MPA (@PierreKory) January 27, 2022
Joe Rogan on the Canadian convoy for Freedom pic.twitter.com/iJW5qdEanQ

— Wittgenstein (@backtolife_2019) January 27, 2022
Keep trucking Canada pic.twitter.com/xc5lEq2KJr

— Wittgenstein (@backtolife_2019) January 27, 2022
Amazing! pic.twitter.com/ulGAPX6p1z

— Election Wizard 🇺🇸 (@ElectionWiz) January 27, 2022
"In Canada we have one of the biggest revolutions happening. Right now there's 50,000 truckers and 1.4M people headed to the parliament in Ottawa. And they're going to stay there until Trudeau resigns, or they give us back all of our freedoms and rights," said Canadian hockey legend Theo Fleury on Fox News' Ingraham Angle on Tuesday.
After ignoring the massive protest for days, Prime Minister Justin Trudeau finally commented on the convoy on Wednesday, calling the truckers a "fringe minority" with "unacceptable views" who do not represent the way most Canadians feel.
"The small fringe minority of people who are on their way to Ottawa who are holding unacceptable views that they are expressing do not represent the views of Canadians who have been there for each other, who know of that following the science and stepping up to protect each other is the best way to continue to ensure our freedoms, our rights, our values, as a country," Trudeau said.
Prime Minister Trudeau says the "small, fringe minority" on their way to Ottawa "hold unacceptable views" and are undermining the rights, freedoms and values of Canada.

See more: https://t.co/DEN7zzSz9G pic.twitter.com/PDciuJyLC4

— Rebel News (@RebelNewsOnline) January 26, 2022
However, multiple polls throughout Canada completely refute the prime minister's claim that the truckers represent a "fringe minority."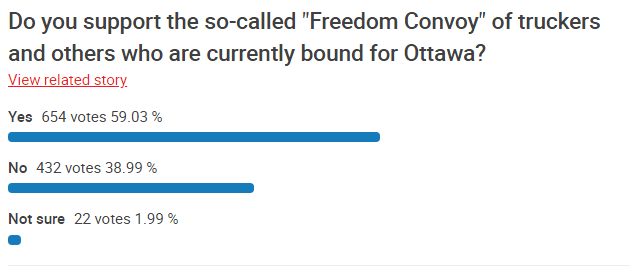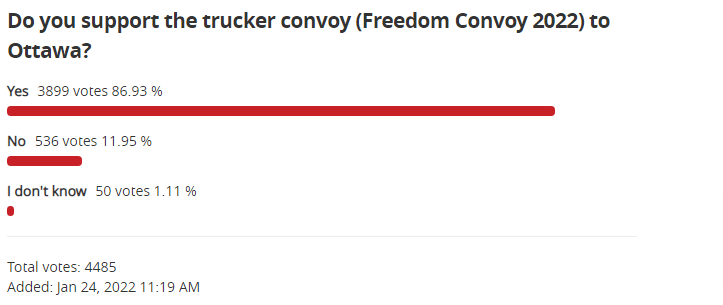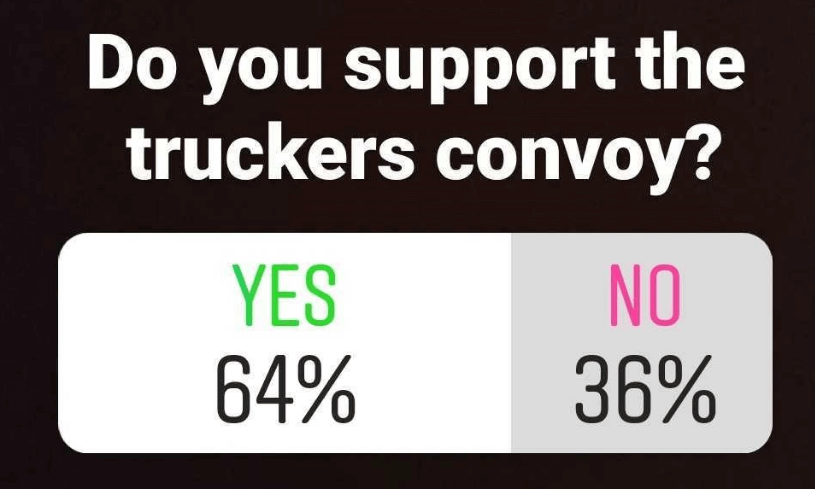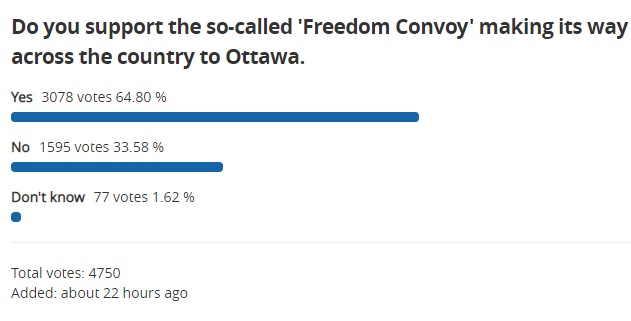 In his remarks, Wednesday, Trudeau also vowed that the government will continue to impose federal vaccine mandates on truckers, and Canadian travelers, insisting that mass vaccination is "the way through" the pandemic.
"We've been unequivocal and we were very clear in the last election, that vaccination is the way through this, whether it's for travelers, whether it's for federal public servants, or areas of federal jurisdiction," Trudeau said.
Unfortunately, data from around the world, including Quebec, Canada, now clearly show that mass vaccination only exacerbates the problem.  
Quebec is banning unvaccinated people from buying groceries, which makes perfect sense because the existing vaccine passport system did such an amazing job of preventing cases from rising

I mean, how can you not expand a divisive and discriminatory policy with no clear benefits? pic.twitter.com/81CRaKy6sR

— Ian Miller (@ianmSC) January 27, 2022
Law enforcement officials in Ottawa said Wednesday that they are preparing for a range of scenarios including the potential for violence.
Police said they expect "between 1,000 and 2,000 demonstrators" on Saturday, according to The Canadian Press.
There are reportedly up to 50,000 truckers in the convoy.