During an interview with ABC News Tuesday, Gary Kelly, the CEO of Southwest Airlines, stated that no employees will be fired over the company's vaccine mandate. However, the airline announced on October 4 that all 56,000 U.S. Southwest employees needed to get vaccinated against COVID-19 by November 24, or face termination.
The CEO also told ABC's George Stephanopoulos that there was "no evidence" that any type of demonstration against the mandate had contributed to the massive service disruptions over the holiday weekend. Over 2,000 Southwest flights were cancelled, leaving tens of thousands of passengers stranded.
"There's just no evidence of that," Kelly said. "Our people are working very hard, they're doing a great job, I'm very proud of them."
He did acknowledge that the vaccine mandate is "very controversial," and not something he wanted for his company.
"This is a government mandate, it's a presidential order, and we're doing our best to comply with that according to the deadlines that have been set," Kelly said.
The CEO told employees last week that the airline had no choice but to comply with the regime's vaccine mandate.
"Southwest Airlines is a federal contractor and we have no viable choice but to comply with the U.S. government mandate for employees to be vaccinated, and — like other airlines — we're taking steps to comply," Kelly said.
An executive order was issued last month requiring all federal employees to get vaccinated, but no executive order, or federal regulation has yet been issued for private companies. Joe Biden on September 9 unveiled his draconian plan to force all private businesses with more than 100 employees to make their workers get inoculated with the experimental COVID vaccines, or face weekly testing. A month later, no official guidance on the alleged mandate has been issued by the White House, the Occupational Safety and Health Administration (OSHA), or the Department of Labor.
During his interview on ABC Tuesday, Kelly stated that Southwest would not be terminating any employees who refuse the injections.
"We're not going to fire any employees over this. We're urging all of our employees to get vaccinated. If they can't get vaccinated, we're urging them to seek an accommodation, so we'll do everything we can to support our people here," he said.
A company-wide guidance, obtained by American Greatness, specifically stated that failure to comply with the new vaccine policy would result in termination.
The guidance below went out to all Southwest employees on October 4: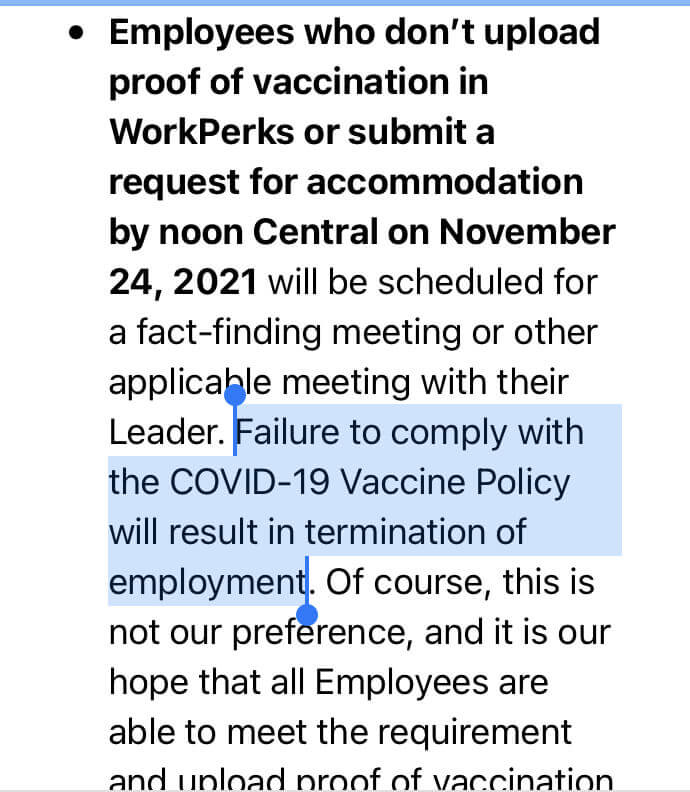 Kelly reportedly told employees last week that the provisions for medical and religious exemptions are "are very limited."
The CEO told Stephanopoulos that absenteeism at Southwest has been high lately because of COVID and quarantines.
"It's just a more difficult working environment out there, and we're doing everything we can to serve our customers well, and also take very good care of our employees," he said.
A Southwest Airlines official admitted on Monday that staffing shortages played a role in the service disruptions over the weekend.
The carrier initially blamed air traffic control issues and weather for thousands of flight cancelations.
"On Friday evening, the airline ended the day with numerous cancellations, primarily created by weather and other external constraints, which left aircraft and crews out of pre-planned positions to operate our schedule on Saturday," Southwest said in a statement.
"Unfortunately, the out-of-place aircraft and continued strain on our crew resources created additional cancelations across our point-to-point network that cascaded throughout the weekend and into Monday."
Southwest Chief Operating Officer Mike Van de Ven reportedly acknowledged in a memo to employees on Monday that the company "is still not where we need to be on staffing, and in particular with flight crews."
A Southwest pilot told American Greatness that the staff shortages were an "organic and decentralized" reaction to the carrier's vaccine mandate.
The tyrannical mandate, he explained, erased all of the good will pilots and other conservative employees had felt toward their company, resulting in many of them calling in sick, and not signing up for overtime to help the airline fulfill the increase in flights typically seen during a holiday weekend.
Van de Ven told staff that the carrier is "continuing to evaluate our fourth quarter flight schedules, and we're taking a serious look at flight levels to ensure that our flying aligns with the staffing needed to operate within this more complicated COVID environment."
Southwest declined to comment further, but TWU Local 556, which represents the carrier's flight attendants, late Friday told members that the airline has reversed course on plans to add an additional 720 crew assignments to their schedules for September.

Southwest pilots' union on Thursday said it was considering pickets at U.S. airports over Thanksgiving and Christmas to protest tightly packed schedules, a lack of hotels and food options, and other issues. Flight attendants this week raised similar issues.
"We will not be following our traditional staffing models as we reevaluate where we are in October, November, and December," Van de Ven wrote. "You come first.″
American Greatness asked the anonymous Southwest insider if any more staffing disruptions could be expected in the coming days and weeks.
"Man, that's the million dollar question," the pilot replied. "The last weekend was so organic and decentralized."
He added: "I would say as the Nov 24 deadline approaches the likelihood of people choosing to take care of their families when being faced with job termination increases."