An antifa-supporting Army vet was arrested on Friday for plotting a violent attack against Trump supporters at Florida's State Capitol.
The FBI arrested 33-year-old Daniel Alan Baker on federal charges after he allegedly tried to recruit other "hardcore leftists" to "violently confront" conservative demonstrators at a protest in Tallahassee on Sunday.
Baker was charged with violating a federal law that makes it a felony to "transmit in interstate or foreign commerce any communication containing any threat to kidnap any person or any threat to injure the person of another."
According to the criminal complaint, Baker had created a Facebook event titled "Defend Tallahassee," which called for fellow leftists to take up arms and help fight the "armed racist mob" protesting in Tallahassee.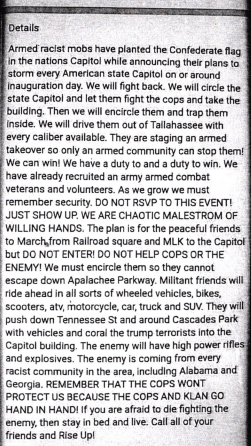 On Jan. 14, Baker posted the "Call to Arms January 20th!" image below as a comment to a news article by a local Tallahassee-based television station, the complaint alleges.
Antifa supporter Daniel Alan Baker posted links to CNN on his "Call to Arms" to kill Trump supporters and police officers on Inauguration Day

He has been arrested by the FBI pic.twitter.com/1sEMIABGhB

— Jack Posobiec 🇺🇸 (@JackPosobiec) January 16, 2021
U.S. Attorney for the Northern District of Florida Lawrence Keefe said in a statement: "(Baker) threatened to kidnap and injure others, and he recently issued a call to arms for like-minded individuals to violently confront protesters who are expected to gather at the Florida Capitol. Extremists intent on violence from either end of the political and social spectrum must be stopped, and they will be stopped."
US Attorney on arrest of Antifa supporter Daniel Alan Baker https://t.co/I9HV1dguR1

— Jack Posobiec 🇺🇸 (@JackPosobiec) January 16, 2021
Baker participated in several anti-police protests across the country last year, including in the CHOP/CHAZ zone in Seattle, Washington, Fox 5 reported.
The radical was kicked out of the Army after he went AWOL in Iraq, according to federal prosecutors.  From 2008 to 2017, he was allegedly homeless and unemployed in the Tallahassee-area. In 2017, he traveled to Syria to fight alongside the YPG, a U.S.-designated terrorist group.
According to the criminal complaint, Baker has been on the FBI's radar since October of 2020, when he was observed using social media to to recruit and train like-minded individuals, and threatening violence against perceived enemies in the United States.
"BAKER has made multiple violent threats to those he claims are white supremacists, fascists, United States persons with different ideologies than his, and allies of the United States. In addition, BAKER has promoted the killing of United States military officers," the FBI affidavit states.
According to the complaint, Baker claimed in a YouTube post to have funding from left-wing billionaire George Soros to pay fellow activists for information on people who were at the Jan. 6 protest in D.C.
On January 8, 2021, in response to the protest at the United States Capitol, BAKER posted to his YouTube account a video titled, "Terrorist kidnapping AP journalist." In the description of the video, BAKER writes "I have acquired a sponsor (Soros, you know, the antifa card was finally approved) and I and my donors will be offering cash rewards for information leading to the verified
identification of an and every individual in this video. Don't worry, I wont (sic) ne (sic) going to the cops. We have decided to handle this ourselves because the dc cops let them in and all cops are infiltrated.
Baker had allegedly planned an armed assault on the protest at the state capitol in Tallahassee that involved encircling the protesters and trapping them inside the building.
"Baker issued a call to arms for like-minded individuals to violently confront protesters gathered at the Florida Capitol this Sunday. He specifically called for others to join him in encircling any protesters and confining them at the Capitol complex using firearms," the complaint states.
The FBI described Baker as anti-Trump, anti-government, anti-white supremacist, and anti-police.
He appeared before Magistrate Judge Charles A. Stampelos on Friday and was ordered to be detained in a Tallahassee federal detention center until his court date on January 21.
Protests were planned at the all 50 State Capitols on Sunday, and the FBI had warned authorities of the potential for violence.
As it turned out, the protests were small and participants were heavily outnumbered by National Guard troops and police.
There were no reports of any clashes.