St. Louis Circuit Attorney Kim Gardner's staff appears to have tampered with evidence in order to press charges against the St. Louis woman who waved a gun at the Black Lives Matter rioters who stormed her neighborhood last month.
Patricia McCloskey's gun was inoperable when she voluntarily surrendered it to the police, but prosecutors reassembled it into working order so they could charge her with a crime.
Gardner announced her intention to prosecute Mark and Patricia McCloskey after images of the gun-toting couple defending their $1.15 million home against the BLM mob went viral.
According to KSDK, a member of Gardner's staff "ordered crime lab experts to disassemble and reassemble" the weapon and after it had been rendered operable, wrote that it was "readily capable of lethal use" in charging documents.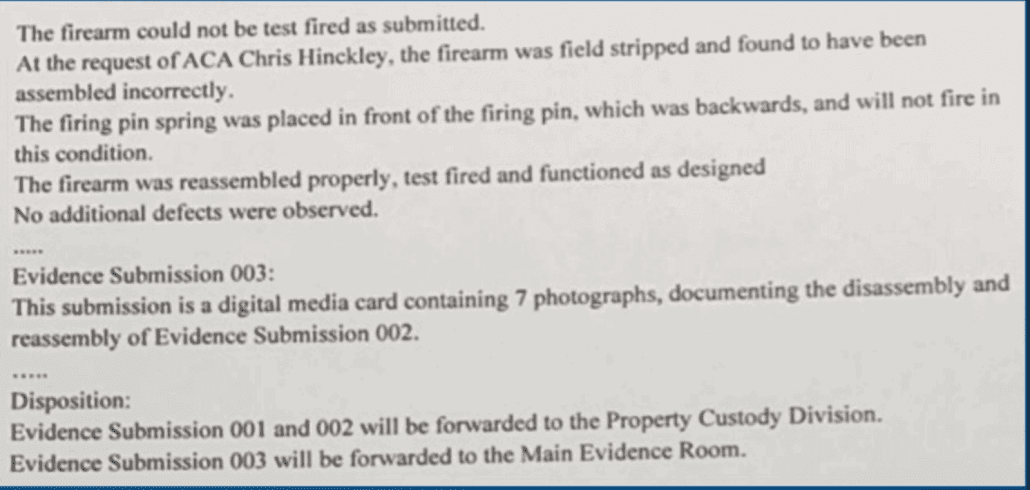 In Missouri, police and prosecutors must prove that a weapon is "readily" capable of lethal use when it is used in the type of crime with which the McCloskeys have been charged.

Assistant Circuit Attorney Chris Hinckley ordered crime lab staff members to field strip the handgun and found it had been assembled incorrectly. Specifically, the firing pin spring was put in front of the firing pin, which was backward, and made the gun incapable of firing, according to documents obtained by 5 On Your Side.

Firearms experts then put the gun back together in the correct order and test-fired it, finding that it worked, according to the documents.

Crime lab workers photographed the disassembly and reassembly of the gun, according to the documents.
The McCloskeys said that the handgun was inoperable because they had to bring it to a courtroom during a lawsuit they once filed against a gun manufacturer.
Their attorney, Joel Schwartz, confirmed to KSDK that the firing pin on the gun had been intentionally misplaced and that it was in that condition when Patricia McCloskey used it to defend her home.
"It's disheartening to learn that a law enforcement agency altered evidence in order to prosecute an innocent member of the community," Schwartz said.
A spokeswoman for Gardner told KSDK: "We can't comment on a pending case."
Missouri recognizes the Castle Doctrine law, which allows people to defend their property with lethal force.
Local and national Republicans, including Missouri Governor Mike Parson, Missouri Attorney General Eric Schmitt, and President Trump have rallied to the couple's side.
Parson has said he will pardon the couple if they are convicted, and Schmitt has filed a legal briefing asking that the case be dismissed,  calling it "a political prosecution."
"Kim Gardner's action toward the McCloskeys is outrageous," Parson wrote on Twitter Monday. "Even worse, the Circuit Attorney's office has admitted there is a backlog of cases and dozens of homicides that haven't been prosecuted, yet she has accelerated this case forward."
The Washington Post, meanwhile, is touting a statement put out by 67 left-wing current and former district attorneys defending Gardner's "exercise of discretion" in the McCloskey case, and condemning what they call racist attacks on her by the president and Republican office holders in Missouri. 
1/ BREAKING: 67 DAs and CJ leaders speak out in defense of @StLouisCityCA Kim Gardner, defending her exercise of discretion in McCloskey case, & condemning racist attacks on her by @POTUS , AG Barr & others.

Read the joint stmt here: https://t.co/UZX4bvJrZH pic.twitter.com/yPYkUBlpmf

— Miriam Krinsky (@miriamkrinsky) July 22, 2020
"You know, I've said this before and I'll say it again. We had every right to do what we did," McCloskey told Fox News on Wednesday.
"Every single person in my neighborhood was trespassing. All those people were trespassing. They're admitted criminals. None of those people have been charged with anything. We are the only people [who] have been charged," he noted.
"We get charged with felonies for doing nothing more than defending ourselves. If we get convicted of felonies, we can't own weapons again. We can't practice law. It takes our livelihood away," he told host Martha MacCallum.
"And so, I've said it before and I'll say it again, the circuit attorney has made the decision that her job – instead of protecting law-abiding citizens from criminals – is to protect the criminals from law-abiding citizens," McCloskey concluded. "There's just something fundamentally wrong with that."