At least thirteen campaign staffers for Democratic presidential candidate Joe Biden have made donations—possibly in coordination with the campaign—to a group that pays bail fees for Black Lives Matter and antifa agitators in Minneapolis.
According to Reuters, the staff members posted on Friday and Saturday that they were donating to the Minnesota Freedom Fund, a group that opposes the practice of cash bail.
Biden campaign spokesman Andrew Bates said in a statement to Reuters that the former vice president opposes the institution of cash bail as a "modern day debtors prison."

But the campaign declined to answer questions on whether the donations were coordinated within the campaign, underscoring the politically thorny nature of the sometimes violent protests.
From 12:20 a.m. Friday to 11:21 a.m. Saturday, 57 agitators were arrested in Minneapolis, according to Twin Cities.com, and most of them were from Minnesota.
According to a new narrative promoted by various Democrats on Saturday, the violence and mayhem that roiled the Twin Cities these past few days was instigated by white supremacists, Trump supporters, and/or Russia.
????'Russian intelligence services are trying to incite violence by white supremacist groups to sow chaos in the United States, American intelligence officials said.'????

–@nytimes March 10, 2020???????? #MAGANIGHT https://t.co/wsPrrxzjc7

— Fernand R. Amandi (@AmandiOnAir) May 30, 2020
White Supremacists=Trump Supporters. These are Trump supporters burning and looting. https://t.co/DKyvP6mUJk

— Reza Aslan (@rezaaslan) May 30, 2020
So now, the attorney general, Bill Barr, is attempting to pin the anarchy and infiltration, which is already documented as coming from white nationalist groups, on "left leaning" ANTIFA groups. The goal is to force the media to repeat that. What is his proof?

— Joy Reid (@JoyAnnReid) May 30, 2020
Friends, we have about 7 hours to prepare.

Last night, right-wing extremists escalated their campaign to create chaos in Mpls & St Paul.

They used arson as a primary tactic. It was an escalation from their work to encourage looting on Wednesday night.https://t.co/pRLoYUJbvs

— ???????????????????? ???????????????????? (@chrisconry) May 30, 2020
If the Democrats are correct that most of the lawbreaking at these riots are being done by violent and dangerous white supremacists and Trump supporters, that poses a dilemma for the Biden Campaign. Why in the world would the team Biden want to contribute toward the bail of Nazis?
The mayor of Minneapolis also peddled the lie that the violence in Minneapolis was largely the fault of white supremacists.
Nice try @Jacob_Frey, blame everyone else but your own incompetence.

Minneapolis mayor says 'white supremacists,' 'out of state instigators' behind protests, but arrests show different storyhttps://t.co/wpehaOmPUy

— Sean Duarte (@seancduarte) May 30, 2020
Minnesota's attorney general, the execrable Keith Ellison, also spent Saturday pushing disinformation about "far-right extremists" wreaking havoc at the protests  on Twitter.
ICYMI: "Far-Right Extremists Are Hoping to Turn the George Floyd Protests Into a New Civil War" – VICE https://t.co/6wEPPofPvQ

— Keith Ellison (@keithellison) May 30, 2020
Ellison, a far-left Muslim who was credibly accused of sexual assault in 2018, is himself an antifa supporter.
Criminals flock together https://t.co/G8DCHbQDCW

— Leslie anderson (@Lesliea62240143) May 29, 2020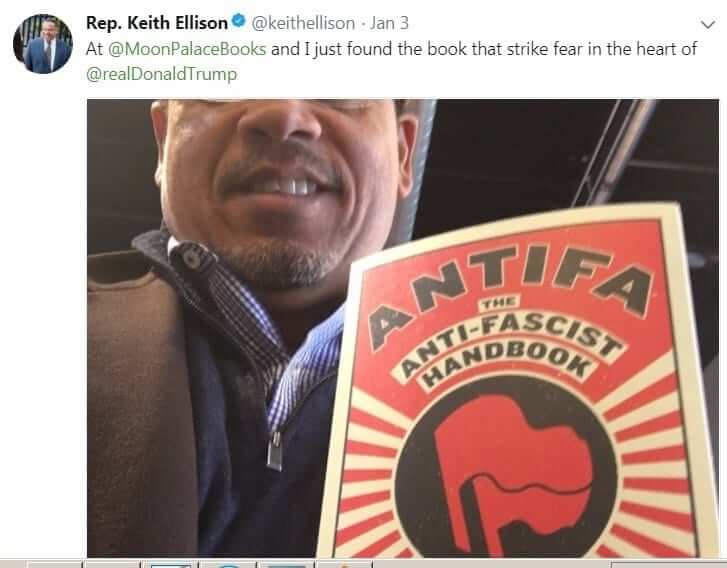 Ellison removed the above tweet of himself endorsing "Antifa The Anti-Fascist Handbook" from Twitter on Friday, according to RealClearInvestigation's Paul Sperry.
After a full day of democrat disinformation about the make-up of the agitators, Attorney General William Barr sought to correct the record in a statement.
"In many places, it appears the violence is planned, organized and driven by anarchistic left extremist groups—far left extremist groups using Antifa-like tactics," he said, stating the obvious.
https://twitter.com/Breaking911/status/1266795434141515777?s=20