Who exactly is Christopher Steele? The answer depends on who you ask.
According to our media overlords, he is simply a former British spy, well-regarded by the international intelligence apparatus for his skill and deep connections, and someone whose "integrity, excellence and diligence" should not be questioned. Reporters portray him as an honest broker who tried to warn U.S. law enforcement officials about the Trump campaign's ties to the Kremlin via his infamous dossier. Steele, we are warned, now is a victim of congressional Republicans desperate to undermine the special counsel's investigation.
But as the real story emerges about who Christopher Steele is, it raises troubling questions about his influence in the 2016 presidential campaign and in the highest echelons of the U.S. government.
Who Really Colluded with the Russians?
During the 2016 election cycle, Steele was paid by three conflicting sources: The Hillary Clinton campaign; the FBI; and a Russian oligarch tied to Vladimir Putin. This confluence of fiduciary events is the closest evidence yet about legitimate collusion between a presidential campaign and Russian interests, aided by Steele's pals in the U.S. Department of Justice and helpful reporters in the American news media.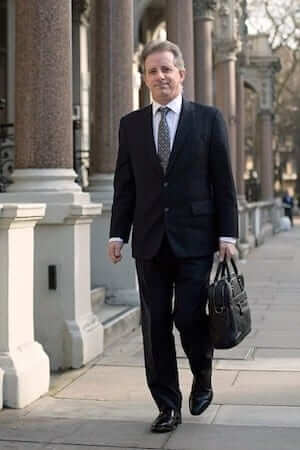 Until recently, the public was led to believe Steele was nothing more than a British gumshoe doing political opposition research for Fusion GPS and its owner, Glenn Simpson, who had been retained by the Clinton campaign and Democratic National Committee in 2016. Then we discovered he was actively peddling to the media his unverified, third-hand account of Trump campaign associates' alleged ties to the Kremlin. (He later admitted he had never traveled to Russia.)
House Intelligence Committee Chairman Devin Nunes (R-Calif.) exposed more alarming truths about Steele in his February 2018 memo: Steele also was a longtime FBI asset and his dossier was used by the FBI to obtain a secret court's approval to spy on a Trump campaign volunteer. Further, he was fired by the FBI for leaking dossier-related information to reporters just days before the presidential election. He was also working with the wife of a top DOJ official at the same time he was collecting compensation from by the FBI.
That relationship is getting more scrutiny since the recent release of a series of texts and emails between Steele and Bruce Ohr, a former deputy Attorney General in the Obama Administration. Steele and Ohr's collaboration began at least 10 years ago when Steele was an officer for the U.K.'s foreign intelligence agency, where he managed the Russian desk. Their overlap in government service was brief: Steele retired and started his own consulting business, Orbis Business Intelligence, in 2009.
But the two remained in touch. Their contact picked up in 2014, and became more constant in 2015 and 2016, even continuing into 2017 after Steele was terminated by the FBI. In an explosive report published over the weekend, the New York Times insisted the two were working together in an effort to convince a half-dozen Russian oligarchs to become U.S. intelligence assets. (As I wrote, the article appeared to be an attempt to cover Ohr's tracks rather than an exposé of a secret FBI plan.)
Enter the Oligarch
Their real business during this ongoing contact might become a serious problem for both Steele and Ohr. It turns out the two discussed the plight of Oleg Deripaska, a Putin-linked billionaire who also figures prominently into Special Counsel Robert Mueller's probe. Deripaska has been persona non grata in the United States since his visa was revoked in 2006 amid concerns over his ties to Russian organized crime, among other things. The U.S. official responsible for revoking the tycoon's visa was Bruce Ohr.
Being unable to conduct business in the U.S. hurt Deripaska's bottom line and prestige, so he hired someone to help restore his travel privileges. A New Yorker profile confirmed Steele represents the same London law firm that represents Deripaska. (Apparently, this is a way to get around foreign lobbying registration rules.)
If Deripaska hired Steele to persuade American law enforcement officials—particularly the one responsible for banning his travel here—it worked. The FBI convinced the Obama State Department to approve the oligarch's diplomatic visa in 2015 and 2016 after refusing to do so for years. In one text to Ohr in August 2016, Steele says he wants to talk to his Justice Department pal "informally and separately. It concerns our favorite business tycoon!" Some speculated Steele was referring to Trump, but Ohr testified last week that Steele was referring to Deripaska.
Helping Deripaska was not their only mutual interest. Ohr's wife, Nellie, also was working for Fusion GPS before the election. According to Simpson, specifically, she was assigned with the task of conducting "research and analysis of [Donald] Trump." On July 30, 2016, the Ohrs met with Steele in Washington, D.C. for breakfast. While the Times downplays this meeting as "friendly heads-up" about Steele's ongoing research into Trump, it's hard to believe that it had nothing to do with the FBI's investigation into the Trump campaign. The next day, the agency formally opened its counterintelligence probe into four Trump aides, including campaign manager Paul Manafort and foreign policy adviser Carter Page, the target of dossier-sourced federal surveillance for one year.
Too Many Coincidences
While Steele was meeting with U.S. officials on behalf of his Russian client and pushing his anti-Trump dossier at the same, he also was working with Simpson to plant negative stories in the press about Trump. He and Simpson met with Michael Isikoff, a longtime political reporter, in September 2016 to present the dossier details. The private dinner resulted in Isikoff's Yahoo News article, which helped launch the Trump-Russia collusion tale and was used as evidence in the FISA application against Page.
But that wasn't Steele's only attempt to spin the Trump-Russia story just weeks before the election. The Brit—who said he was "desperate that Donald Trump not get elected"—and Simpson met with reporters and editors of the Washington Post in September and October. (The paper did not publish the information because it could not corroborate his findings.) Steele also met with the New York Times, Politico and the New Yorker. The pair finally found another taker: Mother Jones writer David Corn published his piece about the dossier on October 31, 2016, one week before the election.
It's stunning to consider how much influence and power this mystery man has had in U.S. government, politics, and the media. (Steele also met with former CIA director and vocal Trump foe Michael Hayden in London in 2008, and prepared a briefing report for President Obama when he visited the country the following year.)
Despite his extensive American connections, Steele has so far refused to meet with congressional investigators. He currently is facing a criminal referral at the Justice Department for lying to federal officials. Steele has been sued for some of the allegations contained in his dossier, and—one year after the federal government's surveillance on Page ended—the campaign aide is a free man: None of Steele's damning accusations against Page have been used in court.
Congress should do whatever it can to compel Steele's testimony. It's time for this British man of mystery to be fully revealed and explain to the public his exact role in the biggest political scandal in U.S. history.
Content created by the Center for American Greatness, Inc. is available without charge to any eligible news publisher that can provide a significant audience. For licensing opportunities for our original content, please contact licensing@centerforamericangreatness.com.
Photo Credit: New Line Cinema