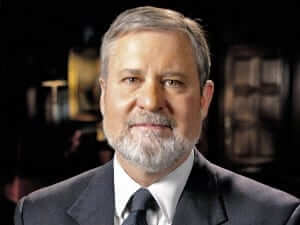 Dr. Larry Arnn, President of Hillsdale College, joined me today for the better part of an hour to discuss the crisis unfolding in American politics.  The importance of our constitutional order is too little understood and the sovereignty of the people acting in their constitutional majority too little appreciated.  Few people are as well equipped to explain the origins of the crisis and what action we may take to forestall its terrible consequences than Dr. Arnn.
The entire discussion is worth listening to at least once – probably more than once.  And not because of me.   Dr. Arnn's knowledge and practical wisdom are in short supply.  I've already listened to the interview again.  A few takeaways:
The sovereignty of the people is under assault from a meritocratic elite that believes – sometimes explicitly, sometimes implicitly – that they have a right to rule or overrule the people.
The signal importance of constitutional government is too little understood.  This is a failure of our education system, but it is also a project of the Left which has believed at least since the Progressive era that a large, powerful state run by "experts" is unreasonably constrained by the Constitution from "doing good."  Much of the Right has drunk from this well and it has tainted our politics.
Against the administrative state run by "experts" stands the idea of a sovereign people governing themselves through their elected representatives with each legitimate task of government being done by the level of government closest to the people and the problem.  This is the principle of subsidiarity and it has been either ignored or repudiated in the campaign to immanentize the eschaton through the administrative state.
The entire West, not just the United States faces this crisis.  The Brexit vote in the UK was not about trade – it was about sovereignty.
The crisis reorders the post-World War II Right/Left divide in ways that are still developing.
And, yes, we talked Trump a little bit.  How could we not?  Dr. Arnn did an excellent job setting the candidacy of Donald Trump in its proper historical context, offering compelling reasons to support Trump for President and some measure of understanding if no succor for the opposition.
Let us know in the comments below what you think or if there issues or considerations you'd like us to address in subsequent episodes.