A new report provides fresh evidence that infamous January 6 provocateur Ray Epps may have been an FBI plant.
In the first of a two-part series, "Truth in Media" host Lara Logan spoke with Anthime Gionet, also known as "Baked Alaska," a right-wing influencer formerly associated with the "alt right." Video footage from January 5, 2021 and earlier indicate that Epps appeared to be particularly interested in Gionet, who was later sentenced to two months in prison for his participation in the riot at the US Capitol.
Gionet (Baked Alaska) was one of several people who filmed Epps on the evening of January 5, 2021 outside BLM Plaza as he told Trump supporters "we need to go into the Capitol!"  At first, Gionet said he was amused by Epps' exhortation to breach the Capitol, and yelled 'let's go!' in response, but after he saw him repeat the line several times to different groups that night, he became convinced the "boomer" was an FBI plant and was up to no good.
Gionet is the one who started the "Fed! Fed! Fed!" chant that went viral on social media.
"I'm someone who creates funny content so I just like to agree with everyone and if someone's saying something crazy, a lot of times, I'll just agree—say yeah, yeah," Gionet said, explaining that he does it to encourage a subject  to keep talking.
But the activist said he felt "weirded out" by Epps and quickly moved on to another group. "I'm like, I'm getting away from this creep, he's weirding me out," Gionet said. "I'm getting weird vibes—something's off."
Gionet told Logan that everyone else who heard Epps talking about going into the Capitol were also taken aback.
"I go to another group way far away from him, he follows me, and that's when he begins instructing the crowd," Gionet said. That's when Epps was caught on tape again saying "we need to go into the Capitol."
"Right when he said that, something clicked in my head," Gionet said. "It was like, whoa! This is scripted because he said the same exact line word for word three times and that's not natural."
Gionet said that it seemed very odd that he kept going around to all the different little groups and instructing them on what to do on January 6.
"Maybe the first time, he's being silly or saying something crazy, but when he said it the third time word for word, I knew there's a strong possibility this guy's a fed. I started that chant, and guess what? The whole crowd joined in with me—within seconds!"
Gionet told Logan that that viral moment felt spiritual to him at the time.
"That was the spirit moving. That was God saying 'somethings up here. Watch out, there's something going on.' And that's what I felt in my heart as a believer, truly," he said.
Shortly before midnight, Epps took a conciliatory tone with Gionet, telling him they he also despises Black Lives Matter and antifa.
"I stood 'em down myself with three Army vets in Queen Creek, Arizona," Epps said.
"That's where I live!" Gionet exclaimed. "Are you my neighbor?!"
After more friendly banter, Epps said ""we're not here to fight man. He then leaned in and whispered "we're here to storm the Capitol," and added: "I'm not kidding."
Logan noted that Epps' words echoed the official narrative the next day—that Trump supporters "stormed the Capitol" before "it was broadcast across the nation."
Gionet, aka Baked Alaska, said that because he had been banned from every social media platform, it was virtually impossible for him to tell his story, and so for the first year after J6, nobody heard a word about Epps.
"I thought it was a big story but I was banned off Twitter, I was banned off YouTube, I was banned off all social media so I couldn't get the story out," he explained. He acknowledged that he had no proof that Epps was a "fed," but remains convinced that he was.
Former Washington DC FBI Field Office chief Steven D'Antuono has acknowledged in sworn testimony that the Bureau had so many informants on the ground on January 6 that they lost track and had to order an audit to account for all of them.
Federal prosecutors  finally filed a criminal charge against  Epps in September.
The former Marine and Oath Keepers member was charged with a single misdemeanor count of disruptive or disorderly conduct in a restricted area in U.S. District Court in Washington in September, despite his lead role in orchestrating chaos on that day. The charge carries a maximum punishment of a year in prison.
In part two of Truth in Media's report on Ray Epps, Logan interviewed a friend of Epps, a woman who said that "something happened after he left the Oath Keepers until January 6. "What, I don't know but those are two different people."
Part two, which will air next week,  also features a video clip of Epps photographing Gionet without his knowledge during a Trump rally in Phoenix.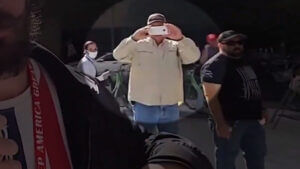 Why was Ray Epps treated as victim by the same people who condemned almost everyone around him as a threat?

We try to answer some lingering questions about the one "election-denying-Donald Trump-supporter" the media and the government didn't seem to hate. pic.twitter.com/1u5dXtSGLv

— Truth In Media (@Truth_InMedia) November 3, 2023