On Tuesday, a graduate student at the University of California-Berkeley offered extra credit to students if they attended a student "walkout" in support of Hamas-run Gaza, or watched a pro-Palestinian propaganda documentary according to screenshots posted to social media.
Victoria Huynh, a PHD student in Berkeley's Ethnic Studies Department, reportedly sent an e-mail detailing the opportunity to students in her "Asian American Communities and Race Relations" class.
"We're offering a field trip and/or extra credit opportunity: (1) Students can attend the national student walkout tomorrow against the settler-colonial occupation of Gaza (info attached below) OR (2) Students can watch a short documentary on Palestine and call/email your local California representative using this linktree," the October 24 email said.
Huynh told students that either option would count as a "field trip or an extra 5 points" and concluded by telling the class they would discussing "Palestinian history in relation to class concepts like colonialism, imperialism, and Third World solidarity" that day.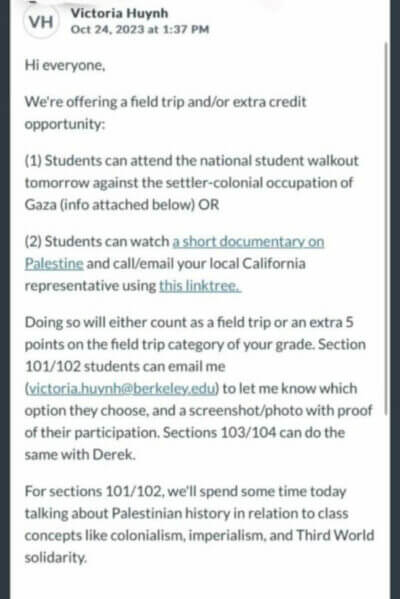 Critics reacted to the email with disgust on social media.
"Academic freedom absolutely does *not* entail professors giving students better grades for parroting their political point of view," The Atlantic's Yascha Mounk wrote on X.
According to her bio at The Department of Ethnic Studies UC Berkeley, Huynh is "a second-generation Vietnamese American who grew up in San Diego, CA."
Her research and advocacy are rooted in Southeast Asian abolitionist organizing, and her fields of study include critical refugee studies, abolition feminism, trauma & memory, and Vietnamese & Southeast Asian Studies.

Victoria graduated from Brown University in 2019 with a B.A. in Ethnic Studies as a Mellon Mays Fellow & Beinecke Scholar.
Huynh is also a consultant with the diversity, equity and inclusion (DEI) firm Model Expand, according to multiple bios on social media. Model Expand helps clients "embed a culture of diversity, equity and inclusion into their company so they can attract, engage, develop, and retain exceptional people from a range of backgrounds and experiences," according to its website.
"The grievance ideology of DEI, BLM, Antifa, etc is the same bloodlust beliefs of Palestinian "decolonization," the Post Millennial's Andy Ngo noted on X. "She's the daughter of refugees of communism but became radicalized to the far-left through an elite American education (she went to Brown as an undergraduate)."
Graduate Students For Justice in Palestine, UCB Law Students for Justice in Palestine, and the UCB Muslim Students Organization sponsored Wednesday's walkout "against genocide, settler-colonialism & the siege on Gaza."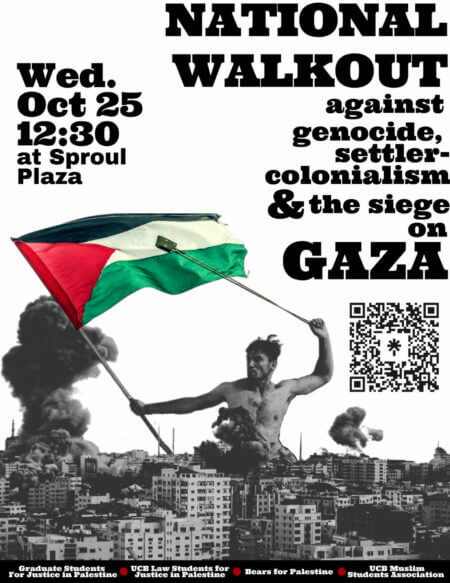 The odious Berkeley's Bears for Palestine expressed unwavering support for Hamas just hours after the terror group's sadistic attack on Israeli civilians left more than 1,400 dead.
Since its inception in 2001, the Islamist group has repeatedly justified terror attacks against Israel and Intifada (uprising) in the US, the Daily Mail reported.
The secretive group was reportedly founded by Hatem Bazian, a controversial lecturer in Asian American and Asian Diaspora Studies.
SJP student members often keep their identity anonymous – with pictures of their faces covered or turned from the camera posted on social media and hard-to-find lists of it members. They frequently use images of Islamist fighters to promote their events, as they see themselves as freedom fighters targeted for their beliefs.

In 2020, BFP displayed images of convicted terrorists Fatima Bernawi, Rasmea Odeh and Leila Khaled, a plane hijacker, calling them 'Palestinian leaders.' Calling the display a glorification of terrorism, Jewish students demanded it be taken down, but Berkeley's student government voted down a resolution condemning the display.

'It just never ceases to amaze me the trivialization of Jewish death on this campus,' said Shelby Weiss, who is Jewish and was the only student senator who voted to condemn the display.

In 2022, the group held a gala 'in honor of the unity intifada,' an uprising that saw Palestinian leaders call for riots and attacks against Jews and Hamas launching thousands of rockets into populated areas in Israel amid tensions in Jerusalem over a property dispute.

Every year, BFP hosts an event it calls 'Israel Apartheid Week' with the Berkeley Law Students for Justice in Palestine, a group that often joins and co-signs its activities, including the letter supporting Hamas.

Both groups repeatedly use the phrase, 'From the River to the Sea', demanding the land from the River Jordan to the Mediterranean Sea, meaning the end of the State of Israel.
UC Berkeley's Assistant Vice Chancellor at the Office of Communications and Public Affairs told Fox News that the university "remedied" the situation by adding more extra credit options.
"The situation has been remedied, the assignment has been changed and there are now a number of options for extra credit, not just one," said Asst. Vice Chancellor Dan Mogulof.
"Students can attend any local event they wish—such as a book talk or a panel discussion—-related to the course's subject…or they can watch any documentary they wish about the Middle East," he told Fox.
Mogulof could not comment on the student who shared the email, but said that the university responds swiftly to violations of policy.
"The university responds quickly to violations of policy and is committed to imposing appropriate consequences when policy is violated," he told Fox.
Many students earned extra credit Wednesday, as hundreds of protesters attended the walkout, some waving the Palestinian flags and wearing the Palestinian keffiyeh.
Here @ Berkeley walkout in solidarity for Palestine.#FreePalestine pic.twitter.com/Z0RyudE3nK

— Jovan (@SpinozaJovan) October 25, 2023
Students from UC Berkeley participate in a nationwide walkout calling for a cease fire and an end to Israeli occupation in Palestine on Wednesday. 🎥: @BronteWittpenn pic.twitter.com/c02QlgJCu4

— San Francisco Chronicle (@sfchronicle) October 25, 2023