Just hours after he was nominated for House Speaker, Majority Whip Tom Emmer (R-Minn.) dropped out of the race on Tuesday.
Emmer withdrew his name after a contingent of Republicans made clear they would not back him on the House floor, making it impossible for him to win, the Hill Reported.
Emmer was endorsed by former speaker Kevin McCarthy, but trashed by former President Trump, who released a scathing statement Tuesday calling Emmer a "RINO."
"I have many wonderful friends wanting to be Speaker of the House, and some are truly great Warriors. RINO Tom Emmer, who I do not know well, is not one of them," Trump wrote on Truth Social.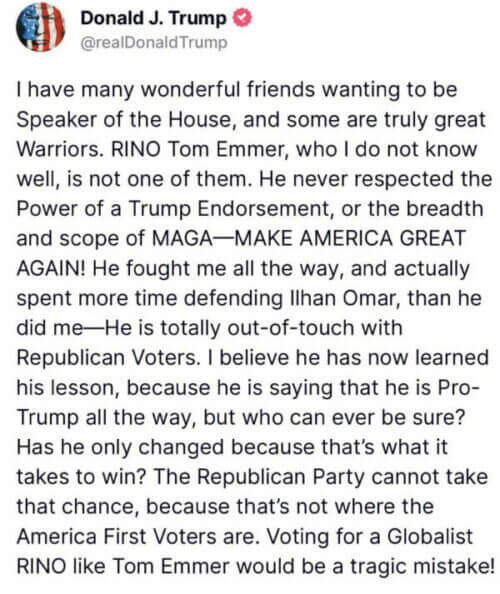 Emmer won the GOP nomination over House GOP Vice Chairman Mike Johnson (La.) in a secret ballot 117-97, but in a secondary roll call vote 26 Republicans voted present or for another person, according to House GOP Conference Secretary Lisa McClain (R-Mich.).

If all members vote present and for a specific candidate, Emmer could only afford to lose four Republicans and still win the Speakership on the House floor.

Emmer is the third GOP Speaker nominee to fall short of the gavel. The conference voted to drop Judiciary Committee Chairman Jim Jordan (R-Ohio) as their nominee last week following three failed attempts to win the gavel on the House floor. Before that, House Majority Leader Steve Scalise (R-La.) withdrew his name from the running amid staunch opposition from Jordan supporters.
Reps. Byron Donalds (R-Fla. and Kevin Hern (R-Okla.) backed out of the contest earlier Tuesday, but jumped back in after Emmers dropped out.
Reps. Donalds, Hern and Mike Johnson (R-La.) are currently the only Republicans still in the race, but that could change quickly.
Rep. Troy Nehls (R-Tex.) has been telling reporters that he wants former President Donald Trump to run for speaker.
.@RepTroyNehls on nominating Trump in Speaker Race:

"Everyone in that conference will be begging for Donald Trump's endorsement in their primary. Why don't we put him in there for 100 days? He would be great, wouldn't he?" pic.twitter.com/Oap7VMmVcx

— Benny Johnson (@bennyjohnson) October 24, 2023
It has been exactly three weeks since eight Republicans and Democrats voted to oust McCarthy from the Speakership.
Update:
Tuesday night, House Republicans chose Rep. Johnson as the party's new nominee for speaker after multiple rounds of voting.
Congratulations Speaker-designate @RepMikeJohnson!

— Rep. Elise Stefanik (@RepStefanik) October 25, 2023
Johnson received 128 votes in the final round with Rep. Byron Donalds, R-Fla., getting 29, according to Fox News Digital.
"Democracy is messy sometimes but it's our system," Johnson said during a press conference after the vote. "This House majority is united," he added to thunderous applause. "We're going to serve the people of this country. We're going to restore their faith in this Congress, in this institution of government," Johnson continued.
"You're going to see a new form of government and we're going to do this quickly. This group here is ready to govern and we're going to govern well. We're going to do what's right by the people, and believe people are going to reward that next year," he declared.
Rep. Mike Johnson after being nominated for Speaker: "Democracy is messy sometimes, but it is our system. This conference that you see, this House Republican majority, is united."

— Benny Johnson (@bennyjohnson) October 25, 2023
Johnson is a member of the Judiciary Committee, Subcommittee on the Administrative State, Regulatory Reform, and Antitrust; Select Subcommittee on the Weaponization of the Federal Government; Armed Services Committee; Subcommittee on Readiness; and Subcommittee on Seapower and Projection Forces.
He is currently the Chairman of the Subcommittee on Constitution and Limited Government.
Update:
House speaker vote live:
History in the making.
LIVE NOW: Lawmakers Return to the House Floor to Vote for Speaker https://t.co/ypN9NqOqqf via @YouTube

— DoctorChezza (@DoctorChezza) October 25, 2023
Update:
Johnson has received the 217 needed votes to become the next Speaker of the House. The final tally was 220 votes for Johnson and 209 votes for House Minority Leader Hakeem Jeffries (D-N.Y.)
BREAKING: Rep. Mike Johnson did not lose any Republican vote when he was elected Speaker minutes ago. WATCH pic.twitter.com/BSf7XldYkM

— Simon Ateba (@simonateba) October 25, 2023