A former spokeswoman for the Palestinian Liberation Organization (PLO) who regularly celebrates violence against Israelis on social media, works for the U.S. Customs and Immigration Service (USCIS), where she adjudicates cases for immigration benefits, investigative reporter Luke Rosiak reported at the Daily Wire.
In 2016 and 2017, Nejwa Ali worked as a public affairs officer for the Palestinian Delegation, which is described on its own website as the "PLO office in D.C" to the U.S.  The Trump administration closed the office in September 2018, saying that rather than working "to advance the start of direct and meaningful negotiations with Israel," it had "condemned a U.S. peace plan they have not yet seen and refused to engage with the U.S. government with respect to peace efforts."
After the PLO office closed down, Ali managed to secure a job at the Department of Homeland Security (DHS) as an Asylum Officer tasked with "applying immigration laws and regulations to asylum applications," according to Rosiak.
This January, Ali moved over to USCIS, a division of DHS, where she reportedly "analyzes new or amended legislation and policy, prepares written reports of findings, and reviews and makes determinations on cases for immigration benefits."
According to the report, the former PLO operative, now Homeland Security officer, routinely posts vicious pro-Hamas, anti-Semitic images and messages on social media under the name "Falastine Mi Amor."
Following the October 7 terrorist attack in Israel, Ali enthusiastically reacted to a picture of armed Hamas terrorists parachuting into the country.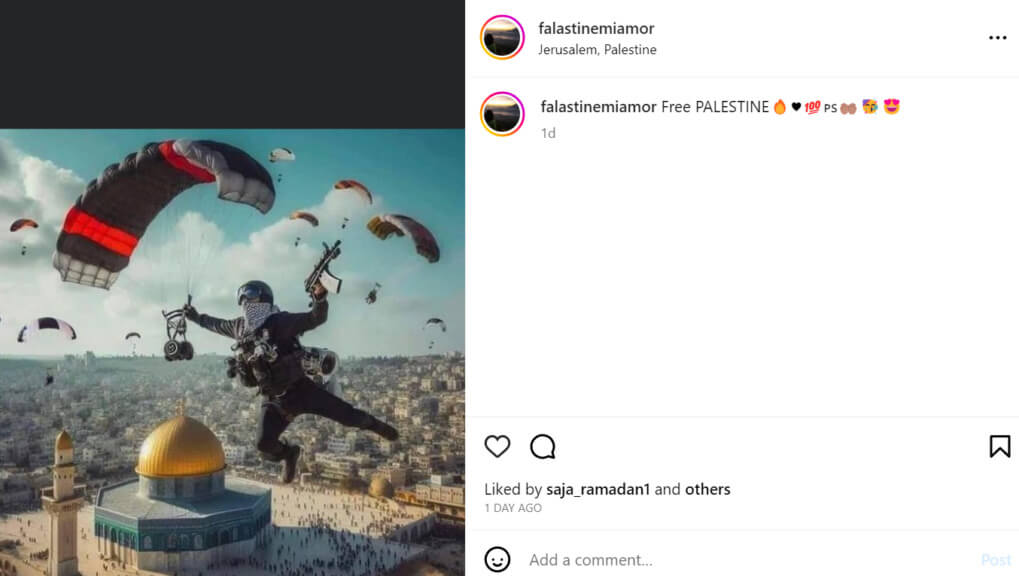 Since the massacre, Ali has also repeatedly cheered the attack and written "F-ck Israel" on social media. The posts make clear that her primary allegiance is with the Palestinians, not the United States, Rosiak said.
"Though Ali's job at DHS included vetting people to make sure they were not a threat to the country before letting them in, it's not clear that anyone from the agency vetted her," he quipped.
She has posted extremist rhetoric continuously to Facebook, Instagram, and Twitter for years — rhetoric that intensified this month as Palestinian terrorists murdered over 1,000 Jews on October 7 and Ali cheered. "F*** Israel, the government, and its military. Are you ready for your downfall?" she wrote on Instagram after the attacks.

According to her social media profiles — which say she is "American born, Palestinian @ heart" — Ali is from Dearborn, Michigan, a hotbed of unassimilated immigrants where thousands reportedly took to the streets in support of the Hamas terrorist attacks on Israel.

Ali has made several posts glorifying the terrorist attacks on Israel, including one depicting armed terrorists paragliding into the Jewish state with the caption, "Free PALESTINE."

Several of Ali's posts glorifying the terrorist attacks include the statement, "Respect our existence, or expect resistance. Simple. No Apologies," a suggestion that as long as Israel exists on what she considers occupied land, attacks on civilians are acceptable.

Jews seeking to come to America might have a hard time if Ali were their immigration officer. "Israeli, American privilege is disgusting. When Israelis acknowledge the government and military are solely responsible for the attack. Period," she wrote. "I hold every Israeli accountable for their governments [sic] actions, IF they do not speak against Israel."

On October 9, she posted to Facebook: "How Nejwa wakes up," accompanied by a video captioned "F*** Israel and any Jew that supports Israel" and a photo that says "A nation that has nothing but Allah has everything it will ever need." She also added an anti-Semitic cartoon of a Jewish nose.

She has also claimed that the media is pushing Israeli propaganda, mimicking a common anti-Semitic refrain that Jewish people control the press.

"Palestine will be free one day. F*** APARTHEID Israel and any Israeli that supports that bulls***. F*** you, may Allah forgive you. and spare us the crocodile tears, I sure as hell give zero f***s," she wrote on Instagram.
Rosiak contacted USCIS for comment and was told that "USCIS strongly condemns antisemitism and the use of violent rhetoric in any form."
"USCIS employees are held to high ethical standards both on and off duty, including their presence on social media," USCIS spokesman Matthew Bourke said. "Any violation of these standards is taken seriously by the agency."
A day later, Ali told the Daily Wire in a phone call that she still works for DHS. She "was decidedly unchastened," according to Rosiak.
Asked if she disclosed her employment with the PLO to DHS, she said "That's none of your f***ing business. Mind your business before I call the police. If I were you I'd respectfully hang up the phone right now."

Asked if her views on Israel impacted her ability to work as an American government official, she said, "That does not affect the ability to do my job at all. You can mind your own business."
Kyle Shideler, a Senior Analyst for Homeland Security and Counterterrorism at the Center for Security Policy said the fact that DHS hired a PLO operative like Ali "is both shocking in the extreme and entirely expected."
"Technically under U.S. law, the PLO is still recognized by the U.S. Congress as a terrorist organization," Shideler told American Greatness.
While previous presidents waived the law to allow the PLO to set up offices in the U.S., Trump refused to waive it, forcing the PLO offices to close. That this woman so easily bandied her time serving a terrorist organization into a job at the Department of Homeland Security, where her job was to screen asylum seekers for —among other things their support for terrorism— is a reflection of the degree to which elements of our federal government switched sides in the war on terror. Not just from the Obama or Biden administrations at the political level but at the bureaucratic level.
Shideler added that "support for terrorists and terror regimes like Iran and Hamas is now seen as advantageous rather than disqualifying."
In a comment to American Greatness, National Security expert David Reaboi pointed out that Ali was hired as an Asylum Officer during the Trump years and accused Trump's DHS of being "asleep at the switch."
"The Biden administration counts a number of Palestinians and Iranians whose contacts with and sympathy for some of the most virulent terror organizations are their chief qualification for employment in government," Reaboi said.
They're at the National Security Council or the Pentagon by virtue of their ties to Palestinian terror gangs or the Iranian government, not despite them. The Trump administration, however, was not as motivated to hire these people. But it happened anyway-evidently, because his appointees at DHS were asleep at the switch. When Ali began her work for the Trump DHS, the people doing the vetting either didn't know what they were looking at, or didn't care. Either way, it speaks to a complete breakdown.
Reaboi argued that Ali's employment history with the PLO should have been disqualifying.
"We should know the names of the officers at DHS who signed off on Ali's employment and thought it wasn't disqualifying," he said. "Did Ali use a PLO reference when she applied?"
Update:
Ali has been put on administrative leave, a USCIS spokesman told The Washington Examiner Wednesday.
BREAKING: The DHS employee has officially been put on leave, a spokesman tells @dcexaminer https://t.co/PhwDxOcikZ pic.twitter.com/33JN6VA6gO

— Gabe Kaminsky (@gekaminsky) October 18, 2023