Rep. Jim Jordan (R-Ohio) on  Wednesday became the first Republican to announce that he will run to be the next House speaker to replace Kevin McCarthy (R-Calif.), who was ousted Tuesday.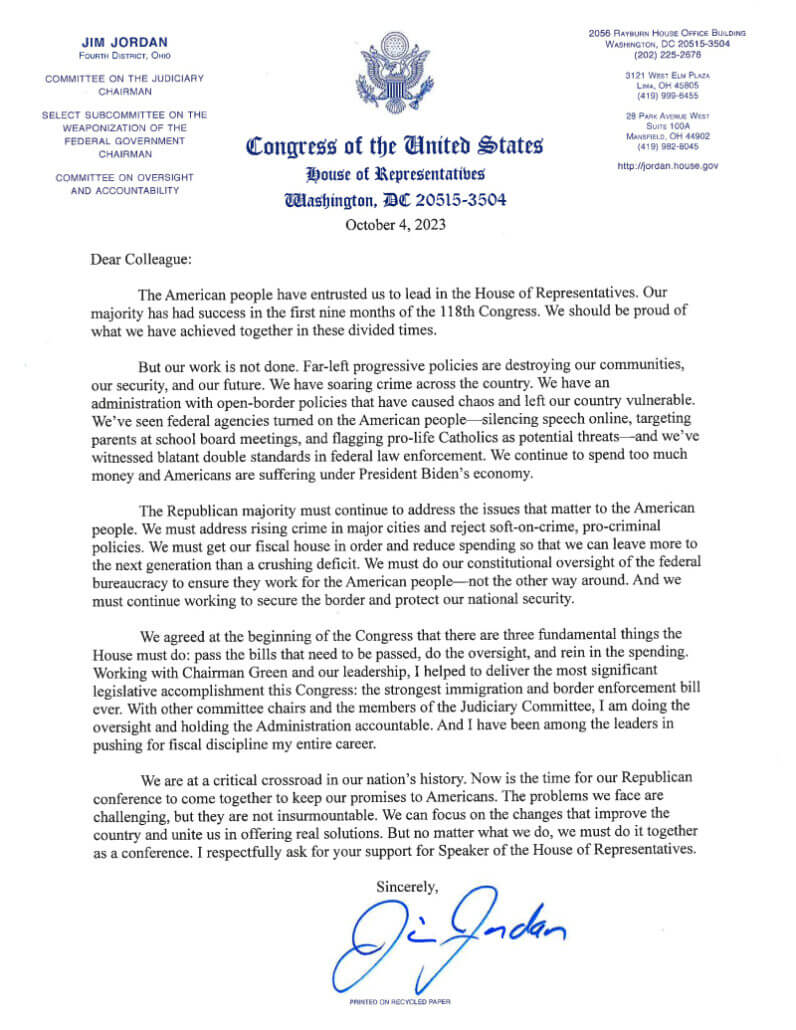 As a member of the conservative House Freedom Caucus, a Trump ally and a close ally of now-ex Speaker Kevin McCarthy, Jordan straddles the line between the Republican establishment and the party's populist base.
"Jim is a friend, and I certainly think he brings a whole lot that this conference would be able to rally around, but we've got to all have a conversation and I'm not going to say who I'm supporting at this point," said Rep. Chip Roy (R-Texas), a fellow member of the House Freedom Caucus. "We're going to figure this out behind closed doors as a family," he added.
As House Judiciary chair, Jordan has worked closely with Oversight Chair James Comer (R-Ky.) on the impeachment inquiry into Joe Biden.
Both Jordan and Comer have called for Congress to cut the budgets of the Department of Justice and FBI over whistleblower claims that it obstructed a criminal investigation into Hunter Biden.
Before the 2022 midterm elections, Jordan promised "major changes" to the Justice Department and FBI if Republicans won control of Congress, and said the Foreign Intelligence Surveillance Act (FISA) should be allowed to expire.
"I think we should not even reauthorize FISA which is going to come in the next Congress," Rep. Jordan said in a Fox News Channel interview on October 9, 2022. "At the very least, Congress needs to change the FISA process, Jordan added. A Foreign Intelligence Surveillance Court document unsealed in May showed that the FBI misused FISA Section 702 more than 278,000 times.
Majority Leader Steve Scalise (R-La.) is also considering a speakership bid and is working "to court conservatives," according to Politico.
Rep. Patrick McHenry (R-N.C.) became the acting speaker—known as speaker pro tempore— Tuesday night after the vote to oust McCarthy.  McHenry was picked from a list McCarthy was required under House rules to keep. He will remain the acting speaker until the House votes in the next speaker.
Rep. McHenry clearly upset as he slams the gavel down: pic.twitter.com/LkAwgO58xb

— TheBlaze (@theblaze) October 3, 2023
In one of his first moves, McHenry ordered former House Speaker Nancy Pelosi (D-Calif.) and Rep. Steny Hoyer (D-Md.) to "immediately" vacate their offices.
He reportedly sent an email to Pelosi's office informing her that the "room will be re-keyed" and reassigned for "speaker use," Politico first reported.
A spokeswoman for Rep. Steny Hoyer (D-Md.) told the New York Post that the former House majority leader had also been asked to vacate his Capitol hideaway office on Wednesday.
Asked if he would be interested in the job of Speaker, former President Donald Trump said "a lot of people have asked me about it." Trump said he would do whatever was needed to help with the process, but that he was focused on the presidential race where he is "leading by like 50 points."
President Trump on the House Speaker's race. pic.twitter.com/JGIh4Eo01d

— Trump War Room (@TrumpWarRoom) October 4, 2023
On Truth Social later Wednesday, Trump posted a meme of himself with the speaker's gavel.