After a public sartorial kerfuffle, this last week the United States Senate, that august body of elder statesmen, decided to implement a formal dress code. Before the events of the last month, the Senate had relied on an informal standard that men ought to wear a suit and tie and Senator Kyrsten Sinema is allowed to dress like a Hunger Games villain.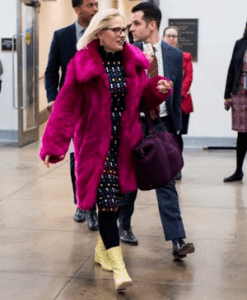 But Senator Jon Fetterman balked at these informal standards that would require him to get dressed in the morning and therefore Senate Majority Leader Chuck Schumer decided to direct the Senate's Sergeant at Arms to allow Fetterman to not only wander the Senate floor in his panhandling attire but to even preside over the Senate in such menswear.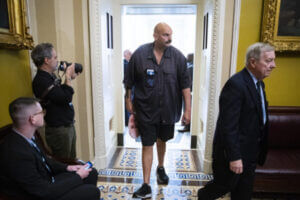 Fetterman's newfound liberation generated public outcry, leading to the aforementioned renewal and official instantiation of the old dress code. 
Unlike other conservatives, however, I disagree with Schumer's decision to return to the old dress code. The Senate's suit and tie rules are symbols of a dead age. Trying to bring them back with official sanctions isn't enough. America needs to go forward, not back. The Senate needs a truly progressive dress code.  
I propose, therefore, the complete elimination of dress altogether for the World's Greatest Deliberative Body. Members of the Senate should be required to conduct business entirely in the nude.
Instead of rejecting and attacking the Jon Fetterman dress code position, Senate leadership ought to go even further. There are good reasons for doing so. 
For one, as the magazine The Nation has pointed out: racists always wear suit and ties. Therefore, there is a direct connection between dressing "well" and white supremacy. Liberals who are interested in fighting racism should thereby ban suits and ties altogether. As every high school girl knows, oppression and clothing rules go together. When Adolf Hitler got into power he celebrated traditional German modes of dress. The Senate needs to take a stand against the Confederacy, racism, and Nazism by liberating its members from its authoritarian dress code rules. 
But simply getting rid of suits and ties is not enough. Requiring Senate members to wear clothes at all is still white supremacy—there are many Brown, Indigenous, and People of Color (BIPOC)  who do not wear clothes. To take but one example, Leni Reifenstahl's groundbreaking aesthetic work Die Nuba, a photo journal collection depicting the rites and traditional dances of the Nubian people group, shows that this tribe did not wear clothes.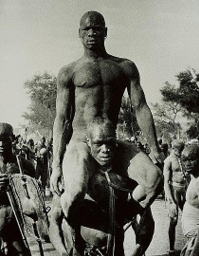 America's Senate has much it can learn from non-Eurocentric sources of cultural and political rituals. For instance, Encyclopedia.com reports that among the Swazi people of southern Africa, political power and nudity have a fundamental association, specifically in the Nc'wala ritual:
Rereading the Swazi ethnography, T. O. Beidelman argued that the purpose of the Ncwala was to set the king apart so that he might take on the supernatural powers necessary to his office. He showed how such details as the black color of a sacrificial ox, the king's nudity during the ritual, and the emptiness of his right hand while he danced are consistent with Swazi cosmology and symbolic usage. The color of the ox refers to the powerful but disorderly forces of sexuality that the king must incorporate and master; the king's nudity expresses his liminal status as the "bull of his nation," mediating between the supernatural and the living. [emphasis my own]
Beyond fighting racism, there are practical reasons for requiring members of the Senate to conduct official business in the nude. The FBI reports that when they raided Senator Bob Menendez's home, they discovered a large portion of his half a million in cash bribes in the pockets of his dress coats.
If a Senator isn't allowed to wear a dress coat, then he can't store bribes there when foreign governments come to buy him off. Requiring Senators to go nude is a powerful anti-corruption measure. 
Requiring nudity of our public leaders is a powerful statement in favor of government transparency. When a politician is buck naked in front of his constituents there is nothing he can hide from them. Democracy requires accountability; what better way to provide it than by removing all fig leaves, both literal and metaphorical, behind which Congressmen can hide?
Senators parading through the halls of Congress in their birthday suits would also contribute mightily to the body positivity movement. For years, brave activists on Twitter and Instagram have been fighting to #freethenipple. The Senate should show its support for this movement by allowing Senators to free their own nipples for public consumption. 
This has the added benefit of getting back at Trump for his mean tweets. In 2011, he tweeted the following about respected Congressman Barney Frank: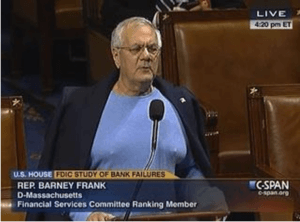 Allowing America's Senators to truly let their nipples protrude is a wonderful way to teach the Bad Orange Man a lesson in civility and decency.
Finally, a naked Senate is a step in the right direction for the country. Americans need to get back to nature. Our kids need to get off their cellphones, away from Tik Tok and Facebook. We need more authenticity and truth in public life, not less. We need to free ourselves from the strictures of stultifying convention and embrace natural right. The ancient Greeks both consciously and unconsciously understood this. 
Their depictions of heroic nudity are at the foundation of Western culture for a reason. America's leaders should be expected to make manifest both courage and prudence, what the Greeks called andreia and phronesis, respectively. The manifestation of these qualities was tied very closely in the Greek mind to the presentation of the unadorned human form. 
In the body made beautiful and oriented towards victory in athletic contests and war, the Greeks saw Truth. And in such forms, we can see it still. A nude Senate would reveal the truth about America's political class, indeed.  
One might argue that my proposal would embarrass and sexually objectify members of the Senate. I reply that this is unlikely. In the Republic, Plato argues that the ideal regime will allow its greatest servants and warriors, the Guardians, to work out in the nude, both men and women. This is not a problem because the Guardians' dedication to virtue and the city is so powerful that it overwhelms their individual sexual desires. 
The man whose life is oriented entirely to the common good has no need of shame nor clothes. The only raiment he needs is virtue. 
Are America's Senators not paragons of virtue and excellence? Can one not imagine them performing heroic deeds in war and offering sober counsels in peace? 
I, for one, can easily picture Senate Majority Leader Chuck Schumer charging an enemy machine gun nest or Jon Fetterman giving a Ciceronian oration at a moment of profound national crisis. As the COVID pandemic, 2020 election, Iraq War, 2008 recession, and current inflation rate show, America is in good hands. We have leaders worthy of being honored in the Greek tradition of heroic nudity, certainly.
An updated Senate dress code can show the way.