The U.S. Attorney who prosecuted the notorious January 6 "Lectern guy" was arrested Tuesday after allegedly stabbing a motorist in a bizarre road rage incident in Tampa, Florida.
Patrick Douglas Scruggs, 38, worked for the U.S. Attorney's Office in Tampa from 2013 until 2023, according to the Tampa Bay Times.  Last May, he joined Barnes and Thornburg, an Atlanta-based private law firm, as an "of counsel" attorney, his LinkedIn page says.
Now, he's facing serious legal issues of his own.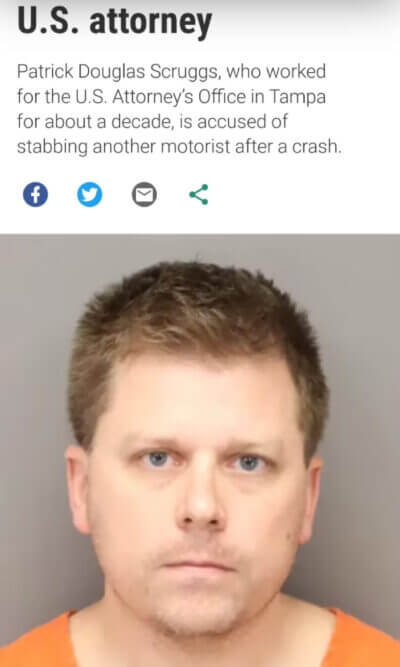 According to a news release issued Tuesday by the Florida Highway Patrol, a 40-year-old Tampa man was driving a sedan south on Interstate 275 shortly before 9:24 a.m. when he and his wife noticed a vehicle that was stopped in the travel lanes of the Howard Frankland Bridge. The 35-year-old driver was reportedly slumped over inside his sedan, so the couple pulled over in front of the car to help.
The good Samaritan was unable to get inside the unconscious man's sedan, so he walked back to his car to look for something that could break the window.
At this point, "the 35-year-old man woke up and accelerated forward, crashing into the couple's sedan," according to the report. He then shifted into reverse and tried to get around the couple's sedan, hitting Scruggs' sedan as he was driving by the scene.
According to the Highway Patrol, Scruggs pulled over, got out of his car, and walked up to the driver of the vehicle that hit his car.  Scruggs then allegedly broke a window and started stabbing the 35-year-old with a pocketknife.
The couple reportedly rushed to the vehicle to help the victim, but Scruggs then turned on them with the knife and they fled, troopers said.
A woman passing by, saw the incident as it was unfolding and took pictures which she posted onto Facebook. In her post, Tara Jex Iglinski said she saw a man "holding the knife and I saw the arms of the guy sticking out the window like he was pleading for help- and his arms were all cut up."
"I took photos and noticed the knife in the guy's hand, and that there was blood all over both of them," she added. "It appears one guy has a knife in his hand and he was cutting up the arms of the other guy in the car next to him. What is going on in the world?"
Iglinski's photos show a knife-wielding man standing next to a car with the driver holding out bloody, outstretched arms.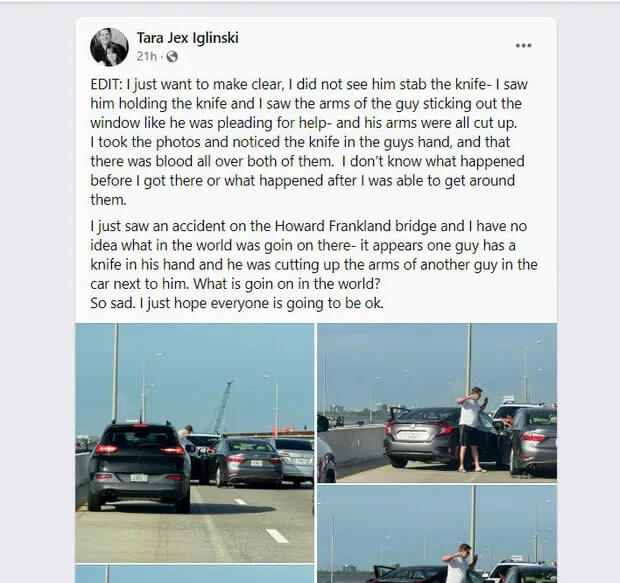 The woman's Facebook account has since been set to private.
A St. Petersburg Police Department officer driving by saw the commotion and pulled over, according to the Highway Patrol. The officer then detained Scruggs and called for assistance.
The 35-year-old victim "was taken to a local hospital with injuries authorities described as serious but not life-threatening," the Times reported.
Scruggs was arrested on "charges of aggravated battery, aggravated assault and armed burglary" and was released from the Pinellas County Jail that evening after posting $65,000 bail, records show.
Scruggs' attorney, John Nohlgren, released a statement to the Times on Wednesday afternoon.
"In America, every person is presumed innocent until proven guilty. Mr. Scruggs is no different than anyone else and should be afforded that same presumption," the statement said. "He has no prior criminal history and has spent nearly his entire career protecting the people of this country."
As many have noted on social media, so did many of the January 6 defendants who had the book thrown at them.
Nohlgren's statement called the incident "a chaotic situation involving multiple crashes caused by only one person on one of our area's busiest bridges."
"That person was not Mr. Scruggs," the attorney said. "There is much more to this incident than what is being reported and we are diligently working to bring to light the full facts of what occurred. We urge that the public keep an open mind and withhold from making judgments. We will bring forth all of the facts and make them known to the authorities in the proper forum."
Scruggs, who got his law degree from Boston College Law School, joined the Narcotics Section of the U.S. Attorney's Office in Tampa in 2013, according to a news release issued by that office at the time. His previous practice at that point included working in the Trial Division and the Prescription Drug Investigation Unit of the New York County District Attorney's Office in New York City, the release said.

In 2017, Scruggs prosecuted a murder-for-hire case against Priscilla Ellis, a Texas woman convicted in a large fraud scheme who plotted from jail to kill witnesses who testified against her. Scruggs penned an artfully-worded and memorable sentencing memo in that case, referencing T.S. Eliot's 1925 poem The Hollow Men to describe Ellis' lack of remorse. Ellis received a 65-year prison sentence in the murder-for-hire case.

Scruggs also appeared on behalf of the federal government during hearings for Florida residents accused of taking part in the riots at the U.S. Capitol by supporters of outgoing President Donald Trump on Jan. 6, 2021.
Scruggs reportedly was present at the bond hearing of Adam Johnson, who was seen in an iconic photograph carrying a lectern from the House of Representatives.
I still get asked all the time on here if I am the actual lectern/podium guy. The answer is yes, this is me. pic.twitter.com/5vKnZU5PhD

— The Lectern Guy🇺🇸 (@lecternleader) May 25, 2023
Scruggs asked U.S. Magistrate Judge Christopher Tuite to order a number of restrictions for Johnson while he was on release, "including drug testing, the surrender of his passport and a nightly curfew."
"This is a serious case," Scruggs told the judge. "Everyone involved in the storming of the Capitol last week needs to be held accountable for their actions, including Mr. Johnson."
The non-violent trespasser was sentenced in 2022 to 75 days in jail.
"Meet the guy who prosecuted me in Tampa for walking in a building on January 6th," Johnson wrote on X, Wednesday.
"My crimes were so egregious that he demanded I wear an ankle monitor, be drugged tested at random, surrender my passports, be restricted to middle district of Florida, and given a nightly curfew. What restrictions do you think he should get for stabbing a man repeatedly in public?" he asked.
Meet the guy who prosecuted me in Tampa for walking in a building on January 6th.

My crimes were so egregious that he demanded I wear an ankle monitor, be drugged tested at random, surrender my passports, be restricted to middle district of Florida, and given a nightly curfew.…

— The Lectern Guy🇺🇸 (@lecternleader) September 27, 2023
Later, Johnson wrote, "I'm already reading news stories and have seen a few podcasts say he wasn't my prosecutor. He was my initial prosecutor in Tampa for my first hearing, which was responsible for my terms of release."
The J6er added that the case later "got moved to DC, where another prosecutor took over."
"It's amazing to me that the left is worried about semantics when a man was violently stabbed and his attacker was released on bail the same day," Johnson wrote.