Hunter Biden's Chinese business partners wired more than $250,000 to him during the summer of 2019 and listed Joe Biden's Delaware home as the beneficiary address for the funds, the House Oversight Committee revealed Tuesday evening. The transactions represent one more piece of evidence gathered by House Republicans showing that Joe Biden was involved in his son's shady business schemes.
🚨CHINA WIRES LIST JOE'S HOME AS BENEFICIARY ADDRESS 🚨

A few months after Joe Biden announced his candidacy in 2019, information available to the Committee shows Hunter Biden received two wires from China for $250,000 and $10,000, including from Jonathan Li.

More alarming, the…

— Oversight Committee (@GOPoversight) September 26, 2023
The two wires, one for $250,000 and the other for $10,000, originated in Beijing and are linked to the private equity firm BHR Partners, according to subpoenaed financial records obtained by the committee. Hunter Biden, Devon Archer, and Chinese financial executive Johnathan Li founded BHR Partners in 2013. The firm is a joint-venture between Hunter Biden's Rosemont Seneca and Chinese investment firm Bohai Capital. BHR is headquartered in Beijing and controlled by Bank of China Limited.
Li is the CEO of BHR and Hunter Biden reportedly sat on the board of directors until the end of October 2019.
According to the Oversight Republicans, Joe Biden developed a familiar relationship with Jonathan Li while he was vice president.
Former Biden business partner Devon Archer testified that the elder Biden met with Li for coffee in Beijing while he was vice president, had at least one phone call with him, and even wrote college recommendation letters for his children.
Joe Biden announced his candidacy in the 2020 presidential election on April 25, 2019.
Two months later on July 26, 2019, "Wang Xin" wired $10,000 with Joe Biden's home listed on the wire. A Ms. Xin Wang is listed as a venture partner on the BHR Partners website.
About a week later on August 2, 2019 Jonathan Li and a Ms. Tan Ling wired $250,000 with Joe Biden's home listed on the wire.  The committee is investigating Ling's role in the endeavor.
Robert Hunter Biden is listed as the beneficiary for both wires at Joe Biden's home address of "1209 Barley Mill Rd" in Wilmington, Delaware.  Joe Biden famously declared in August 2019, that he "never discussed with my son or my brother or anyone else anything having to do with their business, period."
On October 13, 2019, after Hunter Biden received more than a quarter of a million dollars from BHR-linked individuals, George Mesires, who served as Hunter Biden's lawyer, stated that Hunter Biden was involved with BHR "only as a member of its board of directors," which was purportedly an "unpaid position."
During the presidential debate on October  22, 2020, Joe Biden denied that his son Hunter had made money in China, and claimed that "the only guy who had made money from China" was Trump.
Joe Biden: "my son [Hunter] has not made money in terms of, this thing about. What are we talking about. Uh. China" pic.twitter.com/me34yBqdUU #maga #debate #HunterBiden

— Matt Batzel (@MattBatzel) October 23, 2020
"It has your address on the wires, sir," House Oversight Chairman James Comer (R-Ky.) quipped on Tuesday.
The House Oversight Committee has been investigating the Biden family shady business dealings and Joe Biden's alleged involvement in those schemes.
As part of the investigation, the Republican members have obtained bank records indicating that "the Biden family and their business associates received millions of dollars from oligarchs in Russia, Ukraine, Romania and Kazakhstan during the Obama administration," Fox News reported.
Fox News Digital has also learned that the committee has records that allegedly reveal that from 2014 to 2019 the Biden family and their associates received $24 million in foreign payments — $15 million to the Bidens and $9 million for their business associates, $4 million more than previously known.

Committee aides told Fox News Digital that beneficiary addresses are either the address listed to the recipient account or listed by the individual sending the wire. It is unclear, based on the wire records, who listed the address.

Hunter Biden spent time in 2017, 2018 and 2019 living at the Biden family home in Wilmington. It is unclear if he was living at the home at the time of the wire transfers in July and August 2019.
"Bank records don't lie, but President Joe Biden does," Comer told Fox News.
"In 2020, Joe Biden told Americans that his family never received money from China. We've already proved that to be a lie earlier this year, and now we know that two wires originating from Beijing listed Joe Biden's Wilmington home as the beneficiary address when he was running for president of the United States. When Joe Biden was vice president, he spoke on the phone and had coffee with Jonathan Li in Beijing and later wrote a college letter of recommendation for his children," Comer said in a statement.
"Joe Biden's abuse of public office for his family's financial gain threatens our national security. What did the Bidens do with this money from Beijing? Americans demand and deserve accountability for President Biden and the first family's corruption. The Oversight Committee, along with the Judiciary and Ways and Means committees, will continue to follow the evidence and money to provide transparency and accountability," he added.
🚨BREAKING🚨

I just subpoenaed & obtained two bank wires revealing Hunter Biden received payments originating from Beijing in 2019 when Joe Biden was running for President.

Joe Biden's Delaware home is listed as the beneficiary address for both money wires from China. pic.twitter.com/jzRX2o1hB1

— Rep. James Comer (@RepJamesComer) September 26, 2023
Update:
According to Hunter's failed plea agreement, he was living in California in the summer of 2019, which is when his Chinese business associates sent their payments listing Joe Biden's Delaware home as the beneficiary address for the funds.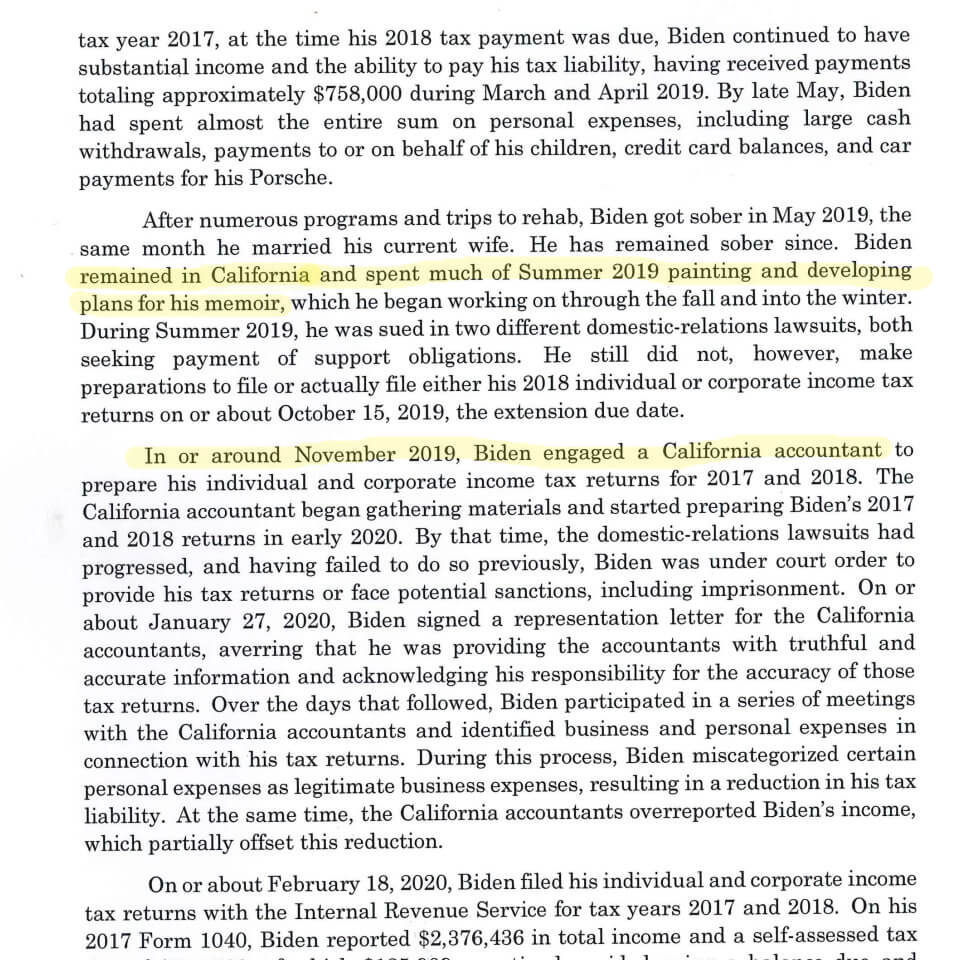 Daily Caller reporter James Lynch brought this information to light after White House Spokesman Ian Sams suggested that Hunter was living full time at at his "parents' house during the pandemic" (which didn't start until 2020).
White House spox is straight up lying. Hunter wasn't staying at his parents' house, he was living in California when the Chinese business associates sent their payments with Joe Biden's address on them, according to Hunter's failed guilty plea @DailyCaller https://t.co/wneWjoWx6z https://t.co/2OtBC701bW pic.twitter.com/cLymw9ELsq

— James Lynch (@jameslynch32) September 27, 2023