A Native American nonprofit group has filed a lawsuit against the Washington Commanders (formerly Redskins) after a representative for the team made defamatory comments attacking the association's integrity, NBC Montana reported Monday.
The North Dakota-based Native American Guardians Association (NAGA) launched its lawsuit after Matthew Laux, a sales rep with the Commanders called NAGA "a fake group" in a text message to Christina King, a former luxury suite season-ticket holder.
"This name change WAS, IS & forever will be a major problem," King had texted Laux in August.
"You understand the people that started this petition is a fake group right?" Laux wrote back, screenshots of text messages show. "We only have 7 suites left so if you truly loved your team you wouldn't let a name prevent you from attending the games you want to be at."
King reportedly gave up her suite when the franchise, under previous owner Dan Snyder, dropped "Redskins" as the team's name in 2020.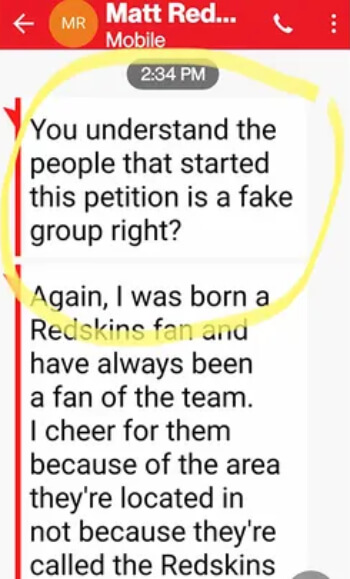 "We're not a fake group. We're tribal-enrolled members from tribes across the United States," said Eunice Davidson, co-founder and president of NAGA and a "full-blooded Dakota Sioux" in an interview with Fox News Digital on August 29.
NAGA is now seeking $1.6 million in damages.
The lawsuit is the latest move in a series of efforts by NAGA to open a dialogue with the Commanders about reversing its 2020 name change. The decision, NAGA says, is one that Native Americans at large were never consulted about and instead made them subjects of "cancel culture."
NAGA was established in 2017 as a non-profit advocacy organization with the purpose of promoting Native American History and Preservation.
"NAGA celebrates and promotes the rich history, legacies, and many national contributions of First Nation's people which have historically been woven into the fabric of American identity," the group states on its website.
The lawsuit, filed Monday in the U.S. District Court of North Dakota, claims Laux's words amounted to "selective racism."
"Reading between the lines, Laux was attacking the very identity of NAGA's members," the lawsuit reads. "He was calling them 'fake' Native Americans. He attacked their very souls. Laux took a page right from the Commanders playbook: selective racism."
The lawsuit goes on to note that "Laux stated as truth, that Native Americans like Eunice Davidson, were not Native Americans at all."
Back in August, Commanders spokesperson Jean Medina told NBC News Montana that Laux "does not speak as a representative of the team, and should not have made those comments."
NAGA's suit counters that "Laux's position within the organization authorized him to speak on its behalf."
The group is  also suing team owner Josh Harris, and the George Soros-backed National Congress of American Indians (NCAI) for "working in concert to suppress and defame their organization which represents Native Americans everywhere."
NAGA argues that most Native Americans were not bothered by the Redskins moniker, but the Commanders have achieved a "monopoly on the narrative" regarding the issue.
Chad LaVeglia, who is representing NAGA, slammed the team for only being willing to accept the opinions of those who agree with them, like the woke NCAI.
"Mr. Harris apparently only feels its important to hear from one group of Native Americans while ignoring the rest," LaVeglia told NBC Montana.  "If he lets other people in on the discourse, I think he would learn a lot."
The NCAI is funded by George Soros' Open Society Foundations and other left-wing groups, according to Fox News. The group also reportedly receives American taxpayer dollars from an array of federal departments.
ICYMI https://t.co/9dcEwG4EWV

— Native American Guardians Association (@GuardiansNative) September 25, 2023
NAGA states on its website that 90 percent of Native Americans disagree that "Redskins" is a racist name.
"Redskins / Redmen is a Native American iconic name and is revered by the vast majority of Native Americans and general public alike," the website states. "Redskins / Redmen represents honor, respect and pride for Native American culture. Redskins / Redmen is and has been a self-identifying term for Natives since the early 1800s."
Opinion polls from 2004 to 2016 have consistently shown the vast majority of Native Americans were not offended with the Redskins name.
LaVeglia told NBC Montana that the group was given "no choice" but to file suit after the Commanders repeatedly ignored their requests for dialogue.
"We would like them to sit down at the table with NAGA and hear what they have to say and they also have to fix the harm that they've done to NAGA's reputation by calling them fake and attacking their very identity," LaVeglia said.
The lawyer also said that by changing their name, the Commanders had "dishonored many years of Native American tradition and heritage."
"The logo on the Redskin's helmet is an actual person, it's Chief White Calf. Every time they go out on that field, they were honoring Chief White Calf and they were battling on the football field with the same honor and integrity and courage," LaVeglia said. "They should continue to honor that."
NAGA has been leading a campaign to "reclaim" the team's former name. The group's petition to bring the Redskins name back garnered some 135,000 signatures over the summer.
Reclaim the Name https://t.co/5xPJ6SeKRZ

— Native American Guardians Association (@GuardiansNative) September 25, 2023
Daniel Fazzolare, who created the petition in collaboration with NAGA, told NBC News Montana that the team's name change didn't sit right with him.
"I'm dissatisfied because they said, 'They would take the fans input and not mess with the color scheme.' They didn't listen to the fans and they messed up the color scheme. As a fan I feel like we've been disrespected with this rebrand," Fazzolare said. "I've been a Redskins fan my whole life and with the rebrand it just doesn't feel right. I knew there had to be other people out there that felt the same way I did. So, I made the petition."
NAGA is also responsible for a similar petition calling for the Cleveland Guardians to restore their "Indians" mascot, which has nearly 12,000 signatures. The team rebranded around the same time as the Commanders, following significant racial unrest in the country after the murder of George Floyd by Minneapolis police.

To show their demands were serious, NAGA threatened both teams with a boycott "similar to Anheuser-Busch" if they ignored their petition, a reference to the partnership between Bud Light and transgender activist Dylan Mulvaney.
Meanwhile, the NCAI cheered the Commanders' refusal to speak with NAGA, saying in a statement that their stance "represents a meaningful first step toward the Commanders owning the history of its former name and taking accountability for the unspeakable harm caused to tribal citizens after decades of racism and erasure."
In the statement, the NCAI also called on the Kansas City Chiefs, Chicago Blackhawks and Atlanta Braves to remove their Native-American-inspired mascots.
"NCAI urges these organizations to follow the lead of the Washington Commanders and Cleveland Guardians, promoting a dialogue that upholds tribal sovereignty, amplifies contemporary Native voices, and paves the way for the retirement of harmful mascots, imagery, and branding," the group said.
In response, NAGA slammed the "radical" NCAI for making such demands, and called their authoritative posturing "preposterous."
"[NCAI is] a Soros-funded slush fund making decisions without consent of or vote of Tribal Members. They need Tribal Member votes to get 'elected' but then oppress the Members' voices similar to Communism," NAGA President Eunice Davidson told NBC Montana.
A Commanders spokesperson told the news outlet that the team plans to "address the matter in court," but said he believes the lawsuit is "without merit."