Hunter Biden has been indicted on three felony counts related to lying about his drug use when buying a gun, according to Delaware federal court documents. The charges reportedly carry up to 25 years in prison.
Two counts are tied to Biden's false claim in October 2018 that he was not using illegal drugs at the time he purchased a handgun in October 2018. The third count alleges he possessed a firearm while using a narcotic.
🚨🚨🚨BREAKING: Hunter Biden has been indicted for three counts of federal gun charges

But where are the indictments for tax fraud, FARA abuse, money laundering, and sex trafficking??? pic.twitter.com/tOGdH6Uku1

— Rep. Marjorie Taylor Greene🇺🇸 (@RepMTG) September 14, 2023
As part of a transaction for a a Colt Cobra revolver he purchased on Oct. 12, 2018,  Hunter answered "no" to the question "Are you an unlawful user of, or addicted to, marijuana or any depressant, stimulant, narcotic drug, or any other controlled substance?" Biden at the time was a frequent crack cocaine user, writing in his memoir that he "was smoking crack every 15 minutes."
A photo from his "laptop from Hell" shows him in the nude holding the handgun during a drug and sex romp.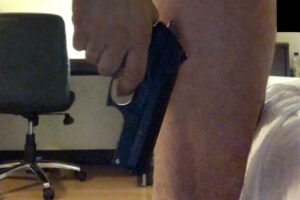 Special Counsel David Weiss oversaw the investigation of the gun case. The charges come one month after U.S. Attorney General Merrick Garland granted Weiss full authority to investigate Biden as special counsel.
Republicans at the time blasted the appointment, arguing  Weiss was the wrong person for the job after offering Hunter Biden a sweetheart plea deal that fell apart under a judge's scrutiny.
Hunter's legal team is expected to argue that the diversion agreement that unraveled remains in effect for the gun offenses, the New York Post reported.
Weiss's investigation was opened in 2018 and has been focused on the younger Biden's shady business dealings. The gun case is just one of multiple criminal cases pending against Hunter, 53, including tax fraud and illegal foreign lobbying counts in DC and Los Angeles.
The indictment comes days after House Republicans launched an impeachment inquiry into Joe Biden based on mounting evidence that he was involved with his son's corrupt business schemes while serving as vice president.