Senator John Kennedy (R-La.) read excerpts from the pornographic children's books "Genderqueer" and "All Boys aren't Blue" during a Senate Judiciary hearing Tuesday, prompting a Democrat witness who opposes "book bans" to admit that the words were "disturbing."
Democrats decried the banning of such books during a Senate Judiciary Committee hearing to examine "How Censorship Limits Liberty and Literature." The Democrats' three witnesses included Illinois Secretary of State Alexi Giannoulias, who crafted legislation in his state to outlaw book bans on pornographic books for children, and Cameron Samuels, a 17-year-old student activist who uses "gender neutral pronouns they/them" and compared those who oppose pornographic books in schools to "the secret police in Germany."
In his opening statement, Giannoulias declared that "libraries have become targets by a movement that disingenuously claims to pursue freedom, but is instead promoting authoritarianism." Characterizing  objections to the contested LGBTQ children's books "these radical attacks on our libraries," the Illinois Sec. of State claimed that the nation's librarians have been "harassed, threatened and intimidated simply for doing their jobs."
Republican witness Max Eden Research, a Fellow at the American Enterprise Institute, argued that the books in question haven't actually been "banned," despite their inappropriate content. "We are talking about books with passages about fisting, butt plugs and rape," he pointed out.
"Take the previously mentioned Gender Queer," Eden continued.
That graphic novel famously includes a picture of a strap on dildo blowjob. Is this okay for kids? Some think it is. Some think it isn't. You know something weird is going on, though, when parents try to read passages of these books at school board meetings, and the school board cuts them off because they insist that the material is too obscene to be read out loud. I guess kids could be listening? Great for them to read, but unacceptable to for them to hear? That's the principle?
"Genderqueer" and "All Boys aren't Blue" are consistently two of the most challenged books in school libraries across America—and for good reason.
Quoting from "All Boys are Blue," Kennedy read:  "I put some lube on and got him on his knees and I began to slide into him from behind. I pulled out of him and kissed him while he masturbated. He asked me to turn over while he slipped a condom on himself. This was my ass! And I was struggling to imagine someone inside of me. he got on top and slowly inserted himself into me. It was the worst pain I think I ever felt in my life. Eventually, I felt a mix of pleasure with the pain."
Kennedy then read an excerpt from "Genderqueer," telling the panel of witnesses, "I'm sure you're familiar with it."
"I got a new strap-on harness today, I can't wait to put it on you. It will fit my favorite dildo perfectly, you're going to look so hot. I can't wait to have your cock in my mouth. I'm going to give you the blowjob of your life then I want you inside of me," the senator read.
These books, and several other highly contested LGBTQ children books, often feature pornographic images such as the ones below: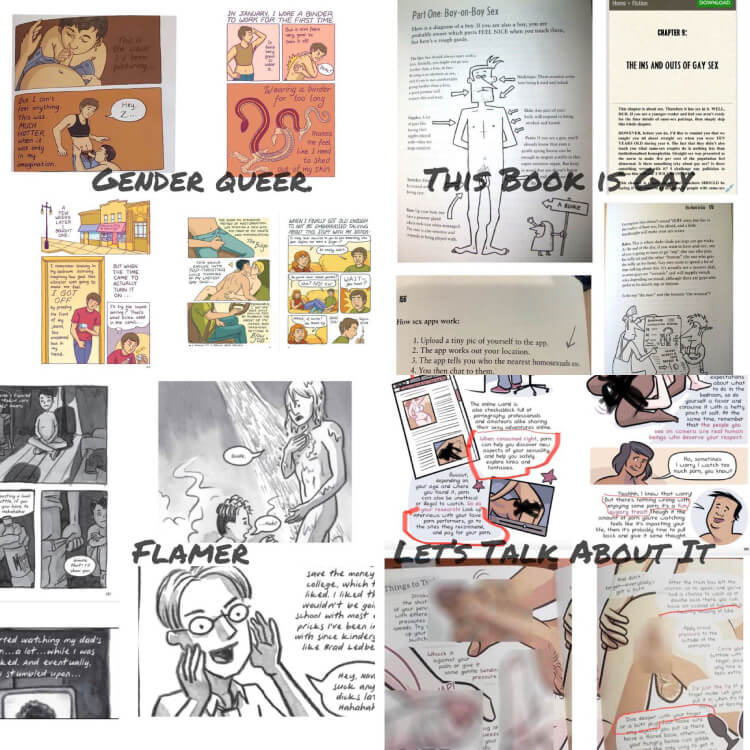 Addressing Giannoulias, Kennedy said: "Now, Mr. Secretary what are you asking us to do? Are you suggesting that only librarians should decide whether the two books I just referenced should be available to kids? is that what you're saying? Tell me what you're saying."
"First of all, with all due respect senator, the words you spoke are disturbing, especially coming out of your mouth, is very disturbing," Giannoulias replied. Despite his actions in Illinois, he added: "But I will also tell you that we're not advocating for kids to read porn."
Giannoulias then appeared to argue that parents should not have the right "to try and challenge the worldview" of those who want to push LGBTQ themes on children.
"We are advocating for parents, random parents, not to have the ability under the guise of keeping kids safe to try and challenge the worldview of every single manner on this issue," he said.
"You're getting conceptual again," Kennedy shot back. "Because I want to know what you're recommending. It sounds to me like some of you are saying the librarians should decide who gets to see that book."
The Secretary again argued that parents cannot be trusted to decide what's appropriate for their children.
"I'm saying when individual parents are allowed to make that decision of where that line is, then "To Kill A Mockingbird," which involves a rape scene, should that book be pulled from our libraries? I think it becomes a slippery slope," he said.
In his opening statement, Giannoulias argued that Democracy cannot function as a "marketplace of ideas" if we ban books because we would be banning ideas "and preventing our children from thinking for themselves."
Kennedy also asked the teenaged Samuels who should make the decision whether or not a book is appropriate for school libraries, but got nowhere.
Samuels even defended "All Boys aren't Blue," saying the excerpt was "about sexual abuse" and "not erotic," even though there is an entire genre of "abusive sex" porn.
"I know what it's about," Kennedy snapped back.
"You heard the books we're talking about. We're not talking about Catcher in the Rye," the Senator said, going on to note that no one wants to answer his question.
"Tell me who gets to decide, and all I've heard is the librarians and parents have nothing to do with it," Kennedy complained. "And if that's your response, what planet did you just parachute in from?"