Gov. Ron DeSantis (R-Fla.) and his campaign are defending his handling of the COVID-19 pandemic in Florida after former President Trump attacked his record in two recent radio interviews.
"He shut down Florida. It was tight as a drum," Trump told conservative talker Hugh Hewitt on Wednesday, "He had vax lines. He was vaxxing everything. Now, he talks about the vaccinations this and that."
Trump told Hewitt that he had five articles indicating that DeSantis loved former NIAID director Dr. Anthony Fauci. "I do what Dr. Fauci says. 'This is Ron DeSantimonious. I do what Dr. Fauci says'" Trump said, mocking the Florida governor. "That's what he says. And I've got the articles here."
Trump, who put pro-lockdown and pro-mask Fauci in charge of the nation's coronavirus response, slammed DeSantis for initially trusting him on the Dan Bongino Show.
"If you take a look at what they did in Florida, and he closed the place up and now he's trying to say he didn't and by the way he was a huge Fauci fan," Trump said. "He'd go around saying 'whatever Dr. Fauci wants, that's what I want.'"
VIDEO: Gov. DeSantis's primary challenger incorrectly asserts that Nikki Haley was the governor of South Carolina in 2020, then confuses Joe Biden with George W. Bush.

He then falsely accuses Gov. DeSantis of loving Fauci, shutting down Florida 100%, & imposing vaccine mandates. pic.twitter.com/sKjm3DXvWN

— Max-a-Lago X (@MaxNordau) September 7, 2023
In truth, DeSantis consented to the Trump administration's federal guidance to governors later than 30 other states and began reopening in phases by April 29, 2020. Lockdowns in Florida ended entirely by Sep 25 '20. His defiance of the then-widely accepted COVID restrictions earned him the nickname "DeathSantis" among Democrat mask and lockdown supporters.
During an appearance on Fox News, the Florida governor acknowledged that his administration followed federal guidelines "for those first few weeks," but once he started studying the data himself, he said he "made the decision to chart a different course."
"At the end of the day, the leaders have to take responsibility," DeSantis added. "I think it was pretty clear early on in COVID that Fauci was misfiring. He was elevated to where his pronouncements were basically viewed as gospel around the country and we rejected that."
The governor pointed out that when Florida reopened and children were allowed back in school, Fauci criticized him. In August of 2020, Florida was the first state to open the schools up for children. DeSantis also banned vaccine and mask mandates in Florida and promised "we are not doing any vaccine passports in the state of Florida." In September of 2021, he appointed Joseph A. Ladapo, MD, PhD, a vocal critic of the national COVID response, as the State Surgeon General of Florida.
.@RonDeSantis on Trump saying FL was one of the worst states on COVID: "That's total nonsense…Those 1st few wks, we followed some of the…guidelines. I've always said that, but then I was looking at…data myself & I made the decision…to chart a separate course…FL boomed" pic.twitter.com/IgZDeh9QPW

— Curtis Houck (@CurtisHouck) September 8, 2023
The DeSantis Campaign touted the Florida governor's actions against the COVID tyranny on X:
Here's a map of every state that has passed all of the following:

— Ban on state and local lockdowns
— Ban on state and local mask mandates
— Ban on state and local vaccine mandates
— Ban on gain-of-function research pic.twitter.com/K9RNJDCweP

— DeSantis War Room 🐊 (@DeSantisWarRoom) September 5, 2023
DeSantis noted during a press conference that he received pressure from the Trump White House's Coronavirus Task Force throughout 2020 and in January of 2021 to impose a mask mandate and shut down businesses.
"January of 2021, weeks before he left office," the Task Force was ordering us to "impose a mask mandate and close bars and restaurants and businesses," DeSantis said.
The DeSantis Campaign produced a letter Trump's White House Coronavirus Task Force sent to the Florida governor on January 10, 2021, months after Florida opened back up.
"Just a few days before Trump left office, his task force was STILL urging Ron DeSantis to lockdown Florida with 'strict physical distancing' and force everyone to wear masks," the DeSantis War Room said on X.
The White House warned DeSantis's administration that "aggressive mitigation must be used," including "uniform implementation" of 2-3-ply well-fitting masks and "strict physical distancing."
While Trump slammed DeSantis for "vaxxing everything," his task force in January of 2021 told DeSantis: "Do not delay the rapid immunization of those over 65 and vulnerable to severe disease" and advised "active and aggressive immunization."
Here's the letter Trump's White House Coronavirus Task Force sent to Florida on January 10, 2021. Just a few days before Trump left office, his task force was STILL urging @RonDeSantis to lockdown Florida with "strict physical distancing" and force everyone to wear masks. pic.twitter.com/AtbDrQN2Ml

— DeSantis War Room 🐊 (@DeSantisWarRoom) September 7, 2023
When asked by Hewitt why he kept Fauci on when it was clear that he was making things worse, Trump claimed that he didn't have the power to fire him because the then-NIAID director was a Civil Service employee. Trump went on to claim that he frequently didn't take Fauci's advice, anyway.
"Why did you keep Dr. Fauci?"

Former President Trump responded to a question by radio host Hugh Hewitt about why he kept Dr. Anthony Fauci around, a decision which Hewitt called "the biggest knock on your presidency." pic.twitter.com/4ZQZpzAQv2

— The Epoch Times (@EpochTimes) September 7, 2023
Fauci, however, told the media that Trump always did whatever he wanted him to do regarding the pandemic. "He never overruled me," said Fauci in 2020.
"He has never overruled me"- President Anthony Fauci on Donald Trump pic.twitter.com/qCgC1capDA

— Jordan Schachtel @ dossier.today (@JordanSchachtel) May 14, 2023
TRUMP on FAUCI: "He's a good man"
FAUCI on TRUMP: "He has never overruled me" https://t.co/8Z2FjhmZYP pic.twitter.com/59skIvylgj

— DeSantis War Room 🐊 (@DeSantisWarRoom) September 7, 2023
By the fall of 2020, Trump hinted to a crowd of supporters during a campaign rally that he did have the power to fire Fauci, and would be doing so after the election.
In response to the crowd's chants of "fire Fauci!" on November 2, 2020, Trump said: "Don't tell anybody, but let me wait until a little bit after the election." In order to fire Fauci, Trump would have needed to claim there was a performance problem or misconduct, which would have been easy since information about Fauci's NIAID-funded Gain-of-Function experiments in Wuhan was already trickling out.
After suggesting to his supporters he would fire Fauci, Trump on January 19, 2021, Trump actually awarded him, Deborah Birx and several other administration officials with presidential recommendations for their roles in "Operation Warp Speed" for making the COVID shots available under emergency use authorization in record time.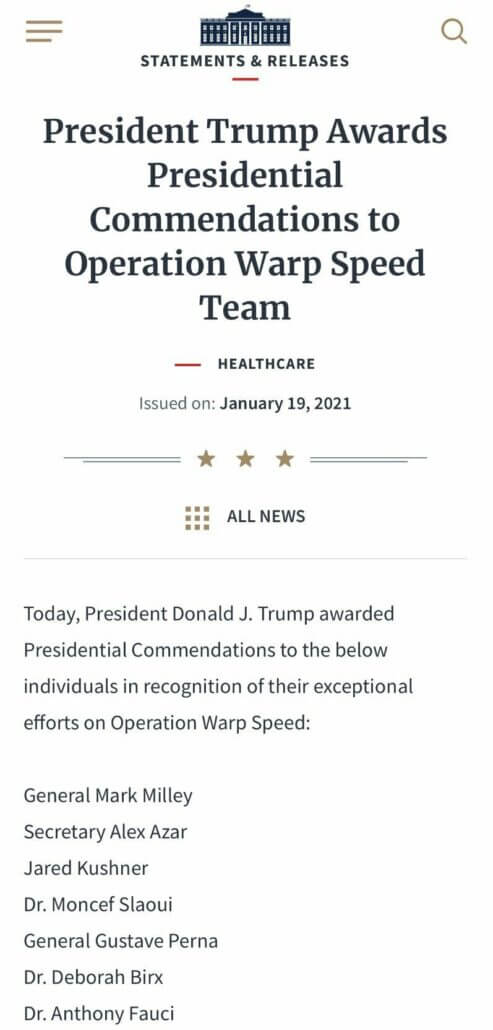 Trump continues to promote the COVID shots to this day and claims that they saved millions of lives.
During the COVID vaccine rollout, when public health officials were claiming in unison that the jabs were 100 percent safe and effective,  DeSantis initially believed those claims, and urged Floridians to get vaccinated. Unlike Trump, however, DeSantis changed his view when he saw data showing otherwise and changed course.
Last December, the Florida governor empaneled a statewide grand jury to investigate "any and all wrongdoing" linked to the COVID-19 shots to bring accountability to those who have engaged in misconduct.
A reckoning is coming.

Florida is the only state that launched a grand jury investigation into Big Pharma regarding mRNA shots under Operation Warp Speed — and pushing jabs on toddlers.

When I'm president, the biomedical bureaucracy will be held responsible for the damage it's… pic.twitter.com/xYAatXUQUq

— Ron DeSantis (@RonDeSantis) September 8, 2023