During Joe Biden's time as vice president, his son Hunter flew overseas with him at least eight times, Fox News' Jesse Watters reported Monday night.
The younger Biden avoided scrutiny by taking the back staircase off of Air Force Two and by not accompanying his father outside on the tarmac.  However, raw news footage of those trips shows Hunter Biden being shuttled around in the vice presidential motorcade in Germany, Japan, South Korea, and other countries where the Biden clan allegedly had business interests.
Biden has insisted for years that he never talked to his son about business and never met Hunter's business partners. He also falsely stated that his family never took money from China. But Hunter's inclusion on so many foreign trips while Biden was vice president appears to be one more piece of evidence that the two were partners in the family's influence-peddling enterprise.
"We didn't know about [the trips] because Hunter didn't walk down the tarmac with his father," Watters said. "It looks like Hunter snuck out of the jet through the back staircase." The "Primetime" host explained that because the back staircase is primarily used by the media, "this means the press knew Joe Biden was flying his son overseas and hiding it and they didn't report it."
"Most of the time, Hunter would already be in the limo by the time Joe Biden got off the plane. Hunter did his best to slink into the back seat," Watters added.
The footage is "indisputable evidence that Hunter Biden was using Air Force 2 as business travel," Watters said. "Taxpayers funded Hunter's business travel so the Biden family could sneak around the world and get rich."
Watters aired news footage showing Joe and Jill Biden getting into a limo in Berlin, Germany in February of 2013. Not far behind them was Hunter Biden.
"What was Hunter doing in Germany?" the Fox host asked. "Well, Joe was there for the Munich Security Conference, that's the same security conference that took the lead role in the Ukraine War, and at this conference, China was a major issue," Watters explained. "Ironically, it was those two countries that ended up paying Hunter Biden."
The 2013 Munich Security Conference also held a panel on energy, entitled: THE AMERICAN OIL & GAS BONANZA: THE CHANGING GEOPOLITICS OF ENERGY. The panel included energy experts from Berlin, Brussels, Moscow, and Washington, D.C. A year later, Hunter joined the board of Burisma Holdings, then-Ukraine's largest private gas producer, earning $83,333 a month for a no-show position.
A few months after the trip to Germany, Hunter Biden accompanied his father on a trip to Asia, stopping first in Japan, according to Watters.
"No sign of Hunter on the tarmac, but somehow, there he is in the back of the limo," the Fox host said, as the news footage showed Hunter, again, accompanying his dad in the vice presidential motorcade.
"What's he doing in Japan?" Watters asked. "We don't know. And the next day, Air Force Two took Joe and Hunter to China—the infamous trip where Joe Biden shook hands with a Chinese client in the lobby of a Beijing hotel. After that handshake, a $20 million deal materialized between China and the Biden clan."
The then-vice president had flown to Beijing for a meeting with Chinese President Xi Jinping, and Hunter had insisted on joining his father on the trip, according to The New Yorker.
Hunter arranged to have his business partner Jonathan Li, who ran Chinese private-equity fund Bohai Capital, shake Joe's hand in the lobby of his hotel. Hunter Biden and Li met privately after the photo op.
A day after the China china trip, Hunter was seen in the vice presidential limo with his dad in South Korea.  Again, there was no footage of Hunter getting off the plane, just him materializing in the motorcade later. Next Hunter flew to the Philippines under the auspices of his position as the chairman of the World Food Program.
"The Biden family used the World Food Program as a humanitarian cover story," Watters charged.
A review of the Obama era news clips also showed that Hunter traveled on Air Force Two to Italy, where he had met Ukrainian businessman Mykola Zlochevsky, then the owner of Burisma, two years prior.
Watters said there was a "strong possibility" that Hunter was "hitching rides on Air Force Two to meet with the Burisma owner." According to emails on his infamous laptop, he had done so before.
The Fox host showed a 2010 email sent by Hunter to a Serbian client regarding an upcoming vice-presidential trip to Madrid Spain. Hunter wrote: "how about we go over around May 10. JRB (Joe Biden) will be in Madrid and I can catch a ride with him and fly over to Serbia and back with you."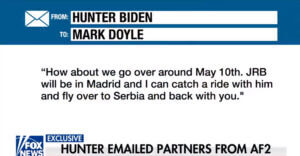 Hunter's laptop also revealed that in 2016, he emailed his Mexican business partner from Air Force Two, telling him: "We are arriving late tonight on Air Force Two to Mexico City … I'm attending meeting w/President N /dad." The Mexican president in 2016 was Enrique Peña Nieto.
"This was the same business partner Hunter ended up bringing to the White House," Watters said. "This was Carlos Slim, the richest man in Mexico, the billionaire who has a massive stake in the New York Times."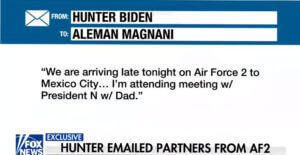 "Why is Joe Bien bringing his son into meetings with the Mexican president?" Watters asked.
Watters said the White House has thus far refused to release the flight manifests from Joe Biden's time as vice president, but the evidence strongly suggests that "these two guys were in business together."
"When you're using burner phones, 17 shell companies and dodging taxes, you're kind of announcing you're committing crimes," he quipped.
It was recently discovered that Biden used at least three aliases in official emails while he was vice president, including emails from Ukraine in which Hunter was copied.
"Joe Biden was emailing his official foreign travel schedule, schedules of Biden's calls with the president of Ukraine to Hunter, while Hunter sat on the dirty Ukrainian company's board. This is something business partners do and they may still be doing it," Watters said.
The Fox News host noted that Hunter has been "upgraded" to Air Force One where he continues to travel with his father around the U.S. and to foreign countries.
"Now, even with documentary evidence of Joe Biden and Hunter Biden in business together, flying to the same countries, accomplishing the same goals, secretly emailing each other about the same pursuits, sharing bank accounts, even splitting appetizers at business dinners, the left will still tell you, this is a story about a father loving his drug-addicted son. That's called psychological warfare and you have a choice of whether you want to be the victim," Watters concluded.
Primetime can now confirm that then-VP Joe Biden flew Hunter overseas on Air Force 2 at least eight times. These are trips we didn't know about before, because Hunter avoided being caught on camera. But Primetime now has indisputable evidence that Hunter Biden was using Air Force… pic.twitter.com/uNUM5nrWiz

— Jesse Watters (@JesseBWatters) August 22, 2023