Joe Biden finally acknowledged his 4-year-old grandchild Navy-Joan in a statement to People Magazine on Friday.
"Our son Hunter and Navy's mother, Lunden, are working together to foster a relationship that is in the best interests of their daughter, preserving her privacy as much as possible going forward," the Bidens told People. "This is not a political issue, it's a family matter. Jill and I only want what is best for all of our grandchildren, including Navy," Biden said.
President Biden Speaks Out on Hunter's Daughter, 4, with Ark. Woman: 'Jill and I Only Want What's Best' (Exclusive) https://t.co/9qlHMZXH7E

— People (@people) July 28, 2023
Hunter and Lunden Roberts had a brief fling in late 2017 at around the same time Hunter was dating his older brother Beau's widow. The pair reportedly met at a strip joint in Washington, D.C. where Roberts worked under the stage name Dallas.
The entire Biden family had shunned the child since she was born the following August.
Hunter initially denied being the child's father, and at one point was threatened with contempt of court over his failure to supply needed documents in the case. A DNA test was forced by a court, and even after Hunter was found to be the father, he continued to fight in court against paying child support and supplying financial records.
In January, he fought in court to bar the child from using his surname. Roberts also argued that the Biden name would open up opportunities for the girl "just like it has for other members of the Biden family," but Biden's lawyer argued in response that his surname would rob the child of a "peaceful existence" because it has become a lightning rod for criticism.
Joe Biden's change of heart toward his granddaughter comes two days after a poll found a supermajority of respondents said that Biden should acknowledge the existence of his seventh grandchild.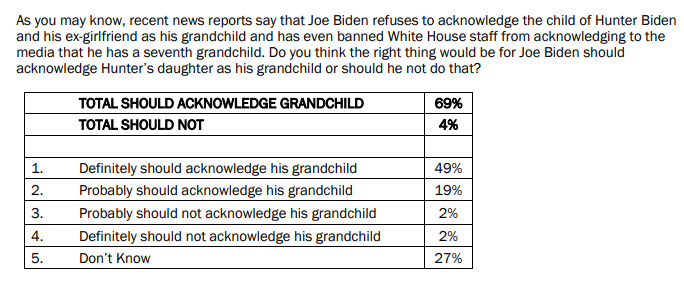 Many Americans found it hard to stomach the First Family's lack of support their granddaughter, especially after they omitted a Christmas stocking for Navy Joan at the White House, but included stockings for their dog and cat.
Biden family Christmas stockings exclude Hunter's out-of-wedlock daughter Navy Joan Robertshttps://t.co/CrZaAfF0jt pic.twitter.com/OREzDFhZDw

— The Washington Times (@WashTimes) November 30, 2022
Navy-Joan lives in Arkansas with her mother.