Among likely South Carolina primary voters, Former President Donald Trump has maintained his lead over Florida Governor Ron DeSantis 41 percent to 18 percent in the multi-candidate ballot, according to the latest National Research poll commissioned by American Greatness.
Last month, Trump led DeSantis 43 percent to 18 percent among likely South Carolina primary voters. This change is well within the survey's margin of error (+/- 4.38 percent), so it is not considered to be statistically significant.
Tim Scott and Nikki Haley garnered a combined 18 percent of the vote in their home state.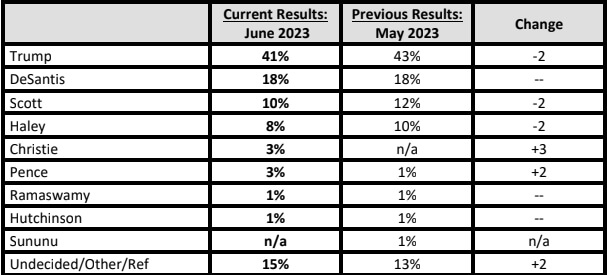 Trump also leads the pack in terms of favorability, with a total of 70 percent of likely S.C. voters having a favorable opinion of the former president, versus 68 percent for DeSantis. The Florida governor trails Trump by 29-points among voters who are favorable toward both candidates. Among people who like Trump, Trump is winning 59-18.   Among people who like DeSantis, Trump is winning 42-26.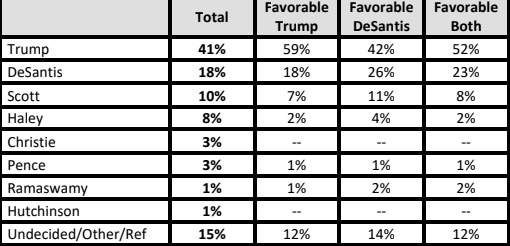 Trump also continues to hold a large perceptual advantage over Governor DeSantis when it comes to improving the economy. Despite the culture wars we are seeing in Florida, South Carolina Primary voters see Trump as stronger to take on far-left progressives.

The poll also found that more likely S.C. voters had an unfavorable view of Trump's image.
While Trump  enjoys a 70 percent favorable rating, 29 percent of respondents had an unfavorable view, versus 68 percent favorable for DeSantis/26 percent unfavorable.
The top issues for S.C. likely voters are Liberal Politicians in Washington (23 percent); Border Security (14 percent); Election Security (12 percent); and Taxes and the Cost of
Living (12 percent).
This National Research Inc. survey of 500 likely South Carolina voters was conducted on June 19-21, 2023 with a margin of error of  +/- 4.38 percent at the 95 percent confidence interval.