Newly released whistleblower documents reveal that federal prosecutors repeatedly interfered on Hunter Biden's behalf during the probe into the younger Biden's business dealings.
House Ways and Means Committee Chairman Jason Smith (R-Mo.) on Thursday released five documents that include the testimonies of two IRS whistleblowers, as well as supplemental affidavits and memos detailing alleged efforts to politically interfere with the probe.
The whistleblowers testified that from 2014-2019, Hunter Biden personally received 8.3 Million Dollars from Ukraine, China, and Romania and didn't pay taxes on the income, but the Biden Department of Justice attempted to block the IRS agents investigating the tax violations. In total, Hunter Biden and associates received $17.3 million from the three countries, according to the whistleblowers.
IRS whistleblowers allege Hunter Biden was protected from serious charges by Merrick Garland and the DOJ. Blockbuster allegations with strong evidence here. Watch: pic.twitter.com/rybZWN4CmC

— Clay Travis (@ClayTravis) June 22, 2023
According to former IRS supervisory agent Gary Shapley, federal prosecutors blocked two search warrants and refused to press more extensive criminal charges.
He alleged that career prosecutors originally intended to charge Hunter Biden with numerous tax violations dating back to 2014, but the sweeping indictment was thwarted by appointees of Joe Biden.
In the end, Hunter Biden pleaded guilty to just two federal misdemeanor counts of failing to pay his taxes, and was spared prison time.
"Hunter Biden profited off his father's name," Rep. Smith tweeted Thursday. "He didn't report millions of dollars in income from foreign sources. Any ordinary American caught doing that would have faced severe consequences."
The whistleblowers' testimony also confirms that the government had evidence that Joe Biden met with his son's Chinese business partners.
Both whistleblowers faced retaliation for telling the truth.
"I am blowing the whistle because the Delaware U.S. Attorney's Office, Department of Justice Tax, and Department of Justice provided preferential treatment and unchecked conflicts of interest in an important and high-profile investigation of the President's son, Hunter Biden," Shapley told lawmakers.
By June of 2020, the whistleblowers said it was apparent that career prosecutors were "slow-walking" the investigation.
That same month, well before the 2020 election, the 2 whistleblowers & their investigative team had a call with the IRS chain of command to call out the slow pace of the investigation: pic.twitter.com/KryFDqvSjE

— Rep. Jason Smith (@RepJasonSmith) June 22, 2023
Shapley testified that federal prosecutors blocked one search warrant seeking corporate documents from Hunter Biden's storage locker and another search warrant for Joe Biden's Delaware residence where Hunter Biden was living at the time.
According to the whistleblower, Leslie Wolf, assistant U.S. Attorney working on the case in Delaware, rejected the warrant for Joe Biden's home in December 2020, out of concern for "the optics."
"The decision was whether the juice was worth the squeeze And also a statement made here was that she said that, well, we had to consider the optics of doing a search warrant on, you know, Hunter Biden's residence and/or the guest house of President Biden," he recounted. "She further states about the guest house of Joe Biden that there was no way we'd get that approved," he added.
Later, when agents sought a search warrant for Hunter Biden's storage locker, prosecutors tipped off Biden's legal team.
Shapley said these decisions were unprecedented in his many years as an IRS agent.
"So it was off the table. And that was even after the election. So there's many things. Any other case I ever worked, if they were like there's a storage unit with documents from the business and personal documents in relation to the years under investigation — the risk was zero, because it's on a storage unit, it's not on a residence — there's no prosecutor I've ever worked with that wouldn't say, go get those documents," he added.
Shapley also told lawmakers that prosecutors had evidence that Joe Biden had personally met with officials from CEFC, the Chinese energy firm that hired Hunter to represent its interests in the United States.  He described an interview that family associate Rob Walker gave the FBI.
"Walker went on to describe an instance in which the former Vice President showed up at a CEFC meeting. Walker said: "We were at the Four Seasons and we were having lunch and he stopped in, just said hello to everybody. I don't even think he drank water. I think Hunter Biden said, 'I may be trying to start a company or try to do something with these guys and could you?' And I think he was like, if I'm around and he'd show up," he recounted.
"The FBI agent asked: "So you definitely got the feeling that that was orchestrated by Hunter Biden to have like an appearance by his dad at that meeting just to kind of bolster your chances at making a deal work out? Walker answered: "Sure." The FBI agent continued: "Any times when he was in office, or did you hear Hunter Biden say that he was setting up a meeting with his dad with them while dad was still in office?"
Walker answered: "Yes."
Joe Biden was apparently in the room when Hunter sent a WhatsApp message to Chinese businessman Henry Zhao demanding to know why Zhao had not held up his side of an undisclosed deal, according to a newly released document.
An August 2020 search warrant uncovered Hunter's threatening text message to Zhao, in which he told the businessman to resolve the problem immediately or he, then-Vice President Biden and "everyone he knows" would make him regret it.
"Investigators were not allowed to verify the information," Smith said Thursday.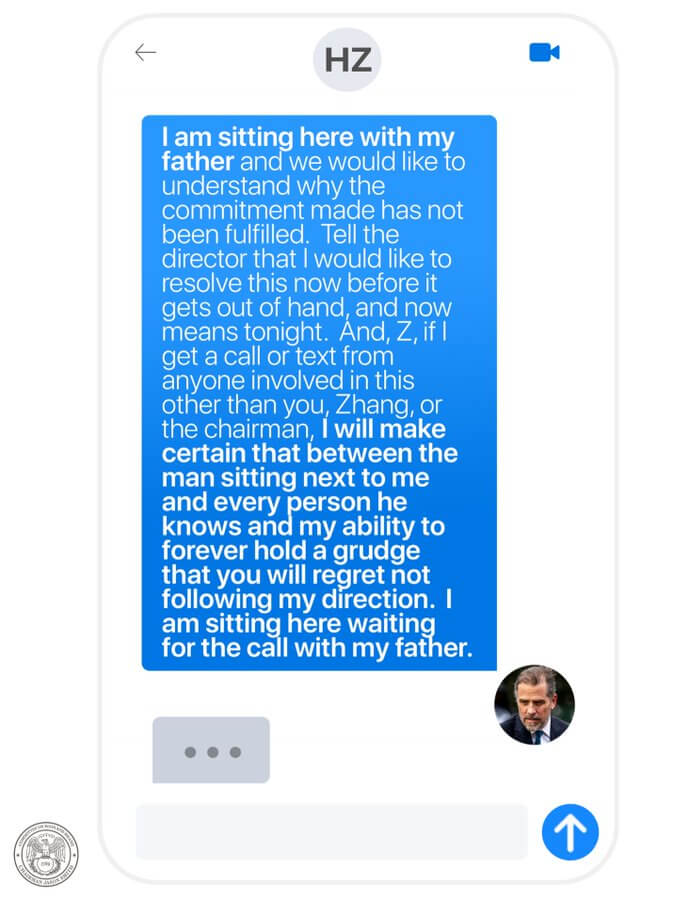 The whistleblowers' testimony confirmed earlier reporting from Just the News regarding Hunter Biden tax case.
1) The DOJ allowed the statute of limitations to expire on alleged tax crimes dating from before 2017 involving hundreds of thousands of dollars more in undeclared income, including some from foreign firms such as Ukrainian gas firm Burisma.

2) The IRS criminal investigation team never learned that the FBI had recovered emails from Hunter's laptop showing that the first son was aware by 2017 that he had not paid taxes on at least $400,000 in income from Burisma from 2014.

3) Neither the IRS nor the FBI agents investigating Biden ever saw the confidential human source information the FBI received and documented in a form FD-1023 outlining an alleged bribery deal in which a Burisma executive paid $5 million each to Hunter and another Biden family member.

Both Shapley and his unnamed subordinate provided statements that neither they, nor anyone of whom they were aware working on the case ever received the information relating to that alleged scheme and consequently never explored the matter. An affidavit from Shapley references comments from former Attorney General William Barr, who has publicly stated that he referred the information to an ongoing investigation in Delaware.

Barr spoke to the Federalist in early June, during which he refuted claims from Maryland Democratic Rep. Jamie Raskin that he had shut down the investigation into the bribery allegation.

"It's not true. It wasn't closed down," he said. "On the contrary, it was sent to Delaware for further investigation."
On Twitter, Smith pointed out that "there were concerns the DOJ wouldn't be an impartial investigator" in the Hunter Biden case after his father was sworn in as President, but Attorney General
Merrick Garland ignored those concerns and refused to appoint a special prosecutor.
"Instead, AG Garland promised the American people in public testimony the prosecutor handling Hunter Biden's case, U.S. Attorney for Delaware David Weiss, could bring charges against Hunter Biden outside of Delaware," Smith wrote.
"Whistleblower testimony shows Garland's testimony was inaccurate," the congressman said. "For almost a year, IRS investigators and Weiss tried to advance the investigation, including bringing charges against Hunter Biden. Each time, he was denied by a Biden DOJ appointee."
Whistleblower testimony shows Garland's testimony was inaccurate.

For almost a year, IRS investigators and Weiss tried to advance the investigation, including bringing charges against Hunter Biden.

Each time, he was denied by a Biden DOJ appointee. pic.twitter.com/Hllh6GIzEM

— Rep. Jason Smith (@RepJasonSmith) June 22, 2023
During a news conference Thursday, Smith said justice can't be "tipped in the favor" of wealthy and politically connected individuals.
"Only the Ways and Means Committee has the ability to report this information legally to the full House of Representatives and thereby make it known to the American public," he said. "Doing so is an important step in preventing future misconduct, encouraging other whistleblowers to come forward and considering possible future legislative reforms."
Rep. Jason Smith: Whistleblowers say Biden's DOJ directly interfered in the Hunter Biden criminal investigation — and even stopped a probe into "a WhatsApp message in which Hunter Biden demands payment from Chinese officials, noting that his father is in the room." pic.twitter.com/ddMa4OJzLT

— RNC Research (@RNCResearch) June 22, 2023
A federal judge still needs to sign off on "sweetheart" plea bargain prosecutors brokered with Hunter Biden's legal team.
U.S. District Court Judge Maryellen Noreika of the District of Delaware set a court date of July 26 for Biden to make his initial court appearance related to the plea deal
Noreika, who was appointed to the federal bench by President Donald Trump, will have the power to either approve or reject the plea agreement.