A five-year investigation by federal prosecutors, FBI agents and IRS officials into Hunter Biden's shady business dealings has resulted in a sweetheart plea deal with likely no jail time for the first son.
The younger Biden is expected to plead guilty to two federal misdemeanor counts of failing to pay his taxes, NBC News reported. A separate gun possession charge against the Biden family bagman will reportedly be dismissed if he meets certain conditions.
Trump-appointed U.S. attorney David Weiss has agreed to recommend only probation for Biden for his tax violations, according to sources.
Weiss's office said in a statement: "Hunter Biden received taxable income in excess of $1,500,000 annually in calendar years 2017 and 2018. Despite owing in excess of $100,000 in federal income taxes each year, he did not pay the income tax due for either year."
Regarding the gun charge, the statement said, "from on or about October 12, 2018 through October 23, 2018, Hunter Biden possessed a firearm despite knowing he was an unlawful user of and addicted to a controlled substance." Weiss's office also said that its investigation of Biden is ongoing.
Hunter Biden's attorney Chris Clark said in a statement: "With the announcement of two agreements between my client, Hunter Biden, and the Unites States Attorney's Office for the District of Delaware, it is my understanding that the five-year investigation into Hunter is resolved. Hunter will take responsibility for two instances of misdemeanor failure to file tax payments when due pursuant to a plea agreement. A firearm charge, which will be subject to a pretrial diversion agreement and will not be the subject of the plea agreement, will also be filed by the Government. I know Hunter believes it is important to take responsibility for these mistakes he made during a period of turmoil and addiction in his life. He looks forward to continuing his recovery and moving forward."
A White House spokesperson said, "The President and First Lady love their son and support him as he continues to rebuild his life. We will have no further comment."
House Committee on Oversight and Accountability Chairman James Comer (R-Ky.) issued the following statement on the plea agreement:
"Let's be clear: the Department of Justice's charges against President Biden's son Hunter reveal a two-tiered system of justice. Hunter Biden is getting away with a slap on the wrist when growing evidence uncovered by the House Oversight Committee reveals the Bidens engaged in a pattern of corruption, influence peddling, and possibly bribery. These charges against Hunter Biden and sweetheart plea deal have no impact on the Oversight Committee's investigation. We will not rest until the full extent of President Biden's involvement in the family's schemes are revealed."
Former President Donald Trump, who was charged with mishandling classified documents, blasted the agreement in a post on his social media platform Truth Social.
"The corrupt Biden DOJ just cleared up hundreds of years of criminal liability by giving Hunter Biden a mere 'traffic ticket.' Our system is BROKEN," Trump wrote.
The former president had predicted on June 6 that Hunter Biden would be "hit" with something small "to make their strike on me look fair."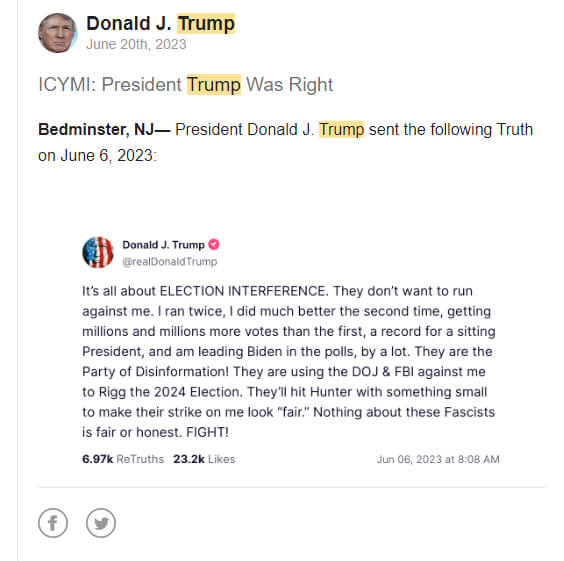 Update:
Tucker Carlson discussed Hunter Biden's slap on the wrist Tuesday evening on episode five of his Twitter series:
Ep. 5 As in most of the developing world, it's safer to be the president's son than his opponent. pic.twitter.com/AtRRaxYSjs

— Tucker Carlson (@TuckerCarlson) June 20, 2023