A mass murderer from Mexico is still on the run more than two days after he fatally shot five of his neighbors in San Jacinto County, Texas.
According to Fox News correspondent Bill Melugin, the gunman, Francisco Oropesa, 38, had been deported five times between 2009-2016 and was in the country illegally.
NEW: Per ICE source, Francisco Oropesa, the Mexican national who police who say fatally shot 5 of his neighbors in TX, is in the U.S. illegally. I'm told he's been previously deported, has "multiple" illegal re-entries on his record, and was last encountered by ICE in 2016. pic.twitter.com/JX40Pj0mc7

— Bill Melugin (@BillFOXLA) April 30, 2023
The massacre happened near the town of Cleveland, north of Houston, in an area where residents often unwind by firing off guns, according KHOU-11.
Oropesa reportedly murdered the victims—including an 9-year-old boy—execution style after they had asked him to stop firing rounds in his yard at about 11:30 p.m. Friday  night because they were trying to sleep.
"The neighbors walked over and said: 'Hey man, can you not do that, we've got an infant in here trying to sleep' or whatever," San Jacinto County Sheriff Greg Capers told reporters. "They went back in their house and then we have a video of him walking up their driveway with his AR-15."
The sheriff added, "all of them were headshot in an execution style."
The sheriff said there were ten people in the house, including some who had just moved in earlier that week.
Three children were reportedly found in the house physically unharmed, but covered in blood. They were transported to the hospital. Capers said two of the murder victims were found in a bedroom laying over two children in an apparent attempt to shield them.  Two other adults were evaluated at the scene and released.
The murder victims—Sonia Argentina Guzman, 25; Diana Velazquez Alvarado, 21; Julisa Molina Rivera, 31; Jose Jonathan Casarez, 18; and Daniel Enrique Laso, 9—were all from Honduras. Texas Governor Greg Abbott referred to all five as illegal immigrants, although according to reports, at least one of them—Velazquez Alvarado—was a legal permanent resident of the United States.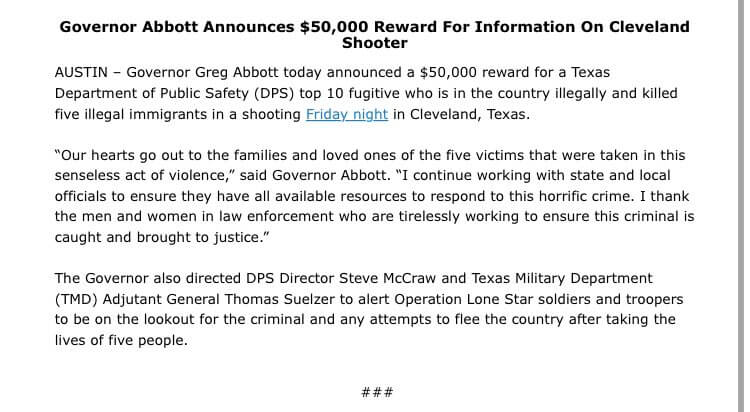 Officers recovered the rifle that Oropesa allegedly used in the attack, but the FBI is still warning the public to be on guard because a dangerous madman is on the loose.
"We consider him armed and dangerous," James Smith, the special agent in charge of the FBI's Houston-area office said. "He is out there, and he's a threat to the community."
Police reportedly found the fugitive's clothes and cellphone in a forest within two miles of the search area on Saturday, but tracking dogs lost his scent.
"He could be anywhere now," Capers said.
The FBI is offering $25,000 reward for information that leads to Oropesa's arrest, on top of the $55,000 offered by State and local authorities, bringing the total reward to $80,000.
FBI Houston released new photos of the fugitive on Sunday.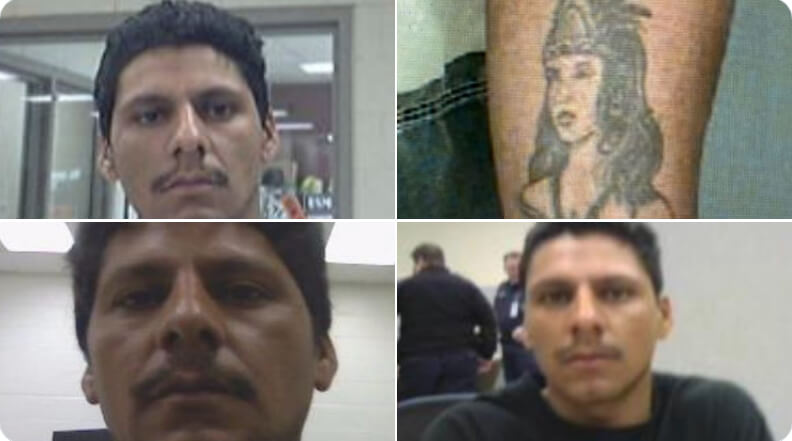 The FBI in Houston tweeted on Sunday that over 250 law enforcement officers are currently searching for Oropeza.
There are over 250 law enforcement officers from over a dozen agencies actively searching for Oropesa.

FBI Houston and other local, state, & federal agencies will not stop assisting SJSO until he is captured and justice is brought on behalf of the 5 victims. #ClevelandTXShooting pic.twitter.com/g0upaVp0cz

— FBI Houston (@FBIHouston) April 30, 2023
Fox's Bill Melugin reported  that he reached out to ICE Sunday morning for a comment or statement on the suspect's immigration status, but as of Monday morning, had not received a response.
Department of Homeland Secretary Security Alejandro Mayorkas also refused to comment when asked about it on Meet The Press.
A Texas man killed five of his neighbors execution-style, then fled the scene.

Biden DHS Secretary Alejandro Mayorkas says he "can't comment" on reports the man is in the country illegally. pic.twitter.com/UsjWhPMRou

— RNC Research (@RNCResearch) May 1, 2023