Former President Donald Trump ramped up his attacks against Florida Governor Ron DeSantis on Friday, releasing a campaign statement claiming the popular governor's record in the Sunshine State is "one of misery and despair."  In a press release titled "The Real Ron DeSantis Playbook," Trump provided a long list of reasons why Florida "continues to tumble into complete and total delinquency and destruction," and argued that it has become one of the least affordable states to work, raise kids, and retire.
INBOX: Trump releases a lengthy statement trashing DeSantis, claiming he's made "Florida…one of the least affordable states," "raised taxes…$1.5 billion," & one of the worst states to work, retire, raise kids, crime, rent, give birth, die, be a cop, teach, & pay energy bills pic.twitter.com/0FyYl98TM6

— Curtis Houck (@CurtisHouck) April 21, 2023
"The real DeSantis record is one of misery and despair," campaign spokesman Steven Cheung said. "He has left a wake of destruction all across Florida and people are hurting because he has spent more time playing public relations games instead of actually doing the hard-work needed to improve the lives of the people he represents."
On his social media platform Truth Social, Trump on Friday also shared a number of polls showing him far ahead of all of his potential GOP competitors.
The attacks come amid speculation that DeSantis is planning to launch a 2024 run for president in the coming weeks.
According to Florida Voice reporter Brendon Leslie, the Trump campaign sourced far-left Florida blogger Jason Garcia for its anti-DeSantis talking points. Garcia regularly trashes the conservative governor from the left on his Substack and on social media.
The Trump Campaign linked to a Substack post from Garcia who argued the governor raised taxes by more than $1 billion during his first term, although Garcia went on to note that the governor cut taxes by "more than $4 billion overall."
DeSantis proposed an additional $2 billion in tax relief In February and  signed one of the largest relief packages in state history last year.

Team Trump also cited other left-leaning sources that highlight the high cost of living has increased in some Florida cities.

The Florida Policy Institute was cited, which was founded in 2014 as a "left-leaning policy research and advocacy organization." So was Oxfam, a "left-of-center" organization.

They also cited the National Low Income Housing Coalition, whose president and CEO is Diane Yentel, a supporter of Vice President Kamala Harris.
The  National Low Income Housing Coalition is a pro-Black Lives Matter and Zuckerberg-funded member of the George Soros-funded Alliance for Justice, according to DeSantis' Communications Director Matt Wolking.
Trump just cited the pro-BLM, Zuckerberg-funded National Low Income Housing Coalition, a member of the George Soros-funded Alliance for Justice, in order to attack Governor DeSantis and trash the state of Florida.

What happened to Donald Trump?

— Matt Wolking (@MattWolking) April 21, 2023
As Florida resident and conservative influencer David Reaboi pointed out on Twitter, the Trump campaign even used MSNBC's dimmest bulb JOY REID as a source to bash DeSantis.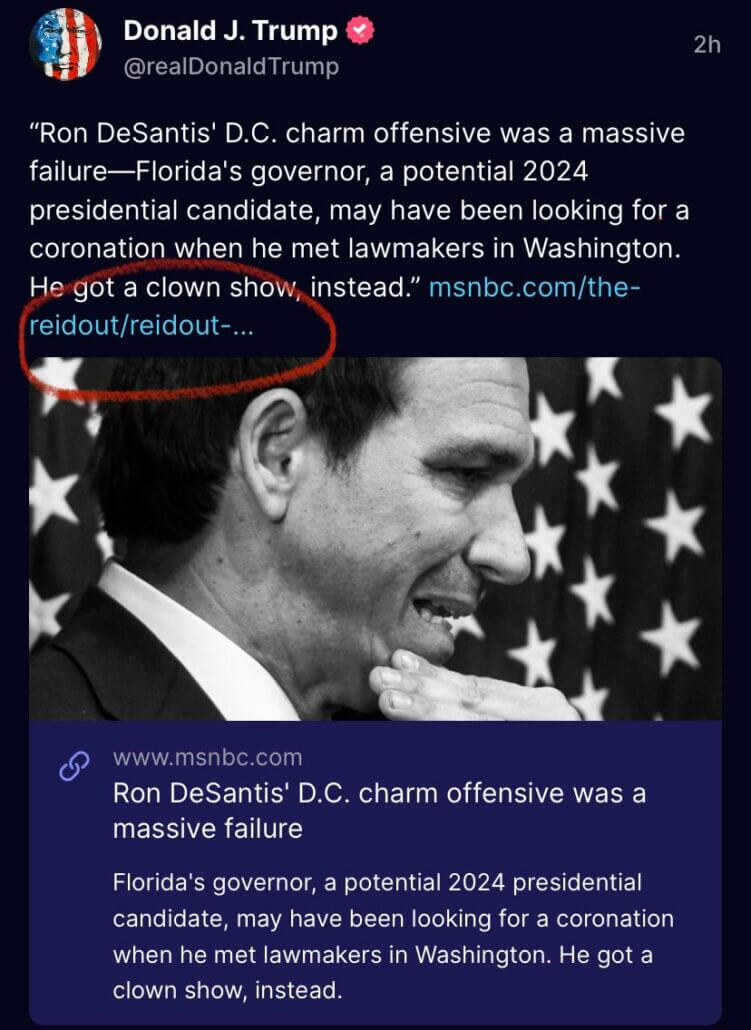 On Truth Social, Trump also cited a Mediaite story highlighting a CNN panel that "absolutely shredded DeSantis for Disney spat."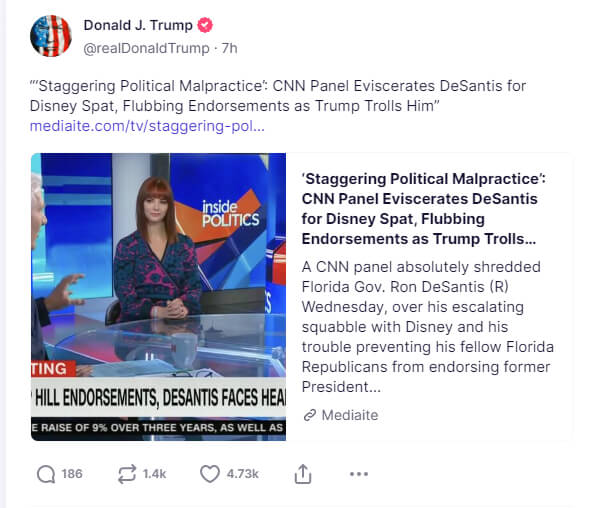 The campaign pointed to the floods in Southeast Florida resulting in fuel shortages, to which the DeSantis administration has been responding with hundreds of thousands of gallons of fuel and deploying millions for small business relief.

They went on to reference other claims and reports that DeSantis ranks low on economic opportunity, in places to retire, in places to raise a family, in fair taxes, for energy affordability, to rent a home, to be a teacher, to be a doctor, and even to be a police officer.

The release came the day after Trump hosted members of Florida's D.C. Congressional delegation who endorsed his 2024 candidacy.

Over the past couple days, Trump added Florida Republican Reps. Gus Bilirakis, Mike Waltz, Vern Buchanan and Brian Mast to his increasingly long list of Florida endorsements.

He also recently gained the 2024 endorsement of other Florida Republican Reps. John Rutherford, Greg Steube, Cory Mills, Byron Donalds, Matt Gaetz and Anna Paulina Luna.
While he endorsed Trump for president, Rep. Donalds had good things to say about DeSantis as well.
"1. DeSantis is a great governor. 2. Trump was a great POTUS, and we need him back," Donalds wrote on Twitter. "My support for President Trump doesn't change my appreciation for Governor DeSantis and his leadership that has improved our state. Trump did the job great once, and he can do it again. #Trump2024."
Two things can be true.
1. DeSantis is a great governor.
2. Trump was a great POTUS, and we need him back.

My support for President Trump doesn't change my appreciation for Governor DeSantis and his leadership that has improved our state.

Trump did the job great once, and… pic.twitter.com/mmwxdOj0vq

— Byron Donalds (@ByronDonalds) April 21, 2023
Reaboi, a political insider in Florida, told American Greatness that Trump's "insane attack" on DeSantis surprised many of the Florida politicians who had just endorsed him.
"Donald Trump's insane attack on DeSantis' Florida today surprised a lot of people–including the Florida House Members' endorsement he managed to secure before sadistically trashing their state not even 24 hours later," he wrote in a text message.
"Of course, there's nobody in Florida who believes DeSantis has left this state in 'misery and despair,' as the Trump campaign claims. It's a bit surprising for Floridians to hear many of these far-left attack lines coming from the ex-president, when we had roundly rejected them coming from a similarly orange hued and party-flipping ex-Democrat, Charlie Crist," Reaboi added. "Crist got crushed with this message in a landslide, so it seems like an ill-advised attack."
Reaboi continued:
Trump has a big problem with DeSantis. He's expecting his supporters to bleach their brains of the last three years: GOP voters and conservatives in red and blue states all wished they'd have had DeSantis as their governor. Millions of Americans have either moved to Florida, visited, or know people who have. It takes a whole lot of cynicism to look these people in the eyes and tell them, "Actually, Florida sucks." I don't think he'll be able to convince most Republican voters of this, because they have some self-respect.
Longtime conservative blogger Ace of Spades HQ pointed out that Trump seems to be "repeating a lot of leftwing attack lines lately."
For example, Trump repeatedly embraced the LGBT Alphabet Mafia and, when North Carolina was getting boycotted for trying to make bathrooms single-sex again — because some leftwing cities had passed laws requiring all bathrooms to be open to transgenders and, well, anyone — Trump took the side against the state government, telling them to "leave them the way they are," that is, leave the bathrooms open to anyone of any gender.
Other DeSantis supporters responded to Trump's statement by sharing stories about why they love Florida and choose to live there.
I moved to Florida in 1980 when my dad who was in the Air Force got stationed there. It has been my home ever since.

I was so glad that Gov DeSantis was our governor during the pandemic. I couldn't imagine living in a lock down state during that time.

— gelisa17 🌴☀️🍺🏝🍊 (@gelisa17) April 21, 2023
I've lived in Florida for 55 years now. My parents moved here from CA (where I was actually born) that long ago. They were part of the "early" wave of people moving here from there. I've seen the good and bad. 2020 and DeSantis made me appreciate FL like I never have. Grateful.

— Double J sometimes Jsquared (@jsquaredftl) April 21, 2023
We moved to Florida for an affordable 3/2 house and land in a deep red county. We love the state's Bright Futures Scholarship Prgm, Florida Prepaid, and a legislative body fighting DEI at State Universities. My family also loves our farming community and our A-Rated Schools. The…

— Dr. Merica! 🇺🇸 (@Dr_Merica2) April 21, 2023
Anecdotes help support the stats. Here are the stats of people voting with their feet. pic.twitter.com/E9bSDtlC7l

— Florida Dad (@FloridadadD) April 21, 2023
My parents moved my family to Miami, Florida from Venezuela in the 80s. We've flourished here, and are very saddened to see people leaving other states in this country to come to Florida for the very reasons we did, which was fleeing from impending socialism and communism. ☹️

— Scala Wag (@wag_scala) April 21, 2023
DeSantis has indicated a potential 2024 announcement could come after the Florida Legislature wraps up its session in May, according to the Florida Voice.