The Democrat fundraising giant ActBlue appears to be laundering millions of dollars of campaign donations through small donors in an attempt to cover up illegal contributions, according to the investigative work of O'Keefe Media Group (OMG), Election Watch, and other independent journalists.
O'Keefe, who started OMG after parting ways with Project Veritas, knocked on some doors in Maryland and talked to a number of elderly Democrat donors who, according to FEC records, had made suspiciously large and frequent donations to Joe Biden and other Democrats.
"FEC data shows that some senior citizens across the U.S. have been donating thousands of times per year," O'Keefe explained. "Some of these individuals' names and addresses are attached to over $200,000 in contributions." The unwitting victims in the alleged multi-state money-laundering scheme have been dubbed "smurfs."
According to O'Keefe, the records show that one Annapolis smurf donated $217,000 to ActBlue in 12,000 separate contributions over a three year period, indicting he made multiple donations per day during that time period.
"We're wondering if these donors are victims of what appears to be a money-laundering scheme, or these residents actually participated in the scheme," O'Keefe said.
One donor told him he wasn't aware that he had made 3,000 contributions totaling $32,000, but seemed to blame former President Donald Trump for the mix-up. "Hit him with a bat," the man said. "Right over the head."
O'Keefe also confronted a woman who had allegedly donated $18,850 through a total of 1,000 donations.
"Once in a while I donate $5.00 or so dollars or something like that," the woman told O'Keefe.
"What about $18,850?" O'Keefe asked.
"I doubt that," the woman replied.
"Not that many donations?" he asked.
"No, I don't think so," she responded. "I wish I could have donated $18,000 to Biden's presidency."
A man that reportedly donated $230,155 said "no way" when asked about this amount.
"It appears that someone else may be committing a crime using your address," O'Keefe said.
"Do you think you can find some of these individuals." the man asked.
"That's what I do," O'Keefe replied.
O'Keefe spoke with several other purportedly large donors in the area and every one of them denied making anything but small donations.
Let's recap: Through publicly available records, it was discovered that Maryland voters had excessive amounts of donations made in their names.

We confirmed that they did NOT make these high volume contributions #FollowTheMoneypic.twitter.com/7BONDTqLIh

— James O'Keefe (@JamesOKeefeIII) March 29, 2023
American Spectator reporter Scott McKay investigated potential ActBlue money-laundering in Louisiana.
"It took us no time at all to find a New Orleans resident named Cornelius Maneaux who's listed as 'not employed' but nevertheless donated to ActBlue some 847 times between January 4, 2021 and December 31, 2022 in amounts ranging from $1 to $100 for a total of $18,276.54," McKay reported.
The reporter posted a picture of Maneaux's home to demonstrate the unlikelihood that the unemployed Maneaux had the funds to make 847 campaign donations in a two year period to ActBlue totaling nearly $20,000.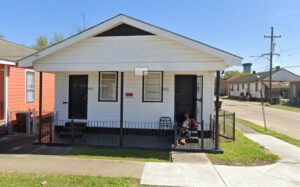 "Maneaux's house is the one on the right — and yes, that's the one with the homeless-bum-looking guy hanging out on the front stoop," McKay noted.  We have no idea if that's Maneaux, but it wouldn't be much of a surprise if it was, seeing as he lives at that address and he's listed as "not employed" on those campaign contribution forms.
Citizen journalists from Southern California also conducted their own investigation using the publicly available FEC data, and quickly found many residents who denied making the excessive political donations attributed to them.
"That doesn't sound right," Penelope Harms responded when asked about the 1,800 donations she allegedly made totaling $13,000. The journalists also went to the home of Lori Ball, who allegedly made about 500 donations totaling $7,000. Ball denied donating seven times in one day, and said she merely donates $5.00 per month.
Similarly, a Southern California woman, who reportedly contributed $60,000 in the past year, denied making the donations. "No, I can't do that," she said. "Someone is using my name."
NEW: Footage from Southern California shows a dynamic citizen journalist duo investigating suspicious excessive political contributions residents said they did not make. #FollowTheMoney pic.twitter.com/OGksbtt5Lt

— O'Keefe Media Group (@OKeefeMedia) April 7, 2023
In Austin, TX, a citizen journalist found a resident who, according to FEC data, made 10,000+ different small donations to ActBlue from 2020-2022 worth over $106,304, although the individual denied having donated to ActBlue.
According to Election Watch, the campaign of Janet Protasiewicz, who narrowly won her Wisconsin Supreme Court race last week, was one of the biggest beneficiaries of Act-Blue's alleged money-laundering scheme. FEC records show that Janet for Justice received $4.7 million in the suspicious contributions.
Brightline Investigations, which was hired by Election Watch, spoke with a Wisconsin man about allegedly donating 8,000 times. He said, "That seems a little odd; that seems too high. Maybe $800." He insisted he only donates about once a month prior to an election.
Brightline investigator Kyle Corrigan asked another Wisconsin resident about the 11,000 donations he allegedly made over seven years, which amounts to about four times a day. Another Wisconsin resident, Cindy Grossberg,  said it didn't sound right that she had made 4,000 donations and noted she does not have contributions debited monthly from her account.
NEW Footage Shows Inquisitive Wisconsin Citizen Journalist Investigating Contribution Irregularities pic.twitter.com/wWgFMEu8fL

— James O'Keefe (@JamesOKeefeIII) March 31, 2023
The data in Wisconsin "show money laundering, criminal campaign finance violations, violations of the Bank Secrecy Act, Computer Fraud and Abuse Act, elderly financial abuse, identity theft, wire fraud, breach of fiduciary duty, unjust enrichment, civil and criminal RICO, and conspiracy," Election Watch stated.
Election Watch's Peter Bernegger announced last week that he has "sent a written Notice To Preserve all evidence and records to the Janet For Justice campaign."
She is tied in with Smurfs, campaign money laundering, elderly abuse, identity theft, unjust enrichment, election fraud, wire fraud, Bank Secrecy Act violations, & conspiracy to defraud citizens, voters, the state & federal government. And: we have more. Furthermore, Janet Protasiewicz never said spoke up when the liberal group Wisconsin Takes Action offered $250 to citizens to tell people to vote for her. The offer meets all the required elements to be a bribe per state statute, Janet said nothing. Wis. Takes Action & their officers also violate federal criminal statute 18 USC 597, Janet said nothing.
Following OMG's initial report on March 28, Maryland's election administrator Linda Lamone announced her resignation.
"Today I'm announcing that I will be stepping down this summer as the administrator of elections for the state of Maryland," Lamone said in prepared remarks during a virtual Maryland State Board of Elections meeting on March 29.
"I love this job," she added later. "It was not always easy. But through Republican and Democratic administrations, and through COVID, cyberthreats, redistricting, changing election dates, and changes in voting behavior we delivered for the voters of Maryland. I am so very honored that I was entrusted to do something with my life that matters to American democracy."
While the alleged illegalities appear numerous and blatant, it remains to be seen whether any big city prosecutors will investigate. As Town Hall's Rachel Alexander noted, "left-wing billionaire George Soros, his family, and organizations have been contributing heavily to DA and sheriff races around the country in recent years in order to oust conservatives and replace them with far-left law enforcement."
Nonetheless, O'Keefe encouraged other citizen journalists to investigate potential ActBlue shenanigan's in their own states using the publicly available donation data on the FEC website.
At some point, House Republicans should take notice of the growing scandal and mount an investigation of their own.