John Boorman is right. The director of masterworks such as "Hope and Glory" and "Excalibur" wrote recently in the Guardian that films should not be called movies, and today's movies should not be called films. 
The reason? Most movies these days are shot and shown digitally, which translates differently from film. "Film is softer and more human," Boorman observes, "while electronically made films are harsher and feel more mechanical. The latest iPhones offer not only a 'video' option on the camera, but also a 'cinematic' one, which Apple claims more resembles old-fashioned film."
Boorman concludes: "Unless a new picture is actually made of film, it should not be called a film. It should be called a movie."
Film has a way of getting into your consciousness and subconsciousness that digital movies just can't begin to mimic. Film really is "softer and more human." I can't really distinguish between any of the 10,387 superhero movies, with their hard plastic surfaces, that have been released in the last 20 years. Yet those I saw on film are still with me. 
In college in the 1980s, I worked in a movie theater in Maryland. It had originally been the Bethesda Theatre. It was designed and built in 1938 by the firm of John Eberson, the "Dean of American Theatre Architecture." The theater was designed in the historic Streamline Moderne style and still has some of the art deco illustrations—spinning stars, planets, suns—on its deep blue walls.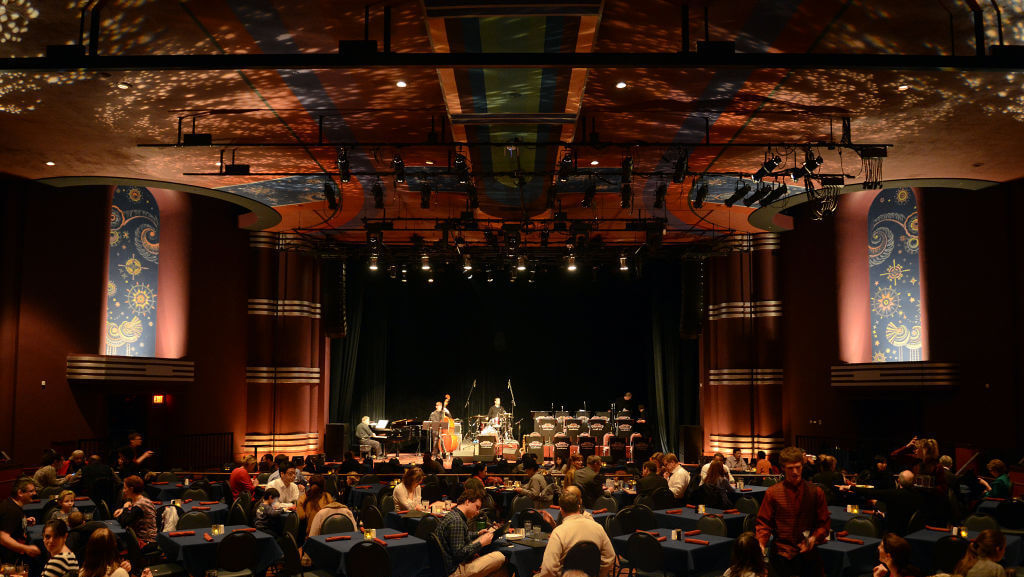 The Bethesda re-opened in 1983 as the "Bethesda Cinema 'n' Drafthouse." We featured "second-run" movies, i.e. films that were no longer in wide release but had yet to come out on VHS video. The interior had been reconfigured, the old rows of seats removed and replaced with round tables and low, comfortable swiveling chairs. The Drafthouse served beer, wine, and food (pizza, nachos, sandwiches). I saw hundreds of films over and over again. Like Quentin Tarantino working in the video store, I learned about movies by watching movies. I understand good music cues, and the tragedy of bad editing. 
The best films from that time are part of my subconsciousness, and my soul: "Blood Simple," the Cohen Brothers' first film, as well as "Back to School," "Top Gun," "Blue Velvet," "Broadcast News," "Aliens," "Little Shop of Horrors," "Harold and Maude," "To Live and Die in L.A.," "Big Trouble in Little China," and "Beverly Hills Cop," among others. 
I'm convinced that I still live with these films because they are, well, on film. The projection room upstairs at the Drafthouse was massive, the size of a four-car garage with a high ceiling. When things were slow downstairs, we would sometimes head up to the roof to have a smoke or sneak a beer. I would gingerly walk around the wagon-wheel-sized platters where the film was clacking and whirring. It was like a living thing. The manager, Steve, was the maestro who made sure the film made it from the distributor to the theater. 
In his essay, Boorman talks about a director's aid exposing to light some film they had spent all day working to get just right, destroying many hours of work and enraging star Sean Connery. In the days of film, theaters also had minor mishaps. During the showing of "American Anthem," a cheesy 1986 vehicle for gymnast Mitch Gaylord, the film broke. One second Mitch was pulling off a dismount, then the screen flickered and went blank. The audience actually applauded, happy to get their money back.
Another time Steve opened up "Pee Wee's Big Adventure" (1985) to discover that someone had literally cut out one of the movie's best scenes, where Pee Wee dances to "Tequila" in a biker bar. Before the screening, Steve took to the stage down front and explained to the audience that the scene was missing. Instead, the staff of the Drafthouse would perform the scene for them, right now. We got up there and made fools of ourselves as "Tequila" blasted over the PA. People were cheering us on.
This is an example of the kind of warmth that came with film and that Boorman is right to lament is missing from today's movies. Somehow film is able to get deeper into your soul, making the world look different when the lights go up.
In her great poem "The Lights Go Down at the Angelika," Donna Masini captures that feeling:
and you press into the dark, imagine
the stranger two rows back, that fragile
chance you'll forget in the second trailer.
Now it's quiet, still
this burden of being watcher and screen
and what floats across it–light pouring out
its time and necklines and train wrecks.
What a relief to yield to the EXIT
sign red "I" blinking like a candle. 
Soon the enormous figures moving
across rooms, the emphatic narrative
arcs. (There's the thrum of the subway,
its engine of extras.) Here now
the beginning of trivia tests. Warning puppets
with brown-bag faces and fringy hair.
You're almost here. But what you want
is the after. How yourself you are now
walking into the night, full moon over Houston Street,
at the bright fruit stand touching the yellow
mums. Here you are: Woman with Cilantro
listening to the rattle of the wrap,
the paper sound paper makes after you
have heard movie paper. Apples are more apples.
Paper more paper. Cilantro, its sweaty green self.
You just don't get the same feeling leaving "Ant-Man."