The same liberal journalists who supported the censorship of former president Trump and conservatives on Twitter are now outraged over the suspension of numerous corporate media accounts that broke the platform's updated privacy policies. And things may be about get worse for them as "Chief Twit" Elon Musk has indicated that a "coup de grâce" is in the works.
Earlier this week, Musk announced a crackdown on those who track and post the location of private jets, including one owned by Musk. Twitter on Wednesday suspended more than 25 accounts that track the planes of government agencies, billionaires and high-profile individuals, including one that was tracking his own private plane.
Initially, he had indicated that the Twitter account, @ElonJet, run by a 20-year-old college student named Jack Sweeney, would be allowed to stay on the platform.
"My commitment to free speech extends even to not banning the account following my plane, even though that is a direct personal safety risk," Musk tweeted on November 7. That all changed, however,  after a man Musk described as a "crazy stalker" allegedly tailed a car carrying his 2-year-old son,  X Æ A-Xii, and then "climbed" atop the vehicle in Los Angeles.
Musk, who was not in the car at the time, said the incident happened Tuesday night.
"Last night, car carrying lil X in LA was followed by crazy stalker (thinking it was me), who later blocked car from moving & climbed onto hood," Musk tweeted. "Anyone recognize this person or car?" Musk added.
Anyone recognize this person or car? pic.twitter.com/2U0Eyx7iwl

— Elon Musk (@elonmusk) December 15, 2022
After posting the disturbing video, Musk indicated that he plans to sue Sweeney over the account. "Legal action is being taken against Sweeney & organizations who supported harm to my family," he said.
Musk then announced that Twitter will suspend "any account doxxing real-time location info" because doing so is a "physical safety violation."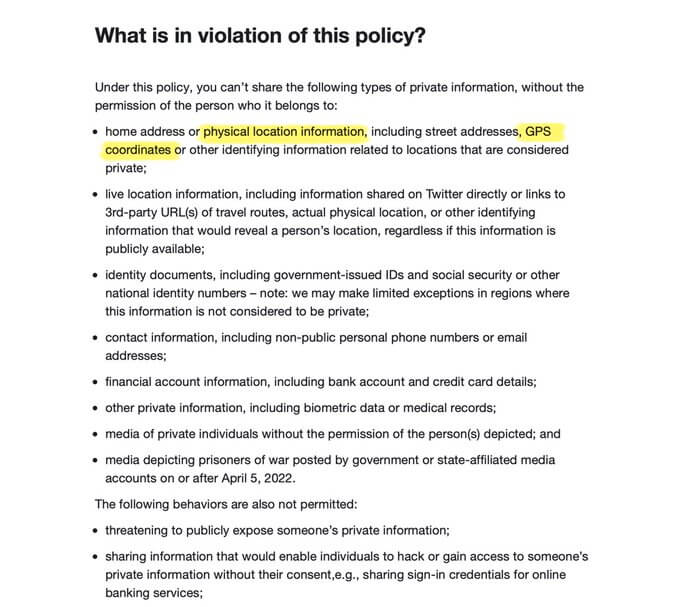 On Thursday, Twitter suspended numerous more accounts, including reporters from CNN, The Washington Post, The New York Times, and The Intercept.
The New York Times' Ryan Mac, the Washington Post's Drew Harwell, CNN's Donie O'Sullivan, Mashable's Matt Binder, the Intercept's Micah Lee and Tony Webster, and former Vox reporter Aaron Rupar were suspended, as well as notorious left-wing troll Keith Olbermann.
Rupar and Olbermann in particular have spent their careers trying to destroy the lives of conservatives, and have long supported censorship that benefits their side.
The journalists in question had allegedly tweeted links to another platform that was publishing Musk's location information.
Musk explained that those who had engaged in doxxing would receive a seven-day suspension.
"Same doxxing rules apply to 'journalists' as to everyone else," he said in one tweet. "They posted my exact real-time location, basically assassination coordinates, in (obvious) direct violation of Twitter terms of service," he added.
The left has responded to the suspensions by accusing Musk of breaking his promise to be a free speech absolutist. But the Twitter CEO never said that the platform would be a free-for-all where anything goes. And when his own child was put in danger, he saw a need for a policy change.
"Criticizing me all day long is totally fine, but doxxing my real-time location and endangering my family is not," he tweeted.
Liberal media strategist Jason Kint tweeted Thursday evening that he would be going to Capitol Hill on Friday, and demanding that Musk "be hauled in front of Congress" if he didn't "fix this within the hour with an explanation by morning."
I don't know what happened here but if @elonmusk doesn't fix this within the hour with an explanation by morning, I'll be on Capitol Hill tomorrow demanding that he be hauled in front of Congress. pic.twitter.com/8oTmLkbdzZ

— Jason Kint (@jason_kint) December 16, 2022
It wasn't clear on Friday if Kint had actually made good on his threat.
Musk's mission to restore Twitter to its original free speech roots, have made him "public enemy number one" to the Democrat media complex that benefitted from the censoring of conservatives.
One reporter's incessant anti-Musk posts apparently became too much for even ultra liberal NBC News.
"NBC News temporarily suspended senior reporter Ben Collins for his 'editorially inappropriate'" coverage of Twitter CEO Elon Musk," the Daily Caller reported.
Following the Twitter suspensions Thursday night, Buzzfeed reporter Katie Notopoulos hosted a Twitter Space with number of "blue checks," including Collins, and fellow left-wing journalists Judd Legum and Ben Smith, as well as right-of -enter journalists and personalities Jan Jekielek, Tim Pool, and the Hodge Twins, among others. Musk entered the chat briefly to reiterate his updated privacy policy.
Notopoulos seemed dismayed that Musk would have the audacity to suspend a number of corporate media elites—which is virtually never done—even if they did break the rules.
"It's highly unusual for journalists at the Washington Post and the New York Times to be suspended … so, you know, what's the deal there?" Notopoulos asked Musk, but he had already left the chat.
Buzzfeed's Katie Notopoulos was hosting a Twitter space with some of the journalists who had earlier tonight been suspended for 7 days speaking on stage. @elonmusk came into the room, was invited up as a speaker, and responded to a few questions. Here's the recording👇 pic.twitter.com/O0woRCbXMh

— Jan Jekielek (@JanJekielek) December 16, 2022
CNN said in a statement that it will "reevaluate" its relationship with Twitter depending on the explanation given for the suspension of its reporter Donie O'Sullivan.
"The impulsive and unjustified suspension of a number of reporters, including CNN's Donie O'Sullivan, is concerning but not surprising," CNN's communications team said in a statement.
"Twitter's increasing instability and volatility should be of incredible concern for everyone who uses the platform. We have asked Twitter for an explanation, and we will reevaluate our relationship based on that response," the statement added.
Statement on tonight's suspension of CNN's @donie O'Sullivan: pic.twitter.com/TQGsysxvpf

— CNN Communications (@CNNPR) December 16, 2022
"I think this raises a big question about what the future of the free press on Twitter looks like," said CNN's Oliver Darcy, another notorious fan of censoring conservatives. "Are news organizations going to stand by as their reporters are just—you know—hastily banned without explanation?" he asked.
CNN will "reevaluate" its "relationship with Twitter" after the suspension of journalists.pic.twitter.com/rrG42hNZqf

— Citizen Free Press (@CitizenFreePres) December 16, 2022
Judicial Watch's Tom Fitton pointed out that the corporate media is now arguing that that they should be allowed to  "reveal real-time location information" on people—potentially putting them and their loved ones in danger—in the name of free speech.
So the Left Media's "New Rule" is that you should be able to reveal real-time location information of a person (and their family) on social media without fear of censorship? @ElonMusk @Twitter

— Tom Fitton (@TomFitton) December 16, 2022
"That's what they are saying," Musk responded. 
In a separate tweet Friday, Musk indicated that his next move will be a "coup de grâce."
And soon, ladies & gentlemen, the coup de grâce

— Elon Musk (@elonmusk) December 16, 2022