The Biden regime is knowingly participating in the sex-trafficking of minor children, according to a volunteer who has assisted the U.S. Department of Health and Human Services [HHS] in processing unaccompanied migrant children at its Emergency Intake Site in Pomona, California.
The whistleblower, Tara Lee Rodas, went to Project Veritas with her first hand account of how the U.S. government's corrupt child sponsorship program exploits and endangers vulnerable unaccompanied minors.
Rodas said that for the past 19 years, she has been employed at the Council of the Inspectors General on Integrity and Efficiency, which combats fraud, waste and abuse in federal programs.
"We know that children have been trafficked through the program," Rodas told Project Veritas founder James O'Keefe. She explained that sponsors are typically not citizens and are not permanent residents, thus they "don't have a legal presence."
"The tax dollars of people who are listening are paying to put children in the hands of criminals," she declared.
HHS, according to the whistleblower, is knowingly sending dozens of unaccompanied minors to the same addresses.
"We have 44 unaccompanied children at [one] address, we have 25 unaccompanied children at [another] address, she said.
"It's just strange that HHS knows that there's a lot of children going to one area, and yet they're not doing anything," the whistleblower added. She said at the very least, HHS should conduct a "mandatory home study" before they send one more child to a suspicious address.
Rodas noted that "the Biden administration has relaxed a lot of the stringent vetting by creating these additional field guidances, and there's a focus on 'move the children,' as opposed to place the children in safe homes."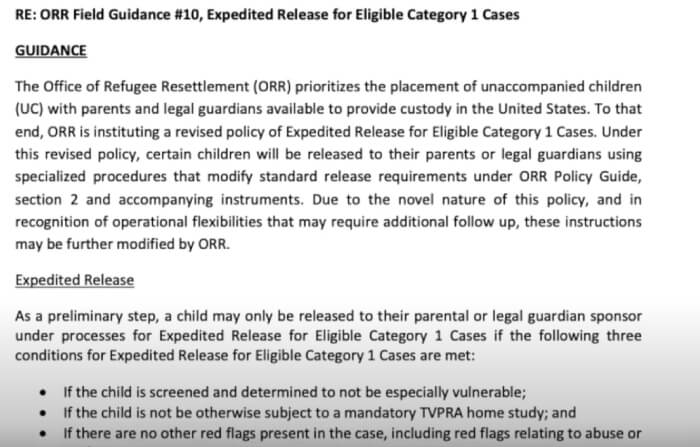 This corroborates with what a whistleblower from the The Office of Refugee Resettlement's (ORR) Unaccompanied Refugee Minors Program in Brownsville Texas told Real America's Voice in June.  As American Greatness reported at the time, the whistleblower claimed that the Biden regime's lax immigration policies were putting children at risk of being exploited by human traffickers and pedophiles.
The whistleblower told Real America's Voice host Ben Bergquam that the unaccompanied minors' sponsors, and persons living with them are not properly vetted.  Moreover, she said that 100 percent of the sponsors are illegal immigrants themselves.
"I can tell you that case managers who believe in what they're doing [are] very concerned right now about how we have lowered standards," the employee said last summer.
Rodas told O'Keefe that she expressed her concerns about the potential child-trafficking with federal government bureaucrats, and their dismissive attitude shocked her.
"I said [to the command center executives], 'We're getting ready to send another child [to Austin, Texas],' and they said, 'Tara, I think you need to understand that we only get sued if we keep kids in care too long. We don't get sued by traffickers. Are you clear? We don't get sued by traffickers.' So, that was the answer of the United States federal government. HHS did not want this information to get out," Rodas explained, adding that the Biden regime's only response to her disclosures was to kick her off the site.
"They knew I had made protected disclosures and they retaliated against me as a whistleblower and had me kicked off the site so I could no longer research the cases," she said.
Project Veritas followed up on Rodas' story by visiting several of the physical addresses she provided to investigate whether sex-trafficking was taking place. In a nine-month investigation, a team of bilingual Veritas journalists traveled across the country and spoke with the occupants of the addresses.
"What we found was shocking," O'Keefe said. "Young children living with multiple older, unrelated men."
A Project Veritas journalist paid a visit to the apartment of one such individual who had provided two different addresses to the government to sponsor unaccompanied minors in Austin. The Guatemalan sponsor, who came to the door with no shirt on, confirmed that his name was Edgar Tiul, but denied that he was involved with sponsoring migrant children. He told the Project Veritas journalist in Spanish that there were about five adult men in the household, and no kids. When asked if he had ever sponsored unaccompanied minors, he said no.

O'Keefe noted that Tiul still lives at the same address, and is "walking a free man" after trying to traffic minors.
"HHS does not want federal law enforcement going after their sponsors in any way," Rodas responded. "These sponsors fill out a federal form, so if they provide false information on federal documentation, that also is criminal," she added.
A Project Veritas journalist was able to speak to 16-year-old girl in Houston, Texas, who claimed that she had been forced into prostitution by her sponsor.
"An aunt [sponsored me], but she kicked me out of her house. She was pimping me and I didn't like that. She would pimp me to men," the teen said. When asked how many men she had been forced to be with, she replied, "well, many. I don't remember. I didn't like what she was doing to me."
She added: "I just escaped one night. I told her [aunt], 'I'm going to the laundromat.' She [aunt] went to the laundromat and didn't find me there." The girl said her "sponsor" then "called Immigration" to report that she'd gone missing.
The teen told the Project Veritas journalist the woman was supposedly her aunt, but the girl acknowledged that she didn't previously know this relation existed.
The whistleblower explained that criminal cartels help traffick the children across the border, and then the Biden government "takes the product."  Next, ORR workers feed and clothes the product, and then with taxpayer dollars, she added, the regime "flies that product directly to the trafficker."
"The trafficker then has the ability to labor traffic that child until they're caught—if they ever are—and God forbid it's sex-trafficking," Rodas told O'Keefe.
"The sponsor can hold up an 'Order of Deportation' to a [migrant] child and say, 'This is your Order of Deportation. If you do not do what I say, when I say, I'm going to call ICE on you myself,'" she tearfully explained. "We are putting children into the hands of criminals."
The whistleblower said she doesn't believe that this child trafficking operation "is something HHS wants people to know."