New Hampshire Republican nominee Don Bolduc and Democrat incumbent Maggie Hassan are neck and neck in the race for the United States Senate in the Granite State, according to the latest Insider Advantage survey.
When asked for whom they would vote if the election were held today, 49.4 percent said they would vote for Hassan, and 47.6 percent said they would vote for Bolduc, a retired United States Army brigadier general. Another 1.1 percent said they would vote for someone else, and 1.9 percent said they were undecided/no opinion.
Male voters preferred Bolduc 54.8 to Hassan percent to 42.2 percent. Conversely, women preferred Hassan 56.3 percent to 40.7 percent.
Among white voters, 51.1 percent said they would vote for Hassan, and 46.2 percent said they preferred Bolduc. Black voters were split, with 37.5 percent said they would vote for Hassan, and 37.5 percent said they preferred Bolduc. "Other" (mainly Hispanic) voters broke overwhelmingly for Bolduc (75.0 percent to 22.2 percent).
Independent voters are split between the two candidates, with 47.7 percent preferring Hassan, and 47.1 percent preferring Bolduc.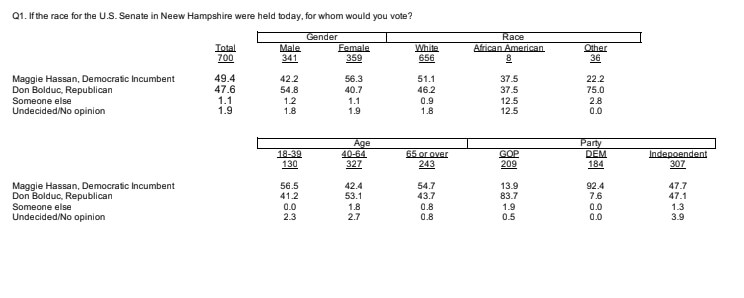 The InsiderAdvantage survey of 700 likely voters was conducted on November 5, and has a margin of error 3.7 percent.
The tight N.H. Senate race comes after Senate Minority Leader Mitch McConnell's Senate Leadership Fund super Pac canceled $5.6 million in television advertisements for Bolduc that were reserved for the final two weeks before the election.
"As the cycle comes to a close, we are shifting resources to where they can be most effective to achieve our ultimate goal: winning the majority," SLF president Steven Law told CBS News on October 22.
In the New Hampshire governor's race, Republican incumbent Chris Sununu is maintaining his wide lead against Democrat challenger Tom Sherman, (55 percent to 40.4 percent).

"The race for governor is a blowout. But the percent of Republicans saying they are voting for the Democrat in the Senate remains at around 13 percent. Given his incredible rise in the polls, should Bolduc lose, it will likely be due to his lack of funding and support by Republican entities," said Matt Towery, Chairman of InsiderAdvantage.