Former President Donald Trump is expected to formally announce his 2024 campaign for president on November 14th, according to multiple reports on Friday. The former president and his acolytes have been dropping hints about a potential run for the past year.
Most recently, during a campaign rally in Iowa Thursday night, Trump said, "In order to make our country successful and safe and glorious, I will very very very will probably do it again. Get ready that's all I'm telling you — very soon."
TRUMP: "In order to make our country successful and safe and glorious, I will very very very will probably do it again. Get ready that's all I'm telling you — very soon." pic.twitter.com/YPjN6O50BD

— Benny Johnson (@bennyjohnson) November 4, 2022
According to several sources from within Trump's "inner circle," the former president "is making plans to announce a 2024 presidential campaign on November 14," Newsmax reported Friday morning.
BREAKING: Sources tell Newsmax that former President Donald Trump is planning to announce a 2024 Presidential bid on November 14th.

MORE: https://t.co/5Qz8xaxjGD pic.twitter.com/X3zCAMahlz

— Newsmax (@newsmax) November 4, 2022
Trump on Wednesday retweeted a meme heralding his return: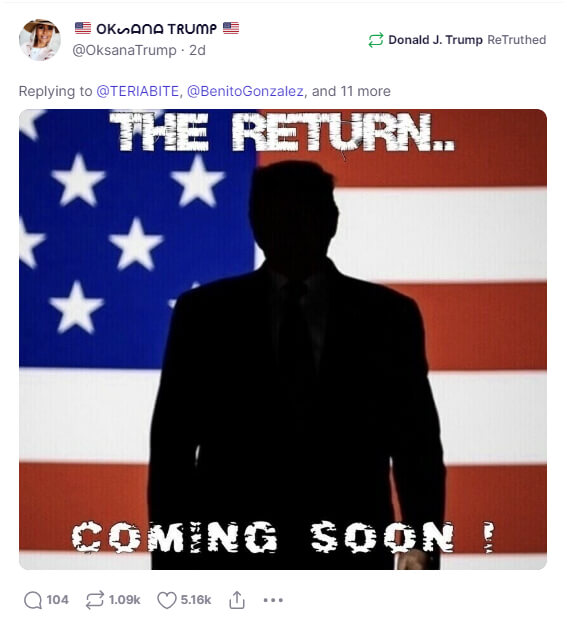 As Trump inches closer to launching his third presidential run, Justice Department officials are discussing whether a special counsel should be appointed "to oversee two sprawling federal investigations related to the former president," according to CNN sources.
The Justice Department is also staffing up its investigations with experienced prosecutors so it's ready for any decisions after the midterms, including the potential unprecedented move of indicting a former president. Top aides to Trump have been eyeing the third week of November as an ideal launch point for his campaign, with two sources telling CNN on Friday morning that the team has specifically discussed November 14.
In the weeks leading up to the election, the Justice Department has observed the traditional quiet period of not making any overt moves that may have political consequences. But behind the scenes, investigators have remained busy, using aggressive grand jury subpoenas and secret court battles to compel testimony from witnesses in both the investigation into Trump's efforts to overturn the 2020 election and his alleged mishandling of national security documents kept at his Palm Beach home.

Now federal investigators are planning for a burst of post-election activity in Trump-related investigations. That includes the prospect of indictments of Trump's associates – moves that could be made more complicated if Trump declares a run for the presidency.
The former president's family real estate business, The Trump Organization, is currently on trial in New York for tax evasion and fraud, and a New York judge on Thursday imposed an independent monitor to oversee the organization's finances. The judge's ruling is seen as a "major victory" for New York's attorney general Leticia James, who "filed a $250 million lawsuit in September against Trump, his three eldest children and the Trump Organization alleging they engaged in a sweeping decade-long fraud."
Trump railed against the judge's decision on his social media platform, Truth Social.
"A Radical Left Lunatic Judge in New York City, who controls a newspaper dedicated largely to defaming me, who was appointed, & is controlled by, my worst political enemies, & whose purpose was to just do preliminary motions & preparatory work on a case brought by the corrupt and highly partisan Attorney General of New York State prior to being routinely sent to the Commercial Division of the Supreme Court, is refusing to let go of the case," Trump fumed on Thursday. "He is a partisan disaster. A Rigged & Corrupt System!"
He later added: "The New York State Court System is being ridiculed all over the World! You have a Corrupt, Racist, Weak on Crime Attorney General, Letitia "Peekaboo"James, who campaigned on "I will get Trump, even though she knew NOTHING about me. Then you have a highly political, biased Judge, who is totally controlled by my worst enemies. His rulings and manner are SICK. He gave his quick hearing, & ridiculous decision, right before Midterms – A No No! He's worse than Peekaboo, and a real 'Trump Hater.'"
Trump on Thursday announced that he had filed a lawsuit in Florida State Circuit Court against "Peekaboo" James, stating that had he not been elected President of the United States, "and now leading in the polls by substantial margins against both Democrats and Republicans, this would not be happening."
"We have to stand up for our Country, fight against illegal persecution, and Make America Great Again!" Trump said on Truth Social.
Reactions on conservative Twitter to Trump's upcoming announcement were mixed, with some celebrating the return of the "MAGA" king, and others saying "no thanks" because they're sick of the drama, and/or because he allowed untrustworthy bureaucrats like NIAID Director Anthony Fauci to direct his administration's response to the COVID pandemic.
Loved Trump's policies. Loved that he fought the PC crowd. But he epically blew it on Covid.

Is Trump going to praise Fauci or say he was incapable of stopping him?

— Karl Dierenbach (@Dierenbach) November 4, 2022
He is an amazing human being! God please take care of him.

— DE Po. (@laugh_DDD) November 4, 2022
No thanks. Desantis please

— Samhohl24 (@sjhohl24) November 4, 2022
— Lucy (@lme644) November 4, 2022
Wish he wouldn't need to move on, love his energy and ideas but we don't need the drama

— John LaCross (@jlax_13) November 4, 2022
Multiple polls show Trump with a comfortable lead against Joe Biden in national and statewide polls in a potential 2024 presidential match-up.
POLL: @RedfieldWilton

2024 #NatlPres General Election
(R) Donald Trump 44% (+5)
(D)* Joe Biden 39%
Undecided 17%

—

(R) Donald Trump 45% (+7)
(D) Kamala Harris 38%
Undecided 17%

1,084 LV | 11/2https://t.co/NCE4mVjM06

— PPUSA (@PollProjectUSA) November 4, 2022
POLL: @EmersonPolling

2024 #AZPres General Election
(R) Donald Trump 46% (+4)
(D) Joe Biden 42%
Someone Else 9%
Undecided 3%

1,000 LV | 10/30-11/1https://t.co/blkk1lp9ed

— PPUSA (@PollProjectUSA) November 4, 2022
POLL: @thehill/@EmersonPolling

2024 #GAPres General Election
(R) Donald Trump 47% (+3)
(D)* Joe Biden 44%
Someone Else 8%
Undecided 2%

1,000 LV | 10/28-10/31https://t.co/pHa4GGYElW

— PPUSA (@PollProjectUSA) November 3, 2022
POLL: @EmersonPolling

2024 #MIPres General Election
(R) Donald Trump 47% (+3)
(D)* Joe Biden 44%
Someone Else 6%
Undecided 3%

900 LV | 10/28-10/31
LV Sample: D37/I25/R38 (R+1)https://t.co/6qILEe8hlQ

— PPUSA (@PollProjectUSA) November 3, 2022
POLL: @EmersonPolling

2024 #UTPres General Election
(R) Donald Trump 47% (+13)
(D)* Joe Biden 34%
Someone Else 17%

825 LV | 10/25-10/28https://t.co/zZyspmzjtL

— PPUSA (@PollProjectUSA) October 31, 2022
POLL: @thehill/@EmersonPolling

2024 #MOPres General Election
(R) Donald Trump 53% (+16)
(D)* Joe Biden 37%
Someone Else 8%
Undecided 3%

1,000 LV | 10/26-10/28
LV Sample: D30/I27/R43 (R+13)https://t.co/nzRuEKmXGj

— PPUSA (@PollProjectUSA) November 1, 2022