On the one year anniversary in which he said that vaccinated Americans could not get COVID-19, quadruple vaxxed Joe Biden has reportedly tested positive for COVID-19.
"This morning, President Biden tested positive for COVID-19," Press Secretary Karine Jean-Pierre said in a White House statement Thursday.
"He is fully vaccinated and twice boosted and experiencing very mild symptoms. He has begun taking Paxlovid," she said.
Yesterday, Joe Biden said he had cancer. Today, he has COVID. pic.twitter.com/cXKtj1tj4W

— Jason Rantz on KTTH Radio (@jasonrantz) July 21, 2022
Paxlovid is the same Pfizer drug Dr. Anthony Fauci took last last month when he tested positive for the virus. The NIH director suffered a rebound with worse symptoms two weeks later.
For many vaccinated people stricken with the Omicron variants (which seem to prefer the vaccinated), a course of Paxlovid appears to be leading to a temporary pause, and then a resurgence of viral replication and symptoms.
Despite the fact that his symptoms got "much worse" after taking Paxlovid for his initial infection, Dr. Fauci said last month that he took a second course of the medication when he got sick again.
Jean-Pierre said that Biden will isolate in the White House, and "continue to carry out all of his duties."
"Consistent with CDC guidelines, he will isolate at the White House and will continue to carry out all of his duties fully during that time," the White House statement says. "He has been in contact with members of the White House staff by phone this morning, and will participate in his planned meetings at the White House this morning via phone and Zoom from the residence."
Biden's scheduled trip to Pennsylvania to discuss his approach to crime and attend a fundraiser has been canceled.
"Consistent with White House protocol for positive COVID cases, which goes above and beyond CDC guidance, he will continue to work in isolation until he tests negative. Once he tests negative, he will return to in-person work," Jean-Pierre said.
"Out of an abundance of transparency, the White House will provide a daily update on the President's status as he continues to carry out the full duties of the office while in isolation."
Biden on Wednesday sparked shock and confusion on social media when he casually mentioned in a speech that he has cancer.
Biden was visiting a former coal power plant in Somerset, Massachusetts, to discuss his new executive orders to fight the climate emergency (summer).
While discussing the harm caused by emissions from oil refineries, Biden referenced his childhood home in Delaware and said that he and many other people he grew up with now "have" cancer.

"My mother drove us rather than us being able to walk and guess what? The first frost, you know what was happening? You had to put on your windshield wipers to get literally the oil slick off the window. That's why I and so damn many other people I grew up with have cancer and why for the longest time, Delaware had the highest cancer rate in the nation," Biden said.
The White House later suggested that Biden was referring to the skin cancer treatment that he had before taking office last year.
However, in April, Biden shared the same memory, only claimed that he and 80 percent of the town had asthma as a result, rather than cancer.
"This is the God's truth. When you get in the car and there's a little frost on the window, turn on the windshield wiper, there'd be an oil slick, not a joke," he said in April. "I have asthma and 80 percent of the people who in fact we grew up with have asthma. That's what you call a fence line community."
We've heard this story before…

BIDEN IN APRIL: "I have asthma and 80% of the people who, in fact, we grew up with have asthma."

BIDEN TODAY: "That's why I and so damn many other people I grew up with have cancer." pic.twitter.com/8farOJVAfl

— Townhall.com (@townhallcom) July 20, 2022
Biden's COVID diagnosis comes on the one year anniversary of his false claim to the American people that they would not get COVID if they got vaccinated.
"You're not going to — you're not going to get COVID if you have these vaccinations," he said during a CNN town hall on July 21, 2021.
It was one year ago today that Biden said this quote: "You're not going to get covid if you have these vaccinations."

Today, Biden tested positive for covid. pic.twitter.com/Q1BcBQaEXH

— Greg Price (@greg_price11) July 21, 2022
Biden on Wednesday told reporters that the best way to control the virus is by getting vaccinated. Nearly 68 percent of Americans are fully vaccinated, according to the CDC, yet BA.5 subvariant cases are surging in at least 40 states.
Yesterday afternoon, a reporter asked Joe Biden what his plan is to deal with rising COVID cases.

Biden said that the country should be "getting vaccinated." pic.twitter.com/NrEU9oJYU9

— Townhall.com (@townhallcom) July 21, 2022
Update:
Former President Donald Trump weighs in as only he can: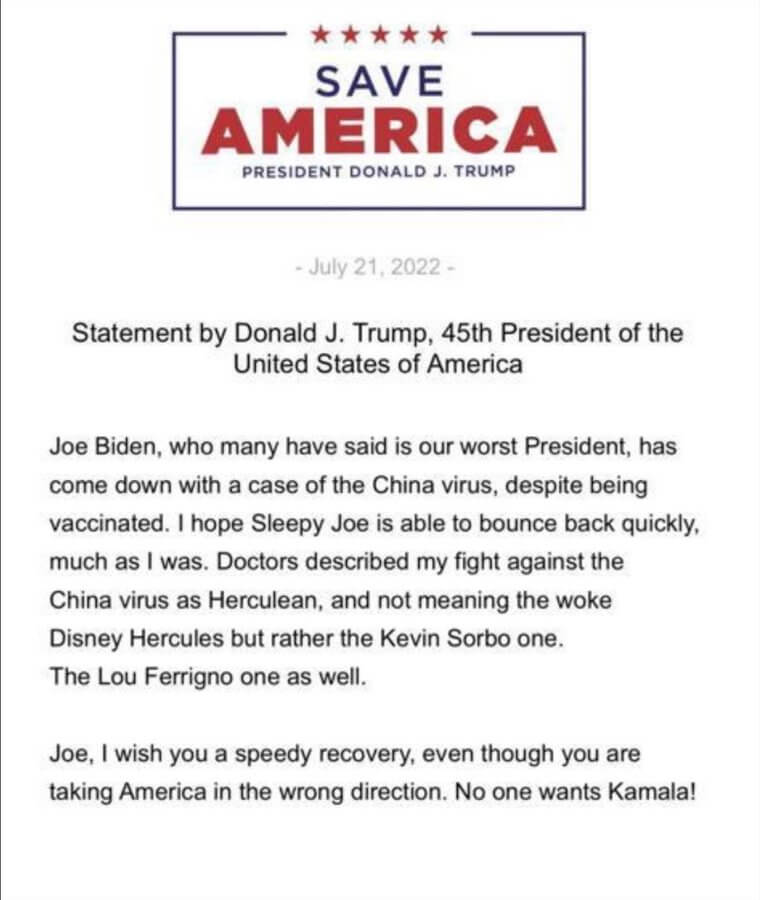 As Twitter sage Shem Horne noted, Biden is receiving much more sympathetic treatment from the corporate media, than Trump did when he got COVID in October of 2020.
ABC News do you guys know if White House reporters are having increased anxiety levels because of Biden having COVID and staying in the White House? pic.twitter.com/ztiEopgqEx

— Shem Horne (@Shem_Infinite) July 21, 2022
LA Times, is the Secret Service anywhere near Biden? That's so dangerous. What does he think he is, a monarch? He is not one. pic.twitter.com/r4lEsEUSwx

— Shem Horne (@Shem_Infinite) July 21, 2022
PBS is there fear and anger in the White House because President Biden has COVID? https://t.co/h5yKJeWoND

— Shem Horne (@Shem_Infinite) July 21, 2022