The FBI arrested former Trump White House adviser Peter Navarro at Reagan International Airport in Washington D.C. on Friday, putting him handcuffs and leg irons after a federal grand jury indicted him on criminal contempt of Congress charges for refusing to comply with a subpoena issued by the partisan House Jan. 6 committee.
"What they did to me today violates the Constitution," Navarro later told reporters outside the courthouse.
Navarro said in his first court appearance Friday afternoon that he was on his way to Nashville for a television appearance and that an FBI team allowed him get to the airport and try to board a plane before they swooped in and cuffed him. The former Trump advisor said he was then thrown in jail.
"I was a distinguished public servant for four years," he reportedly told the judge. "No one ever treated me in this fashion."
Navarro alleged that the prosecution was acting in "bad faith" and told the judge about a lawsuit he filed Tuesday against the House of Representatives and the Jan. 6 Committee.

"Prosecution has put me in an untenable position," Navarro told Magistrate Judge Zia Farqui.

"This is something that needs to get to the Supreme Court," he added. "Department of Justice appears to have colluded with the White House and Congress."

Farqui said in court that he takes the allegations against Navarro seriously.
The Department of Justice has previously indicted former Trump adviser Stephen K. Bannon for contempt of Congress for refusing to comply with a subpoena issued by the sham committee, but will not be charging former Trump White House officials Mark Meadows and Dan Scavino for refusing to cooperate. Bannon's trial has been scheduled for July 18.
Navarro has called the Jan. 6 committee illegitimate and is suing House Speaker Nancy Pelosi over the committee's activity. In an interview with Fox News, he called any possible prosecution of him "domestic terrorism."

Navarro continues to assert executive privilege since he worked at the Trump White House and said he was exempt from appearing before the committee.
The committee issued the subpoena in February 2022, seeking a deposition and documents from Navarro, but Navarro refused to comply.  According to Fox News, he's facing two counts, "each of which could mean between 30 days and a year of jail time and a fine of up to $100,000, if he is convicted."
Outside the courthouse, Navarro told the press that he believes "the clear mission of Democrats is to prevent former President Donald. J. Trump from running for president in 2024 and being elected as president. People like me are in their way and they're not coming for me and Trump, they're coming for YOU—all 74 million of you who voted for Donald John Trump."
Navarro said he sent the FBI a letter on Wednesday offering them a modus vivendi, which was ignored. He said he also spoke with an agent that same day and told him "you don't have to come banging on my door like you did last week, getting me out of bed."
I'm here to cooperate. What did they do?! I was on my way to Nashville today to do a T.V. appearance for Mike Huckabee's show. And instead of coming to my door where I live, which by the way, is right next to the FBI, instead of calling me and saying we need you down in court, we've got a warrant for you—I'd gladly come—what did they do?! They intercepted me getting on the plane. And then they put me in handcuffs, they bring me here, they put me in leg irons, they stick me in a cell.
Navarro pointed out that the agents put him in John Hinckley's cell, "which they seemed to think was an important historical note."
Hinckley attempted to assassinate Republican President Ronald Reagan in Washington, D.C. on March 30, 1981 two months after Reagan's first inauguration.
"What they did to me today violates the Constitution," Navarro said.
NBC News Justice reporter Ryan J. Reilly attempted to justify the arrest at the airport by explaining in a tweet that it is a lower risk approach to the arrest, as if they had reason to believe Navarro would react violently.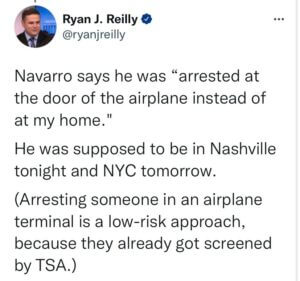 In an interview Sunday, Devin Nunes, the CEO of Trump Media & Technology Group, said the FBI's treatment of Navarro was "outrageous" and "never should have been done."
"A Congress that is functioning properly has to be able to hold people in contempt," Nunes told Newsmax host Grant Stinchfield, "but this is not that type of situation."
The former House Intelligence chairman suggested that the partisan committee is illegitimate because it's made up of Democrats and two anti-Trump "Republicans" hand-picked by Speaker Nancy Pelosi (D-Calif.).
Nunes also noted that the FBI could have just called Navarro and told him the Grand Jury was holding him in contempt and to just report to the courthouse.
"That's all they had to do, but to go and get the guy at the airport? This is Nazi style Stalinist crap," he said. "This is a political fight. It should end up in the courts. It should not end up with someone getting arrested like this."
Nunes also slammed the judge for allowing the FBI to take this extreme measure.
"Judges need to step in and end this nonsense," he said.