The office of a pro-life group in Madison, Wisconsin was set ablaze over the weekend in an apparent attempt to terrorize pro-lifers as the Supreme Court prepares to overturn Roe v. Wade.
Anarchists reportedly threw a molotov cocktail inside the office of Wisconsin Family Action Sunday morning shortly after 6 a.m.
While the cocktail did not ignite, "it also appears a separate fire was started in response," the Madison Police Department said in the incident report. Firefighters were able to quickly put out the flames, and no injuries were reported.
"Please keep our friends at Wisconsin Family Action/Wisconsin Family Council in your prayers," Wisconsin Right to Life said in a Facebook post Sunday. "Thankfully, no one was hurt in the attack on their Madison office this morning."
Photographs showed fire and smoke damage inside the office, as well as graffiti which read, "If abortions aren't safe, then you aren't either."
More photos from the scene: pic.twitter.com/XlgEiZLrno

— Alexander Shur (@AlexanderShur) May 8, 2022
"It appears a specific non-profit that supports anti-abortion measures was targeted," Madison Police Chief Shon Barnes said in a statement.
"Our department has and continues to support people being able to speak freely and openly about their beliefs. But we feel that any acts of violence, including the destruction of property, do not aid in any cause," Barnes added.
Federal investigators are reportedly working with police and fire officials in the arson investigation.
An anarchist symbol was spray painted on the outside wall of the building, along with "1312," the numerical version of the antifa slogan ACAB, or "All Cops Are Bastards."
Wisconsin Family Action wrote about the attack in a post on the group's Facebook page.
Early this morning a leftist anarchist group attacked Wisconsin Family Action's office in Madison, throwing two Molotov cocktails into the office, after breaking windows, and then proceeded to light a fire. The arsonists posted graffiti on the outside of the building near the group's offices.

The message was, "If abortions aren't safe, then you aren't either." Anarchy 1312 took responsibility for the attack, leaving its logo on an outside wall.
In a statement published on the group's Facebook, Julaine Appling, president of Wisconsin Family Action, slammed Democrat Wisconsin Governor Tony Evers, and said her group will not be intimidated.
In 2020, Governor Tony Evers basically looked the other way when violence erupted in Kenosha and Madison. That kind of non-response fosters what happened to us this morning, leaving Wisconsin citizens who disagree with his policies extremely vulnerable to similar violence.
In fact, Governor Evers's response to today's incident said nothing about demanding a full investigation and criminal prosecution. He just told his supporters he'd keep supporting abortion.

"But this attack fails to frighten us, and instead steels the resolve of law-abiding, common-sense, every-day folks to stand up and push back. We know today it is Wisconsin Family Action getting Molotov cocktails tossed through broken windows and fires ignited, but tomorrow it could be anyone in our state or another state who is attacked because we disagree with a policy or action, give voice to the voiceless, or stand up for what's right.

"Americans see through the hypocrisy of the left. The violence needs to stop and stop now. It's not the answer to any question or any problem. Just because the liberals don't get their way, doesn't give them license to threaten bodily harm or to burn and destroy."
Appling said the group plans to repair its office and continue its mission, which is described as "strengthening, preserving, and promoting marriage, family, life, and religious freedom in Wisconsin."
"We will repair our offices, remain on the job, and build an even stronger grassroots effort. We will not back down. We will not stop doing what we are doing. Too much is at stake," she stated.
Gov. Evers said in a statement that "we condemn violence and hatred in all forms, including the actions at Wisconsin Family Action in Madison last night," adding, "we will work against overturning Roe and attacks on reproductive rights by leading with empathy and compassion."
Wisconsin Attorney General Josh Kaul, also a Democrat, called the arson "disgraceful and unacceptable," and said the incident "must be fully investigated and whoever is responsible should be prosecuted to the fullest extent of the law."
While the state's Democrat leaders are publicly condemning the attack, far-left groups across the country have taken the lead in an intimidation campaign against the Supreme Court Justices, pro-life groups, and Catholics, with implicit and explicit support and encouragement from Democrats.
"I want to tell you Gorsuch. I want to tell you Kavanaugh," Senate leader Chuck Schumer famously bellowed on the steps of the Supreme Court in June 2020, as the justices were hearing arguments in an abortion case. "You have released the whirlwind and you will pay the price. You won't know what hit you if you go forward with these awful decisions."
Schumer's implicit call for political violence was heeded over Mother's Day weekend, as pro-abortion agitators held raucous demonstrations outside the homes of conservative justices, forcing Justice Samuel Alito into hiding, and carried out loud and obscene demonstrations outside — and in some cases inside — a number of Catholic churches, including New York's St. Patrick Cathedral.
The energy is markedly more negative outside Kavanaugh's house. The anger has become much more palpable than outside any other justices' house. pic.twitter.com/zY2OY34hcA

— Douglas Blair (@DouglasKBlair) May 8, 2022
"Pray! You'll need it. Your cause will be defeated!"

Anti-choice religious fanatics at NYC's Basilica of St Patrick's Old Cathedral had to cancel their monthly harassment of patients at a nearby Planned Parenthood today after pro-choice protesters gathered & outnumbered them. pic.twitter.com/ZEM6AgxSD0

— Ash J (@AshAgony) May 7, 2022
Catholics praying the Rosary outside Basilica of Old St Patrick's Cathedral in New York amid the protest from pro-abortion activists. pic.twitter.com/qOUhhoBUCb

— Sachin Jose (@Sachinettiyil) May 7, 2022
NEW YORK: Deranged pro-abortion activist protests Catholic church by waving dolls and yelling "I'm killing the babies!"

Credit: https://t.co/r9cV5IYmbx pic.twitter.com/DcBlRmFUA3

— The Post Millennial (@TPostMillennial) May 7, 2022
A Catholic Church in Boulder, Colorado was vandalized with pro-abortion graffiti last Tuesday, the second time in less than a year, Life News reported.
Abortion Activists Trash Catholic Church; Alleged Newshttps://t.co/QnpR45pFq5

— Catherine Nicolette (@lumierecharity) May 7, 2022
In a report at the Federalist, counterterrorism expert Kyle Shideler, noted that the Mother's Day protesters were members of "the radical Revolutionary Communist Party (RCP), a Maoist organization founded by '60s radical Bob Avakian."
Former Secretary of State Hillary Clinton tweeted out an announcement for one of the group's protests in New York's Foley Square.
If you're in New York this afternoon, join grassroots organizers in support of abortion rights at Foley Square. pic.twitter.com/U1tjEaC0Jd

— Hillary Clinton (@HillaryClinton) May 3, 2022
In a Tweet discovered by The Post Millennial's Andy Ngo on Sunday, a blue check journalist called for an escalation of political violence against pro-lifers.
"More of this. May these people never know a moment of peace or safety until they rot in the ground," tweeted Caroline Reilly, who writes for the Rewire News Group.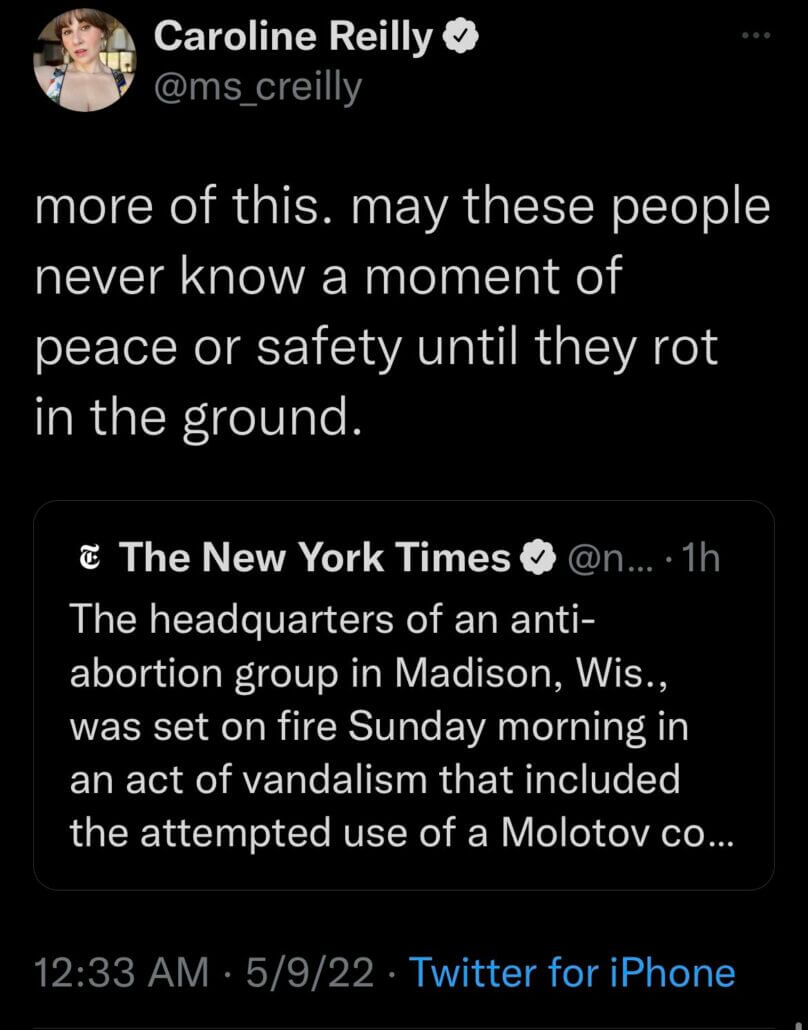 Reilly in her Twitter bio boasts of writing for GQ, Town & Country, Vulture, Insidehook and others, says on her website that she is "an award winning journalist," and writes about "…reproductive health, men's fashion, sex and more." Her website also says that "…her scholarly writing on abortion access for young people earned national recognition."
The "award winning journalist" has since deleted her Twitter account.
Update:
Former Independent Candidate for Congress, far-left Steve Cox, tweeted early Monday that the agitators should break into Justice Kavanaugh's house and "burn his shit in front of the hotel" he's staying in.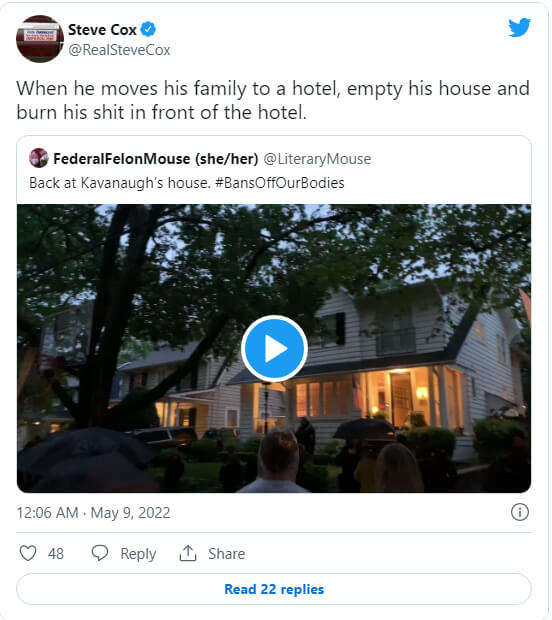 This tweet is still up.
Reminder:
Last week, as Ace of Spades noted, White House Press Secretary Jen Psaki "refused to urge calm or tell the left that intimidating justices outside of their homes was illegal."
Doocy: "Activists posted a map with the home addresses of the Supreme Court justices. Is that kind of thing this president wants?"

PSAKI: "I don't have an official U.S. government position on where people protest." pic.twitter.com/kpqF1FUGVF

— Greg Price (@greg_price11) May 5, 2022