The Ron DeSantis triumph over Disney is a surprise in more ways than one. For starters, the Republican Party historically has carried water for big business. While it publicly dressed this up as support for free markets, the beneficiaries mattered more often than fidelity to free market principles. 
This is why old-time Republicans get misty talking about freedom of contract when proposals to raise the minimum wage are on the table. This is also why, prior to Trump, they didn't lose much sleep over multibillion-dollar farm subsidies, midgame changes to the bankruptcy code to help credit card companies, or an extension of copyright protection chiefly to aid a single company—Disney. 
The arrangement was stable for a while. Businesses were vaguely Republican-leaning in their donations, but tended to be apolitical in public life. They were certainly AWOL in the culture war. And the Republican base was made up of rich people, wannabe rich people, and those who were concerned about national defense or cultural issues. The first groups benefited indirectly by favors to big business. For the latter, the GOP at least paid some lip service to culture war concerns, even though they never did much to address them.  
This all changed rather briskly after Donald Trump's election. Trump defeated the party's more traditional candidates and expanded the party's base to include working-class whites. This popularity extended to working-class nonwhites, who respected Trump's masculine, no-nonsense energy. His nationalist policies on trade, foreign policy, and immigration were all aimed at lifting the American worker and the American family over big business and the supposed needs of the economy. 
Voting patterns changed too, with college-educated professionals beginning to vote majority Democratic, particularly in the Obama years. "Yuppies" used to be the core of the Republican Party. No longer. At the same time, the Democrats' old working-class supporters have mostly changed sides, not because of some newfound love of corporations, but because of culture war issues. This trend, begun during the Nixon years, exploded after the Obama presidency and had much to do with Trump's 2016 victory. 
This is also why DeSantis' war with Disney is a good one. The old model of the GOP serving big corporations is both bad politics and bad policy. The corporations do the Republicans no favors, and the companies' activism, products, and internal policies all hurt the people that vote Republican, as well as their families. 
Corporations need to be tamed. Once, they needed to be tamed because they exploited workers or ripped off shareholders. Now they must be tamed because they threaten the common good by undermining the culture and the necessary foundations of family life. Instead of aspiring to a level playing field, Republicans need to get down to the most basic of political principles to remain viable: reward your friends and punish your enemies. 
This, of course, takes courage, and it takes vision. In earlier fights where big business weighed in on culture war issues, Republicans have backed down, including South Dakota Governor Kristi Noem, who tried to stop a transgender athlete ban, and Arkansas governor Asa Hutchison, who vetoed a ban on sex-change operations for minors. In both instances, business and education lobbies pushed hard to stop the new laws, and the Republican leaders showed how little they cared about their voters' concerns. 
DeSantis earlier demonstrated both courage and vision during the coronavirus madness, when he realized that tourism and restaurants and the like are not mere ornaments that can be disposed of in the name of "lockdowns" and "social distancing," but, rather, the core of Florida's economy. Thus, he stood up for freedom and personal choice. He also demonstrated repeatedly how the science had been distorted and abused in the service of a broader social agenda. 
He has shown this same courage and imagination by taking on the most sacred of sacred cows in Florida's business and political life: Disney and its special tax and regulatory status.  
Presumably DeSantis does not mean to destroy Disney or its many jobs and ancillary benefits to the people of Florida. But, to point out the obvious, there is some "path dependency" for Disney, which gives DeSantis and the state of Florida a lot of leverage. 
Disney makes money from its theme parks, has invested billions into them, and is not going to be leaving simply because its sweetheart tax status may be revoked. DeSantis means to subordinate Disney to the state and the interests of its families, not least of which is to protect their kids from propaganda in favor of homosexuality and sex changes at the age of 5 and 6, when they should be learning the alphabet and how to tie their shoes.   
Right on cue, Conservatism Inc. has risen (to the degree that the spineless can rise) to criticize DeSantis, saying this action was merely retaliatory "salting of the earth." Perhaps, but so what? It's a useful deterrent for all the other would-be woke corporations looking to throw around their weight. 
Businesses, and particularly corporations, are creatures of law. Their existence and corporate form is not intrinsic to or required by free market principles. Once upon a time, they required a special charter, spelling out their purpose and duties. Even now, because they obtain the benefit of limited liability, they also bear certain burdens, including taxes and limits of their ability to engage in politics. This is doubly so for Disney, which resides in a self-governed special district and enjoys immunity from many forms of local regulation and taxation. This all gives Disney a great deal of power . . . and responsibility.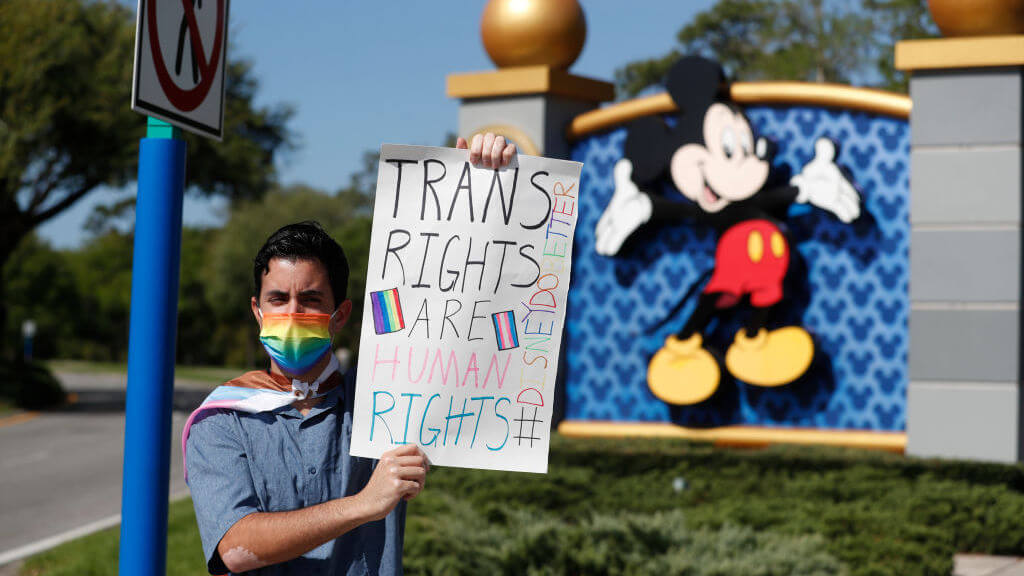 Punishing Disney is necessary because the family is threatened by the aggressive cooperation of public schools, large corporations, the media, and the other institutions of leftist cultural power. Their power and their agenda is manifest by "transgender" propaganda aimed at impressionable children. The propaganda is having results, and indulging in this fad can cause irreversible psychological and physical harm to vulnerable and troubled young people. I suspect someday the practice of sex transition for minors will be widely viewed as extreme child abuse, akin to the lobotomies lauded as a miracle cure for the mentally challenged in the middle of the 20th century. 
DeSantis' anti-grooming law is very popular. In other words, it represents the spirit of democracy. But there is a difference between democracy and Our Democracy™. The latter means rule by a clique of insiders—the experts and the managers—including the managers of corporations. Of course, that clique is saying Desantis and his anti-grooming law is a threat to Our Democracy™.
Thankfully, real democracy is more powerful, and courage, such as DeSantis', is contagious.