A Minneapolis Middle School paper is offering "protest tips and etiquette" to children as young as 11-years old, to assist them in their "protesting adventures."
The guide, published in the Justice Page Middle School paper, encourages students to "take to the streets" for Black Lives Matter, while admonishing white kids to resist any speaking opportunities because this is "not for you."
"You are here to listen and show support," the guide says.
The piece was written by an individual named "Teeth L.W.," and was published in the February 15, 2022 edition of the school newspaper, the Rhino Report.
The outrageous guide comes in the wake of the police shooting death of an armed black man in Minneapolis on Feb 2.
The school's protest tips were first exposed on Twitter by Critical Race Theory foe Christopher Rufo, a Senior Fellow of the Manhattan Institute.
In the piece, Teeth L.W. advises students to avoid filming peoples' faces or any other identifying features when documenting protest activities on their phones, "especially if it's someone doing art/graffiti."
The guide also counsels the would-be child protesters to wear nondescript clothing to make it harder for the police to identify them, "even if you're not breaking the law."
Teeth L.W. goes on to give the kiddies advice on how to act if they suspect they are about to be arrested, and tells them to write the contact numbers of their parents and/or legal representation on their arms with a sharpie in case they're arrested. "Put hairspray over [the contact numbers] so it lasts longer," Teeth advises. "Invoke your right to remain silent, ask for a lawyer, don't consent to police searching your phone, don't consent to a DNA sample," he adds. "Insist that they give you a mask."
The guide lists ibuprofen, water, first aid kit, snacks, extra masks, phone, wallet, and keys as essential items to bring to a protest.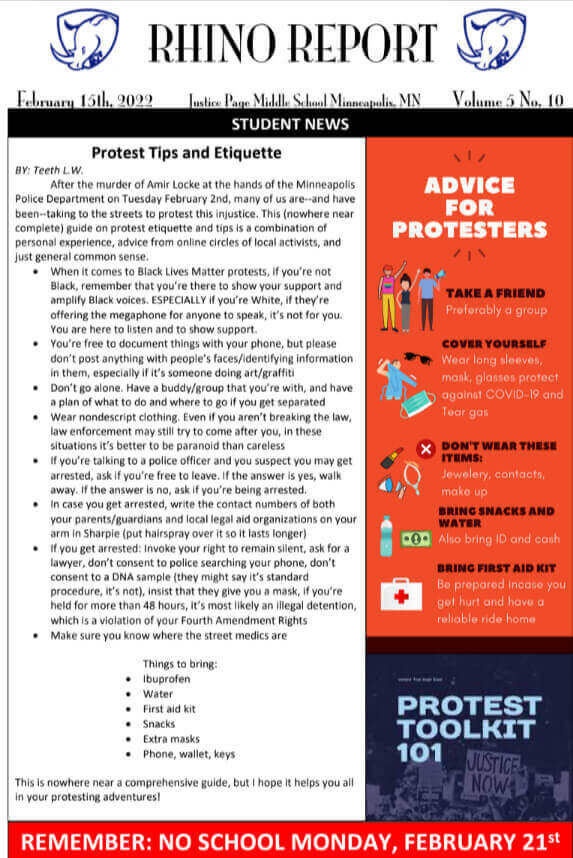 The Rhino Report is edited and supervised by Justice Page Middle School science teacher Travis "TJ" Koupal:
Koupal uses the same photo for his personal Facebook Page, accompanied by the message: "Mask up Minnesota."
Amir Locke was a 22-year-old black man who was fatally shot by a SWAT officer inside an apartment in Minneapolis, Minnesota on February 2, while Minneapolis Police were conducting a no-knock search warrant in a homicide investigation.
On February 2, 2022, police unlocked and opened a door to an apartment at approximately 6:48 a.m.
Police body camera footage shows "several officers quickly rushing into the apartment at the same time," with several yelling "Police! Search warrant!," and one officer yelling "Hands, hands!," and another yelling "Get on the ground!"
Locke, who was not the subject of the warrant, was lying on a couch wrapped in a blanket, sat up and turned toward the officers while holding a gun. A still image released by police show his trigger finger  along the barrel of the gun.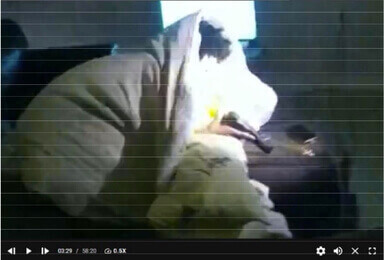 Hanneman then shot Locke twice in the chest and once in the wrist. He was treated at the scene and transported to Hennepin Healthcare, where emergency medics later pronounced him dead.
The shooting is being reviewed by the office of Minnesota Attorney General Keith Ellison, the Hennepin County attorney's office, and the Minnesota Bureau of Criminal Apprehension. On Feb. 4, Minneapolis Mayor Jacob Frey imposed a temporary moratorium on most no-knock warrants.
American Greatness reached out to Shannon Tenner, the principal of Justice Page Middle School, for comment, but did not receive a reply prior to publication.